The new $899 USD Aeon 2 Noire is the latest iteration of the Aeon 2 Closed planar magnetic headphone series from San Diego-based manufacturer Dan Clark Audio. 
Note: the Aeon 2 Noire was kindly sent to us by online audio retailer Apos Audio, which is a reseller of Dan Clark Audio headphones. Our thanks go out to them for their support and for the opportunity to share our thoughts with Headfonia readers. 
"Paint it Black". 
When you're out at a bar and someone drops a black Amex onto the table, you know they mean business – black is a shortcut for serious stuff. An inky hue is often reserved for the most special version of something that sits at the top of the product food chain. Mercedes-Benz's AMG 'Black Series', Metallica's 'Black' album, and Johnny Walker's 'Black Label' are but a few examples of rarified products that are set-apart courtesy of having the 'Black' moniker slapped on them. And now, after releasing the Aeon 2 planar magnetic headphone in racecar red (reviewed here by Linus), San Diego's Dan Clark Audio has decided to release the ultimate revision of the Aeon 2 species, packing a stealthy jet-black aesthetic, a revised set of perforated earpads, and appropriately – a dark new name: 'Noire'. 
Dan Clark Audio – formerly known to the audiophile community as 'MrSpeakers' – has created a name for themselves as boutique manufacturers of high-end planar magnetic (and later electrostatic) headphones. Sitting below the full-sized 'Ether' series in the DCA product line-up, their compact 'Aeon' range set a new benchmark for squeezing high-end performance into a remarkably compact form-factor when first released back in 2017. Featuring a compact planar driver with a single-sided magnet array, a remarkably strong and flexible 'nitinol' headband plus a signature 'teardrop' shaped earcup that mirrors the shape of the human ear, the open and closed-back Aeon Flow impressed us here at Headfonia thanks to its price-to-performance factor and unique design.
The evolution of the species. 
Spearheading the re-branding of MrSpeakers to Dan Clark Audio (named after, yep – you guessed it!) in 2019 was the all-new Aeon 2 range of closed and open-back headphones. More than simply a colour-change from the original dark blue to an unmissable red plus a brand label swap-out, DCA gave the Aeon's driver assembly a complete overhaul. With a new motor design that flipped the position of the magnet to the other side of the planar diaphragm, improved driver damping and 'Trueflow' airflow design, Dan Clark and co listened to customer feedback from the 'OG' Aeon series and imbued the Aeon 2 with a greater sense of soundstage, dynamics, as well as bass impact. Rounding-out the overhaul of the Aeon range was the addition of an ingenious folding gimbal system, allowing the compact-yet-full-size Aeon 2 to collapse into an even tinier footprint for storage, making it a genuine portable proposition.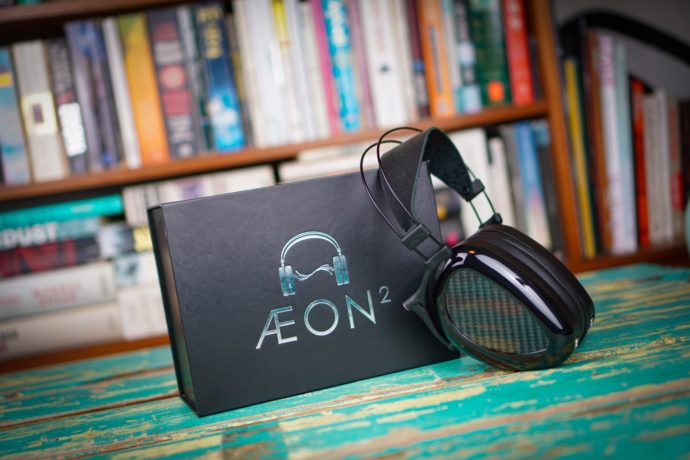 To give even more options for plucky audiophiles to pick from, Dan Clark Audio has just launched another addition to the Aeon family – the all-new Dan Clark Audio Aeon 2 'Noire' edition. The obvious difference in the 'Noire' flavour of the Aeon 2 is its signature black metallic paint, which creates an overall more 'low profile' classy look, setting-off the carbon-fibre earcup outer panels and matching the jet-black colour employed on the rest of the Aeon 2's furniture. It's not just a new look that's on offer with the newest version of the Aeon 2 – Dan Clark Audio has equipped it stock with their optional perforated pads in order to give the Noire own distinct audio flavouring as well. They explain that this pad option was chosen in order to help provide an overall sound signature that closely follows the Harman target – a frequency response curve that provides a benchmark for consumer sonic preference. What does this mean for the Aeon 2 Noire? According to Dan Clark Audio, the pad swap-out gently boosts bass and treble, while lessening mid-range body to create an overall wider sense of soundstage.
Some vital statistics for the Aeon 2 Noire:
Efficiency: 92dB
Impedance: 13ohms
Weight: 328g
Driver: 62mm x 34mm single-ended planar magnetic 
THD: less that 0.3% 2-20KHz, 0.1% 100-8KHz
Headband: Nickel-Titanium (Nitinol) memory metal
Baffle: Carbon Fibre
Earpads: Japanese Synthetic Protein Leather
Packaging, design and accessories.
The Aeon 2 Noire arrives in a neat, black magnetised retail box that seems altogether far too small to possibly be housing a pair of full-size, high-end headphones. Flipping-open the lid reveals the Aeon 2 Noire's hard clamshell case, which is nothing short of remarkable in terms of how genuinely compact it is. If you like to take your audiophile headphones with you on the road, then you'll be pleased to know that you can easily toss this in your backpack or carry-on luggage without taking up much room at all, and without worrying about it being damaged when jostling around – it feels nice and solid. 
Zip open the Aeon 2 Noire's case, and you're presented with the headphones themselves tucked away courtesy of what is surely the most ingeniously-designed folding mechanism on any pair of cans currently on the market. Carrying-over the folding gimbal system of the stock Aeon 2, the yokes connecting the earcups to the earcups fold neatly in half, allowing the headband to collapse around the earcups for storage, effectively halving their size. It really is a terrific piece of industrial design – bravo Dan Clark Audio.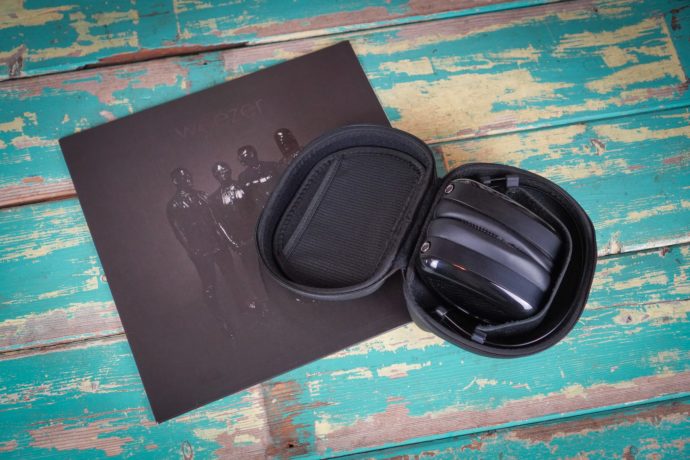 Inside the box, the Aeon 2 Noire ships with a certificate of authenticity, instruction card, a polishing cloth to wipe fingerprints and dust off those impossibly shiny earcups, and three sets of inserts that the user can place inside the earcup to tailor the sound of the Aeon 2 Noire to their liking. The inserts increase in thickness and correspondingly in terms of sonic damping, starting with black foam (the lightest), black felt with one 'notch' (medium damping). And white felt with two 'notches' (most damping). The mechanical impedance of the material used filter certain frequencies differently, effectively allowing the user to 'EQ' the sonic profile of the Aeon 2 Noire physically. I appreciate that Dan Clark Audio provide this option for owners of their headphones – it really does add another dimension to the ownership and listening experience, allowing you to tweak the profile of your headphones according to your preferences, mood, and whatever it is that you're happening to listen to.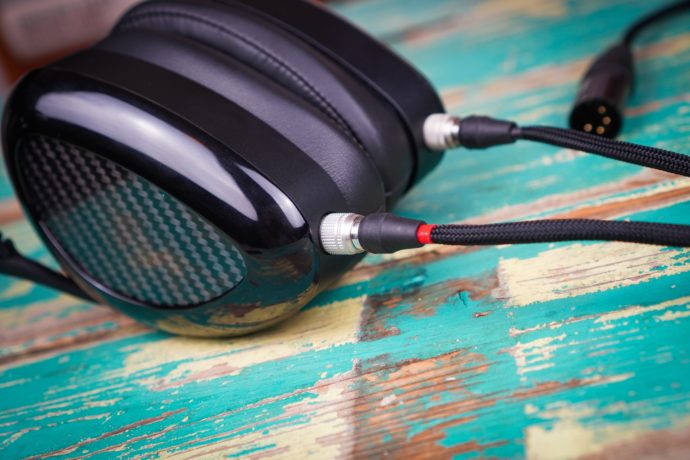 Users are given the option to choose between two stock 'DUMMER' cables (a derivative of DCA's humourously named 'Distinctly Unmagical Cable) at checkout – either a two-metre 4-pin XLR balanced cable or a two-metre 3.5mm single-ended cable with a 6.3mm adapter. A range of other connections, including 2.5mm and 4.4mm balanced terminations and shorter cable lengths are available but will add between $200 and $250 USD to the asking price of the Aeon 2 Noire, pushing it over the $1K USD mark. The Aeon 2 Noire uses Dan Clark Audio's preferred and proprietary locking cable connections at the earcups. It's an entirely secure option and gives a nice tactile 'click' when seated, but occasionally takes a bit of fiddling to get into place. I opted for a full-size 4-pin XLR to accompany my Aeon 2 Noire review unit – the fabric-sheather DUMMER cable isn't as nice to the touch as their more premium (and expensive) VIVO options but it is made reasonably well and more than fit for purpose for desktop listening, albeit with some rubbing microphonics on the front of my shirt when moving about.  
Overall, I think the Aeon 2 Noire looks absolutely killer in the flesh and handily beats its red stablemate in the looks department. Sure, 'red goes faster' and all that, but I think the Noire edition of the Aeon 2 looks a little more grown-up and a little less conspicuous – both great things in my book that make it a compelling choice over the standard Aeon 2.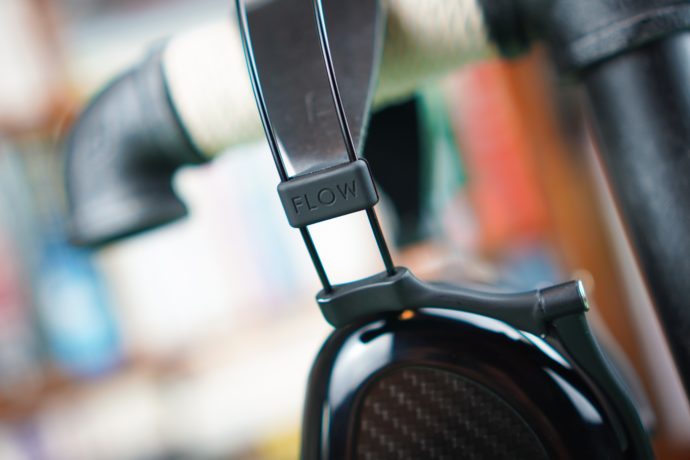 Comfort 
The design and comfort of the previous Aeon models have been written about at length, and the Aeon 2 Noire is identical in terms of user comfort and wearability. I must remark that while the shape of the Aeon 2 Noire's earcup design might look a little unusual at a first glance, it just makes sense when you place them over your ears – that leaf shape really does follow the contour of this reviewer's ears and jaw absolutely perfectly. The 328-gram weight of the Aeon 2 Noire is fairly negligible on the head, with the weight being evenly distributed between the suspension headband as well as the rather enveloping clamp of the earcups. The Aeon 2 Noire has rather generous, plush earpads and their Japanese protein leather material feels supple and of the highest quality. There's plenty of room in every direction for my ears inside the earcups, but the sense of grip courtesy of the Aeon 2 Noire's clamping force is ever so slightly tight. On one hand, this does make them remarkable secure and helps to create a perfect airtight seal on my head, but I do need to give my ears a slight break from time to time. I'm certain they'll break in with more wear, but it really isn't a deal-breaker – these are remarkably comfortable headphones (as are all designs from Dan Clark Audio, for that matter).
As mentioned earlier, the earpads of the Aeon 2 Noire do differentiate them from their other Aeon stablemates thanks to the front half of the inside rim of each pad being perforated. Presumably, this allows for more airflow within the inside of the earcup, sufficient enough to alter the frequency response to the desired tuning from Dan Clark Audio. The Aeon 2 Noire has decent passive isolation, but nowhere near the level of something like the Beyerdynamic DT770 or Sennheiser HD-25 if you've happened to hear either of those (as I'm sure many of you no doubt have). The pads are attached via a sticky adhesive, and Dan Clark Audio explains that they are able to be pulled off and stuck back on several times before they lose their stickiness.
Click over to page 2 to continue the review.