In this review, we take a look at the new Shanling UA1, an ultra-compact DAC/AMP dongle priced at just €/$49.
Disclaimer: the Shanling UA1 was sent to us, free of charge, by the brand in exchange for our honest opinion. You can find it at your usual audio store.
About Shanling
Founded in 1988, Shanling has been developing Hi-Fi products for more than 30 years now. Thanks to great craftsmanship and top of the line performances, the brand entered the Hi-Fi Ivy League. From high-end CD players to classy tube-amps, the brand did it all, and their catalog keeps growing with DAP, IEM, and even portable DAC/AMP, like the UA1 we have today.
The promise:
"Based on the same great DAC / AMP chip as Shanling's popular portable players and Bluetooth amplifiers, UA1 brings the same high-quality sound in even smaller and more affordable form"
Is it better than your phone's bundled dongle? Time to check it up.
Design & Build Quality
Casing
If not as small as ddHiFi's TC35i, the Shanling UA1 remains one of the tiniest DAC available at the moment. It looks a lot like iBasso's DC01, visually and physically and, like most dongles, is made of two parts: the body itself, which integrates all the circuitry, and a USB-C plug connected to the main body by a small cable.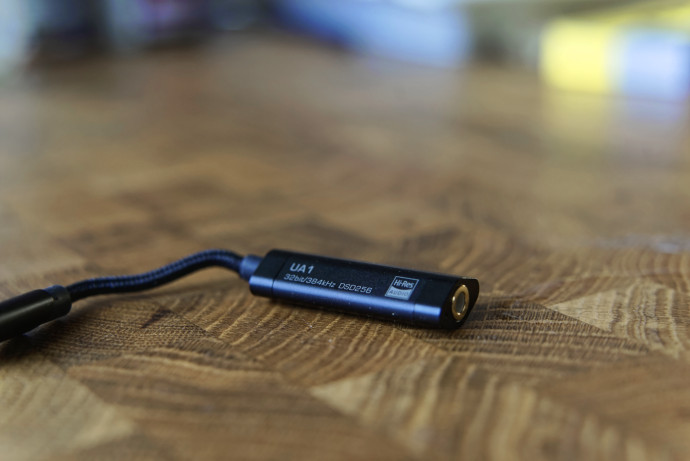 End to end, the UA1 is just 39mm long, 15mm large, and 9mm thick. To those measurements, you can add the 77mm cable, for a total length of 12cm, give or take. Thanks to that, the DAC can easily be carried in a jean's pocket, a jacket, or simply stick to your phone if you can use wireless charging.
Build Quality
Like every product recently released by the brand, the Shanling UA1 is absolutely flawless in this regard. Black anodized aluminum, golden plated headphone jack, cotton sleeved cable, everything look and feel nice to grasp. No gap, no screws, no loose parts.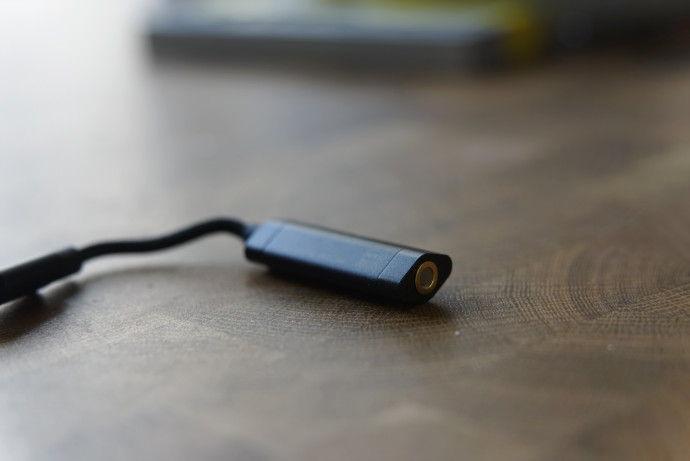 It feels a tad cheaper than the Maktar Spectra X2 Lightning Dongle, which was heavier in the hand and impressed me with its tubular frame. But, the UA1 is approximately four times cheaper, so I'm okay with that. Yet, in the same price range, you have ddHiFi's dongles that make an even stronger impression, thanks to their stainless steel body.
All in all, it's a very solid piece of work, and it really gives a good impression.
Comfort and Specifications
Daily use
The Shanling UA1 is super simple to use.
You plug it into your phone, insert your headphone's jack, and you're good to go. There were nos issues with my iPhone 11+TC28i, same with my MacBook. On Windows, I had to wait a minute, until the OS got the right driver but after that, it worked flawlessly.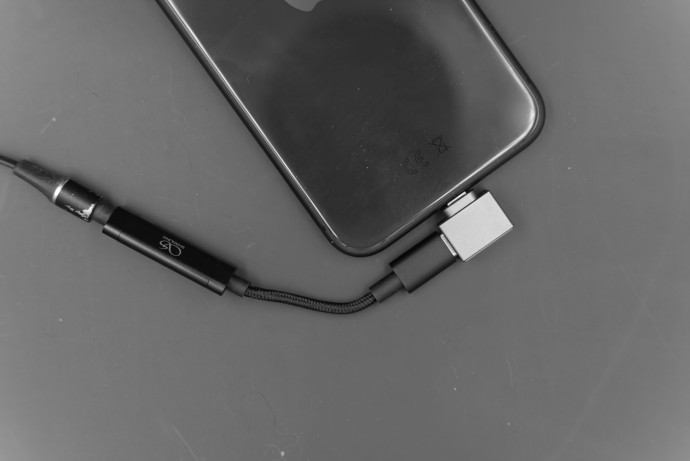 Unlike NuPrime's Hi-mDAC – but like every other dongle-DAC – there are no volume controls on the UA1. Everything has to be done from your source directly. Thankfully, for Android users, there is an app that allows fine-tuning such as gain, balance, or digital filters. Nothing for iOS users alas…
On the go, it's a pleasant device to use and the extra length, given by the cable, makes it easier to plug/unplug from your phone.
Good job so far.
Specifications
At the heart of Shanling's DAC, you'll find a Sabre ES9018p. Yes, the same ESS chip that's been powering the M2S, M5S, or the small Q1!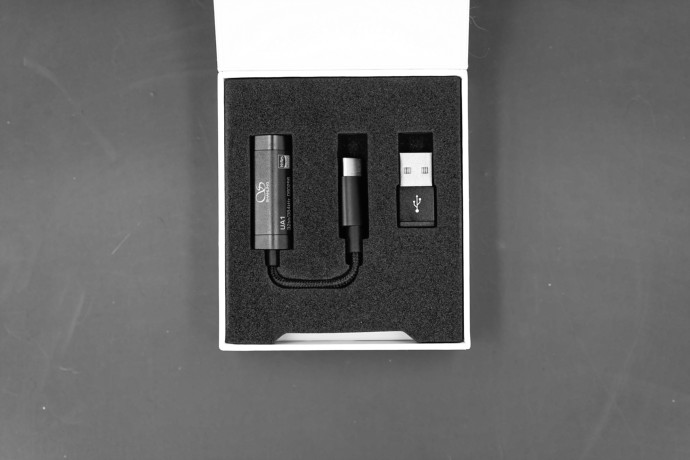 It's a good DAC, with good specs, as you might see:
up to 32bits / 384kHz PCM decoding + DSD256 support
119dB SNR/DNR and 0.001% THD+N
low/high gain modes
up to 80mW @ 32ohms
So yeah, considering the size, the Shanling UA1 boasts good numbers and should be able to drive moderately hard to drive headphones, on the go. And that, even if it's just powered by a phone, through the USB-C port.
Full specs
Type: USB DAC
Chipset: Sabre ES9018P
Impedance: 0.5 ohm
Size: 116 x 15 x 9mm (cable included)
Weight: 8.3g
Socket: USB-C
Frequency range: 20 – 50 000Hz
The article continues on Page Two, after the click here