In today's article we'll be taking a look at the new Drop + HIFIMAN HE-5XX headphone. It is on sale now for $220 USD.
The Drop Hifiman HE-5XX is the latest bespoke headphone collaboration between Chinese manufacturer HIFIMAN and US Community-based e-commerce platform Drop.com (formerly 'Massdrop'). The HE-5XX is available now for pre-order at Drop.com and will be shipping in late November 2020. You can check out some of our previous HIFIMAN reviews here. 
Note: Drop.com sent Headfonia a pre-production sample of the HE-5XX for our evaluation and we'll be sending it back to them after the review. Many thanks to Thomas and the team at Drop.com for the opportunity and support. As always, our words and conclusions are our own.
Drop.com: audiophile hit-makers
Enthusiast e-commerce site Drop.com, formerly known as 'Massdrop', earned themselves the attention of the headphone audiophile community by landing on a pretty simple business formula a few years back. Step #1: Partner with a manufacturer of repute, and choose a 'donor' model headphone (or device) to undertake a bit of tweaking with. Step #2: Dip into that manufacturer's parts bin and add/subtract some features to warrant giving them a *slightly* different name, and perhaps even thrown-in a subtle tuning tickle. Step #3: Pop the new Drop + Manufacturer product into some simple packaging, slap on a sharper price, and voila – it's ready for the masses. 
I've had the chance to review a couple of Drop.com collaborations for Headfonia in recent times. Firstly, I checked-out the Drop + THX (+ Oppo) Panda, a wireless audiophile headphone featuring on-board 'AAA' amplifier technology. Next, I had a very analogue product on my hands in the Carbon VTA Turntable, an LP-spinner that was the child of a collaboration between Drop.com and Audio Technica. But there are two products that cemented Drop.com's reputation for hatching price:performance benchmarks in this hobby: the THX AAA 789 Headphone Amplifier; and the Drop + Sennheiser HD6XX headphones – a $220 USD dark-blue colourway take on the legendary Sennheiser HD650. The HD6XX remains to be far-and-away Drop.com's greatest success with the personal audio community, offering budding audiophiles an attainable taste of high-end sound at a price-point lower than the consumer-grade stuff they're currently buying instead from their local big-box retailer.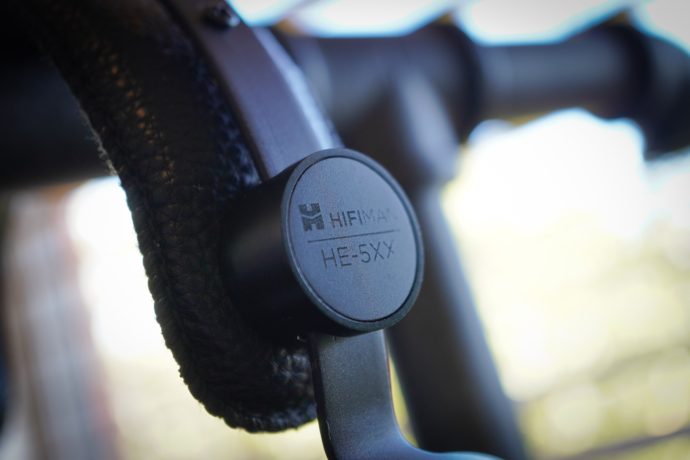 Homage to a HIFIMAN great
Drop.com and legendary Chinese manufacturer HIFIMAN have had a productive relationship with one another over the years, creating a number of bespoke products including the well-regarded $160 HE-4XX entry-level planar magnetic headphones, and the much higher-end Edition XX. This time, Drop.com and HIFIMAN have decided to pay homage to a past classic with a very careful choice of model designation for their newest release: the sharply-priced Drop + HIFIMAN HE-5XX. This name is significant because it's inspired by the HIFIMAN HE-500, a legendary dual-magnet orthodynamic headphone, beloved for its musical tone, coupled with terrific technicalities. 
You might be forgiven for thinking that the silhouette of the HE-5XX looks remarkably similar to another HIFIMAN product that we've reviewed for Headfonia readers recently, the Deva. And if you did think so, then you'd actually be correct – the HE-5XX borrows its big, round tear-drop cup-design from the Deva but differentiates by having a dual-entry cable system compared to the Deva's single-sided cable arrangement. While the main specs for the driver are virtually identical to the Deva at 18 ohms impedance and 93.5 dB sensitivity, the Drop.com team explains that they're actually different headphones under the hood by virtue of the HE-5XX packing a dual-sided magnet array for each driver compared to the single-sided layout on the Deva. This layout, inspired by the original HE-500 was chosen to provide greater control of the HE-5XX's drivers, resulting in "…a detailed sound with great bass".
While the HE-500 certainly earned its reputation for being a great-sounding headphone, it was also rather chunky in terms of how it was put together, weighing-in at a noticeable half a kilo. HIFIMAN has gone and figured out a way to vastly reduce the weight and thinness of their magnet structure and as a result the HE-5XX tips the scales at a far more manageable 355 grams. 
Drop and HIFIMAN have gone and created very high expectations for this newest release by hitching their wagon to the DNA of the HE-500, but it's also a lot to live up for. What is perhaps most surprising about this all-new dual-magnet planar is its price-tag: $220 USD. If the HE-5XX is anywhere near as good as the reputation that precedes it then these ought to be both a veritable bargain and the new entry-point benchmark for full-sized planar magnetic headphones. 
Having access to both the HIFIMAN parts-bin as well as a mass e-commerce market means that the Drop.com team is able to achieve such a sharp price-tag through economies of scale, but it's also no accident that the HE-5XX is precisely the same $220 USD asking price as the Drop.com all-time audiophile mid-weight champion: the HD6XX. Drop.com's take on the Sennheiser HD650 might be a much older, dynamic driver headphone but the HD6XX has an unimpeachable reputation and remains to be the easiest headphone to recommend to practically anyone new to audiophilia. So for that reason, it's fitting that the new kid on the block, the HE-5XX warrants close comparisons with the HD6XX for new headphone buyers. However, you'll quickly find out that they're two very different beasts in terms of how they sound, how they're put together, and how they make you feel.
Let's take the HE-5XX out for a spin.
The review continues over the jump on page 2.