After several low budget amplifiers (E1, E3, E5), Fiio now enters the market with a more serious E7 Portable DAC/Amp.
It's hard to find another product to compare the E7 with. It's sort of a hybrid between a portable amplifier and an entry level USB DAC. There has been many entry level USB DACs lately, but at the price point of the E7, the closest thing that I can think of is the Styleaudio UD-1 and the Nuforce uDAC (both of which I've written a comparison on). I no longer has the UD-1, so I'll be comparing the E7 with the uDAC.
The biggest difference between the E7 to the Styleaudio UD-1 and the uDAC is that the E7 can run on battery power. True, you don't really need battery power when you're operating it as a USB DAC from a laptop, but having battery power makes the E7 serve a double duty as a portable amplifier. In that way, the E7 is unique because you can hook it to an Ipod and have a portable amplifier, and when you're at your work desk, you can hook it up to your computer and have a USB DAC.
I'm really enjoying the E7, and I have a strong feeling that it's going to be a product that I'll use for a long time. When I want to go portable, I take the E7 and the Ipod, and I'm good to go. When I'm on my computer, I plug in the E7 to the USB cable, unplug the LOD cable from the Ipod, and have a great music set up. Of course, you can do this as well with more expensive amps such as the TTVJ Slim, RSA's Predator, and Headamp's Pico to name a few. Thing is, most of them sells for way over $300, while the E7 costs $80.
Clearly, the E7 is priced very competitively, and I consider it a good product — not some cheap chinese stuff. Not only is the E7 packed with features, it also comes with a solid build quality, and a solid sound quality as well.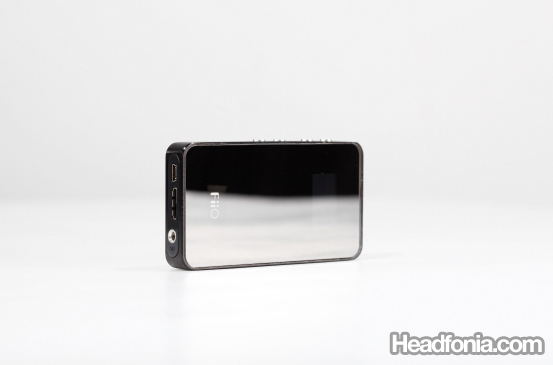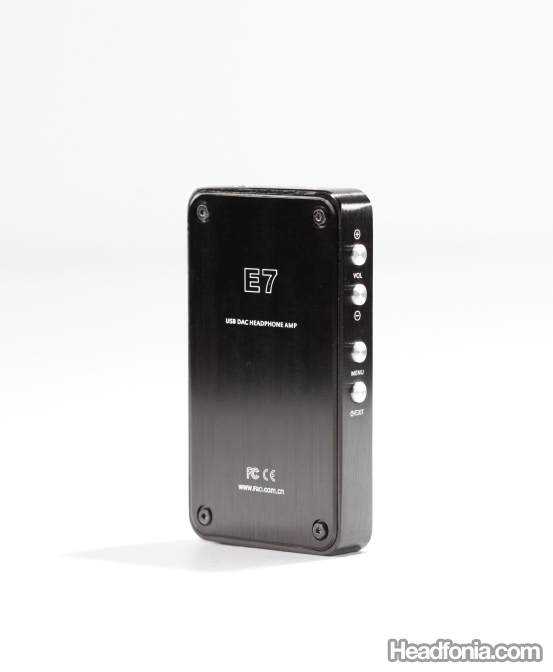 By itself, the E7 is fairly well designed. The large mirror screen is actually not a full size display, though at the back of that mirror you can find a tiny display (roughly 1.5x3cm) that gives you access to the E7 menu as well as a volume level indicator. The build quality is quite solid, and fairly light as well, making it a nice amplifier to sandwich together with a DAP. Something that I particularly like is how Fiio included a rubber enclosure as well as a rubber band, both for protection and for practicality when you're carrying it with an Ipod. A nice cloth carrying case is also included, as well as a generic USB and mini-to-mini cable.