We today take a detailed look at the FiiO FH5s, the company's new semi-open back In Ear Monitor.
Disclaimer: The FiiO FH5s was sent to me by the company itself for this review. The price of the FH5 is 250$ at this time.
Intro
For some reason, the IEMs from FiiO weren't able to give me what I expected from them until the FH7 in 2019. I need to admit, they certainly do a good job from the price/performance standpoint. We have a few of their IEMs in our Universal IEM Recommendations Page. So don't get me wrong here, but in terms of sound quality, there was room for improvement and they exactly did that. The FH7 is my all-time favorite FiiO IEM and Nano certainly loved the FH3.
About FiiO
FiiO doesn't need an introduction. Everybody knows them. You don't? Then you can go to FiiO's website here. They now produce almost everything when it comes to portable audio. They want to be competitive in every field they're operating, and I personally respect their work. To be honest, it has been one of the few companies which haven't driven up their prices to Mount Rushmore.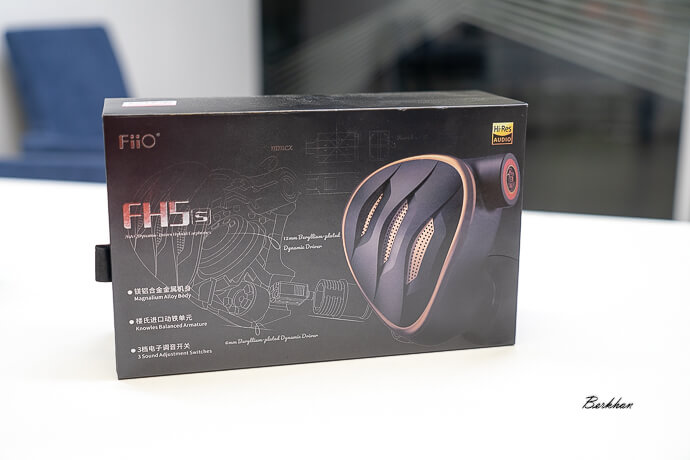 This is FiiO's new semi-open hybrid in-ear monitor that once again introduced a few technologies. The configuration consists of 2 BA drivers with 2 dynamic drivers. It's certainly an exciting product for FiiO and budget IEMs overall.
I liked this model simply because it proves to us that FiiO takes the IEM business very seriously. Their know-how is still growing, their ambition is quite obvious and they want to transform themselves into a very good IEM manufacturer. If they keep their motivation at this level, I think the results will be great. One such great outcome has been the FH7 model, and I have high expectations from the FH5s as well.
Another new feature is the tuning option. There are three tuning switches behind each shell and that allows you to alter the sound to your liking.
Package
This is a new and quite different box than the ones that came with FiiO's previous models, yet it's quite familiar at the same time. The box has a premium feel overall with lots of accessories inside. You get a very luxurious-looking carrying case for instance, which has a very nice leather/suede feeling. I really liked this carrying case design and I appreciate FiiO's generosity here. Some more expensive IEMs don't even come with a case at all, and some have mediocre cases, but not FiiO.
Apart from the case, another feature is the interchangeable headphone jacks. You can remove the classic 3.5mm jack and fit 4.4mm or 2.5mm depending on your source device. This was done by a new cable design that supports screwable headphone jacks. Instead of providing adapters, FiiO has chosen to take a different approach and I liked that as well. You also get a cleaning tool.
There are 13 pairs of tips. 3 of them are foams, and one pair is bi-flange tips. The rest are divided into "bass", "vocal" and "balanced". The tips are easily recognizable since they all have different colors. Once you memorize their color you know which is which. Overall FiiO has covered the accessory part very well and you have absolutely everything you need inside.
You even have an MMCX tool for making the detachable cable easier to work. Great attention to detail.
Design
The new FiiO FH5s follows the footsteps of the predecessor, but it has a different and more aggressive face-plate obviously because of the open-back design. Other than that, it's quite similar to the FH5 and even the faceplate edges have the same gold color. I personally liked the silver one instead of the black.
Once again this is a distinctive design language by FiiO and I have to say, they've come a long way in designing their own monitors. To be honest, the FH5s is quite original in its looks and it's a very cool design thanks to those futuristic-looking faceplates. Besides the faceplate, there is a golden frame surrounding the top which gives the IEM a classy look just like the FH5 before.
Build
FiiO got this one right. The IEM feels very robust in hand, and I think it should be a reliable item for extensive usage. The whole body is made from an aluminum-magnesium alloy. The faceplates are closed with multiple screws inside. The chassis is tooled with a 5-axis CNC machine. So everything is beautiful and complete, and you can clearly see and feel the difference between the FH5s and FiiO's previous offerings.
The cable is "Litz Type 2" SPC in a 4-core 120 wire structure. It's quite sturdy and in terms of ergonomics, it's much much better than the cable that comes with the FH5 model. I guess it is the same cable that was supplied with the FH7 but in a 4-core structure instead of 8. Overall it's very good including the stereo jack, which is interchangeable as I remarked previously above.
The FiiO FH5s has a great shape for most ears out there. It's quite round, like the previous models, but the difference is that this design provides a fuller fit. The fit is more complete and ergonomic for a Universal IEM.
The supplied tips work very well. I chose the silicone ones, despite me usually liking the foam tips more. That's because the IEM fits very well and I don't have to use the foam tips to get a flush & secure fit. The silicone tips do the trick and they're enough to give you nice isolation. You can opt for foams to get more isolation though.
The IEM also feels quite comfortable and I did not feel any pressure with it. The isolation is not the best of course, given the semi-open design, but it's still good. Overall an excellent and very comfortable fit experience.
Page 3: Technical comments, comparisons, and summary