Today we're taking a look at the Goldplanar GL2000 planar magnetic headphone, which sets you back 639 $.
Disclaimer: The Goldplanar GL2000 was sent from Linsoul. This review reflects my honest opinion about the product. 
About Goldplanar & GL2000
Chinese manufacturers are everywhere right? That's true. And Goldplanar is one of them which is recently emerged. Actually, they've been producing headphones since 2017, and their founder is Dr. He Xiangming. Their website is in Chinese but you can use the translate option in your browser. Linsoul has done a good job of introducing them to the market more so that we became aware of them and this review is a direct result of that.
The Goldplanar GL2000 is an open-back planar magnetic headphone. There are two versions of this headphone with both single-magnet and double-magnet variants. This was in fact not explained clear enough so there's ongoing confusion about the headphone.
The GL2000 adopts a high-performance N52 magnet and a complex external magnetic structure. The internal driver design was modified from the standard drivers that other manufacturers use, with the internal plate having been restructured to increase the surface area and airflow. This enhancement, along with the upgrade in magnet strength, makes the headphone even more responsive, or so Goldplanar claims.
The headphone is constructed of durable yet lightweight aerospace-grade aluminum and leather headband/ear cushions. Goldplanar focused on a lightweight and flexible frame with this model.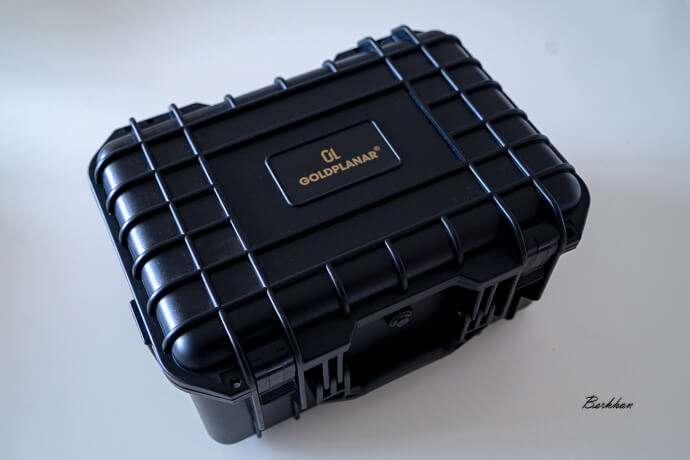 Unboxing
Well, that case is really something. I mean, just really really impressive. We've seen this style from companies like Audeze, but I honestly didn't see this coming from a headphone that costs below 1000$ mark. You can take this case anywhere and it will surely protect your headphone from anything possible. When you open the case, you then face the headphone itself, which sits inside of a soft foam material.
For accessories; you get a pair of hybrid pads to change if you feel to, and you get a 4.4mm BAL cable to plug. The other end of the cable is terminated with standard 3.5mm connectors. You also get a small carrying pouch which I think is for the cable. There's also double-sided paper for showing you the specs. Overall it's a pleasing unboxing experience and the fact that they supplied this great case with the GL2000 is fabulous.
Build Quality and Design
Coming from a Chinese manufacturer, the build quality is actually very good. The headphone has all-metal yokes and the headband is fitted nicely with a good feel of sturdiness. The earcups are from plastic material, but they also feel very good and there's absolutely no crackling noise whatsoever. Considering the fact that this makes the headphone lighter, I think it's a good design choice and the plastic quality is excellent.
Design-wise the headphone obviously resembles the Hifiman headphones. Yet, it looks quite cool and a bit futuristic and the silver color gives it a nice sleeky look. The GL2000 indeed looks very fresh and clean-cut. I quite liked the design overall, very good job.
 Comfort
The Goldplanar GL2000 is a relatively light headphone among the planar headphones, with a weight of 500gr., so it's actually quite comfortable and easy on the hand. Of course, you shouldn't expect something like an HD650, but it's still tolerable.
The clamping force is just right; not too tight but not loose either. In my experience, it's one of the most comfortable planar headphones I've tried. What I also liked is the force on the top of the head; it doesn't apply too much press from the top of your head. Some headphones actually caused me some trouble in that aspect.
You can change the earpads with hybrid pads. Those pads consist of velour and leather together. Those are a bit more comfortable especially on these days where hot weather can make you sweat a bit around your ears. The velour material helps in that matter.
Page 2: Sound Quality & Conclusion