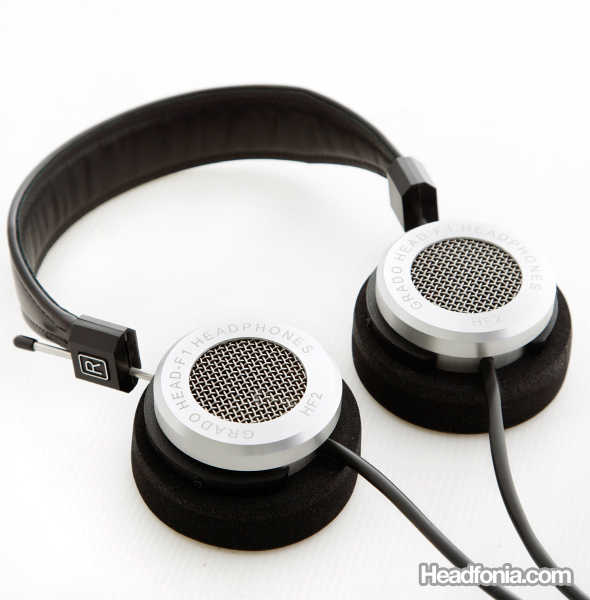 The Grado Head-Fi series began with the HF1, a headphone that was dedicated to the Head-Fi headphone community. In the summer of 2009, Grado released an update to the much loved, limited edition HF1: the HF2. Purchase was limited only to Head-Fi members, and it was only available for sale through Todd the Vinyl Junkie (www.ttvj.com).
Grado's top of the line headphones has always used wood for its housing material (with the exception of the discontinued HP1000 and PS1), but in early 2009, Grado introduced a new flagship that is the PS1000. A GS1000 style housing, with a combination housing of inner wooden chamber and aluminum outer chamber. While this technology is very fascinating, its cost of $1799 was prohibitive to many.
Grado really knows how to reward the faithful Head-Fi community: by giving the HF2 headphone the same outer/aluminum housing treatment ala PS1000 for $439. A few weeks before the Can Jam 2009, it was announced on Head-Fi that there is an HF2 coming, and that it sounds like a baby PS1. Everyone was getting very excited and speculation began, including some questioning on the $439 price tag on a product that's supposed to be a "gift" to a community.
Finally Can Jam 2009 came, and the HF2 was unveiled, and after looking at the initial pics, most people thought that the pricetag justified the really fancy aluminum housing. Orders for the HF2 kept rolling in through TTVJ.com, the only place where you can get the HF2. Sadly, Grado had a problem with the supplier of the aluminum housing, and serial numbers after #20 had a miss-typed housing that reads "Grado Head-F1", instead of "Grado Head-Fi". Everyone was not happy, but again, Grado was famous for their sloppy quality control, so people kind of let go of the issue.