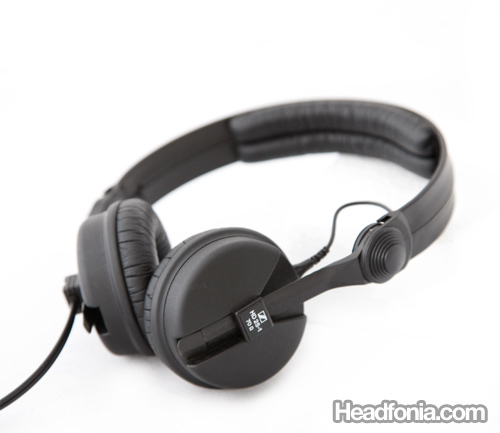 Sennheiser's HD25-1 is perhaps a one of a kind headphone, with no other manufacturer offering anything similar to what the HD25-1 has. It was designed as an on-location monitoring tool by Sennheiser, and it offers superbly neutral sound with a very rugged, very portable housing. The headphone is a closed design, and the sound isolation it provides is top notch, competing with the top IEMs. The price is not cheap for a portable headphone: $200 in the US, and above $300 in Asia.
The HD25 Series comes in two main variations: HD25-1 and HD25 SP. The SP is a lower-priced version with inferior sound quality and less efficient drivers, which sells for about $130. Besides the two, Sennheiser for a period of time manufactured a HD25 SP with 300 ohm impedance for the British Airways Concorde flights that can still be found on Ebay. Looking at the Sennheiser Worldwide website, we find that there are currently 3 other variants: the HD25 II (as HD 25-1 II, but with 2m steel cable, straight jack plug), HD 25-C II (as HD 25-1 II, but with 3m coiled cable, straight jack plug), and the HD25-13 II (as HD 25-1 II, but with 600 ohm impedance, 3m steel cable, straight jack plug). Our review is on the HD25-1 model.
The fitting is one of the best among supra-aural cans, with just the perfect amount of clamping force. Not too tight and not too loose. The HD25-1 is available with two pads: synthethic leather and verlour (in case your HD25-1 only comes with one, you can get the other pads from Sennheiser directly). The pads fits very comfortably on the ear, and it provides enough pressure that it doesn't slip or fall easily. Perfect for people on the move.
Though it is a supra-aural, it seals perfectly from outside noise. Truly the best isolation that you can get out of a portable headphone. Even most full-size headphones don't seal better than the HD25-1. I used to use Etymotic's ER4P for my portable set up, but now the HD25-1 gives just as good sealing in a much comfortable package.
Being entirely made from tough industrial plastic, the HD25-1 is probably one of the toughest headphones you can find. It'll withstand most shock and impact. The surface is tough and scratch resistant, the headband is flexible that you don't need to carry it around in a case like most other headphones. Just throw it inside your bag and you're set to go. (Get a silicon sleeve for your DAP to complement the HD25-1).
Talking about DAP and portable music, one of the great thing about the HD25-1 is that it sings beautifully un-amped. A rarity for a headphone with such great sound quality. Even 32 Ohms Grados can feel lacking dynamics and impact when plugged straight to DAPs, but not the HD25-1. It may be 70 Ohms, but plugged straight to a DAP, it gives you all the punch and impact that you ever need. This makes the HD25-1 a joy to use on the road cause you don't have an extra box to carry around. Furthermore, the clever dual-entry, but single-sided cable means that there is no cord getting tangled up. I can't praise the design of the HD25-1 enough!
The HD25-1 has a neutral, monitor-grade sound. A lot of headphones may claim that they are pro-monitor tools, and how their sound is neutral, but the HD25-1 is the real deal. I'm talking K701 neutral and UM3X neutral here. Unlike the K701 that tend to be sterile and lacking punch, the HD25-1 is neutral without being sterile. It has clean, punchy bass that makes music enjoyable. Compared to the K701, the K701 has a much bigger soundstage (being a full sized, and open cans), but the HD25-1 wins in that it doesn't have that plastic sound that the K701 is famous for. Also where most closed headphones, including the DT770 Beyer, and ESW-9 ATH has a closed headphone reverb phenomenon that never sounds natural, the HD25-1 is free from it.
Dave Koz's saxophone sounds great on the HD25-1, not as airy or breathy as say on a top-line Grado or Alessandro, but the saxophone sounds very saxophone-like. Likewise Depapepe's Guitar and Vanessa Mae's strings are detailed without being sibilant. Guitar distortions often present on Muse's songs too don't feel overly harsh. The HD25-1 has a nice high that doesn't go too far into the harsh territory. It is resolving enough for playing concertos and symphonies, but still plays pop music well without being sibilant.
Bass is probably what I like best about the HD25-1. Muse's "Supermassive Black Hole", Craig David's "Insomnia", and Black Eyed Peas' "I Got A Feeling" is successfuly played with enough dynamic, punch, and control. No intrusions to the mids and highy. The bass also have enough depth without blooming or bloating. Playing Leona Lewis' "Bleeding Love", the HD25-1 was able to play the looping drum in the background with superb control.
Positioning is quite okay. Soundstaging tends to fall into the small category. In Sarah Brightman's "Fleurs Du Mal", and Yanni's "Santorini", the "grand" feeling fails to be felt. Soundstaging is definitely HD25-1's Achiles Heel.
The presentation is quite neutral and in-the-middle. Not in-your-face ala Grado, and not recessed like the K501.
I can nominate the HD25-1 as the best portable headphone, if not for Audio Technica's ESW-9, ESW-10, and AKG's K181DJ. The thing about ESW-9 and ESW-10 is that, though they are very nice sounding phones, they can't really be called neutral-sounding. What's interesting is AKG's K181DJ. Listening to the K181DJ, you will be shocked to find that the sound is IDENTICAL to the HD25-1. I'll say it again: The K181DJ sounds identical to the HD25-1. How can they be? Two different phones from two competing companies that sound identical? I don't know, but the two sound exactly the same.
Overall, I really like the HD25-1. Neutral and balanced, yet also dynamic and punchy. (Most neutral phones lack punch, and most punchy phones lack neutrality and balance). It drives nicely straight from your DAP, but plug in an amp and it'll go from punchy to seismic! Good sound, solid build quality, and a cool looking design too!

GOOD: Portable, Rugged, Superb sound isolation. Perfect for outdoors. Very neutral sound with good punchy bass that doesn't veil the rest of the spectrum.
NO GOOD: Small soundstage.

System for review:
Headphones: HD25-1
Source: Ipod Touch 2nd Gen. Quite pricey for a portable headphone.
Amplifier: CMOY, RSA SR71-a, Qables iQube