Today we're looking at the Hiby R1 & FD1 & Beans. It's HiBy's new small form-factor media player, the $99 USD R2, its companion, the $59 USD FD1 amp and the $69 USD Beans IEM. 
Disclaimer: HiBy sent us the stack for this review, free of charge. All thoughts and experiences with the product are naturally my own. You can find more about them here. Let's get to it.
HiBy
HiBy Music is a company that specializes in research & development of portable audio devices. They have been in the industry since 2011. They designed and developed wide-range of products from DAPs to various Bluetooth devices. HiBy is a very innovative company and they have a huge R&D team with over 40 professionals. Their HiBy Music App has a user base of 2 million users in over 100 countries around the globe. We also just recently reviewed their TOTL Portable player, the R8
They successfully launched many other DAPs as well in the past and now they launched a trio of products. HiBy advises you to buy them together, as a stack. Today we're going to take a look at the trio and I'll try my best to describe it to you. MSRP of the stack is $227 USD and I think that is really affordable.
HiBy R2
The HiBy R2 is HiBy's new, small form-factor entry-level Hi-Fi portable media player, and it's sporting many features for under $100 USD. Key features include a ESS Sabre ES9218 dac chip, tidal capability, Bluetooth, USB-DAC mode, dual mics to use it as a dedicated recorder and so on. We'll explore all of its features together in just a minute.
Specifications & Technical Data
Chipset: Ingenic X1000E
DAC: ES9218 – 32bit/384kHz / DSD: 128 (native)
Output power: 70mW per channel
THD+N: <0.001%
Display size: 2.45", IPS, touchscreen
Display resolution: 480*360
Bluetooth: Bluetooth 5.0 (aptX, LDAC, UAT) + WiFi 2.4 & 5
Battery size: 1000mAh
Storage: MicroSD card, up to 2TB, No ROM.
USB Type-C 
Battery: 15 hours
Dimensions: 61*61*12 mm
Weight: 85g
MSRP: 99 USD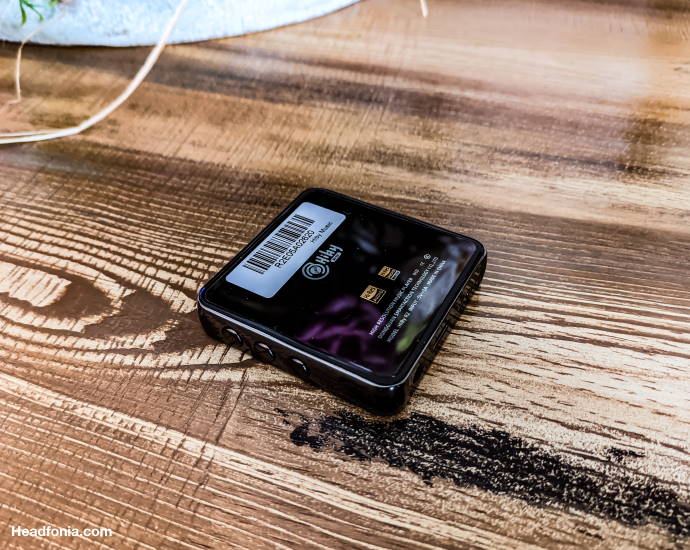 Packaging
The HiBy R2 comes inside of a black cardboard box. The specifications are listed on the back of the box. The package comes with the following accessories:
*Protective Case for R2
*USB-A TO USB-C Cable
*Instruction Manual & Warranty Card
Look & Design
The R2 is ridiculously small for a Hi-Fi device. It measures only 61x61x12mm and 85 grams. It has a vivid screen with a resolution of 480*360. In my opinion, the design is great. The screen is easy to read and the brightness level is good.
These kinds of devices come with very awkward button placements but the R2 is not one of them. It has a great button layout, very easy to use and memorize. The device looks very modern, very chique with its glossy finish and glass design.
Build Quality
HiBy is serious about his and every device I used from them had great build quality, especially the players. I personally like their design language quite a lot. HiBy went with a zinc alloy chassis and a glass front & back design with the R2. For $99 USD, the device looks very elegant.
It is a fingerprint magnet without the protective case though. Every button feels firm, every socket feels durable. Touch screen works and feels great, no ghost swipes or any troubles of sorts. It is also quite easy to navigate with, too.
UI & Features
This section is going to be a little longer because the R2 is a feature-packed device. Let's start with the OS. R2's operating system is the Linux-based HiByOS.
It is designed in-house by HiBy to be a complete, bit-perfect audiophile oriented system. At the time of this review, the R2's firmware is on version v1.0. The system works without any issues and I did not encounter any bugs during my time with the device.
The R2 has built-in support for Tidal, just connect the device to Wi-Fi and you'll be able to log into your account and listen to your favourite playlists with R2. In my opinion, Tidal support is a must and I am very happy that HiBy included it. What is even more eccentric is that R2 supports MQA as well. I hooked it to my phone's data and went for a run. It's awesome to be able to listen to MQA tracks with such a small form-factor device.
The R2 has a lot to offer in the features department. HiBy's in-house research sound effect module MSEB (Mage Sound 8-ball Tuning) is also available on the R2. It is based on parametric equalizer and it can be used to fine-tune certain aspects of the music playback. It is available on every HiBy player and I first used it on the HiBy R5. It works great. There also is a generic EQ but I prefer MSEB because it is slightly more detailed.
Another great feature of the R2 is that you can send files to it via Wi-Fi from your computer. It is convenient and easy to send FLAC or DSD files this way. If you use HiBy Player on your Android or iOS device, you can sync with the R2 using HiBy Link. The R2 also comes with dual mics and can be used as a dedicated recorder in case you want to record one of your classes or you want to blackmail someone, haha! There is even an e-book app that you can use with the device but I wouldn't recommend it to visually impaired people, I had real trouble after a couple pages.
It has a giant 1000mAh battery inside and I can confirm that the HiBy's 15h playback claim is mostly true. I even used it as a sleep-player, hooked it up to my speakers, and got around 17 hours of playback (volume %35). I get around 14-15h with my files and 11h with non-stop tidal streaming. In my opinion, the battery life is great. Just when you think there's nothing left to tell, I'm here yet with another feature. You can use it as a USB DAC with your computer or mac. It works great and it is plug & play. I tested it using Windows 10.
The R2 features HiBy's UAT as well. UAT stands for Ultra Audio Transmission and it is a codec researched and developed by HiBy Music. It is implemented in many HiBy DAPs, allowing the user to transmit data at 1200kbps. As you can see, it is developed by HiBy to overcome the down-sampling problem. It is already superior to LDAC and LHDC (990kps max). 
Tech Inside
R2 uses Ingenic's X1000E processor and during my time with the device I had no lagging issues. As for the audio department, R2 uses ESS Sabre ES9218 audio chipset. It has an output power of 70mW per channel. It can drive almost all of your IEMs but of course, I won't be plugging my Hifiman DEVA to it. Micro SD support is available up to 2 TB. The device itself has no storage space, however, it can play Tidal without an SD card.
HiBy R2 – Sound
The HiBy R2 has a balanced signature with a semi-warm midbass section. It offers good clarity and resolving presentation for the price. It can easily be a welcoming player to new audiophiles. It has a rounded, adequately powerful bass which has great texture. Midbass is slightly on the warmer side, adds body to the overall presentation but still feels very airy. Control is very good here, no bleeding.
As for the midrange, vocals are airy, smooth and warmish. Detail level is good and the overall definition is great for a device of this price bracket. Upper mids are controlled but extensive, what is great is that I had absolutely no sibilance issues. It is easy to track instruments as the stage feels airy and instruments have enough air between them. The depth and width is of course not as good as with the HiBy R3 Pro but it is great for this small form-factor device.
The treble region is clear and extended. The resolution level is good, it is easy to track hi-hats and crashes. Attack and decay agility is also impressive for a $99 USD device. The treble region definitely improves the overall excitement of the presentation. Also adds airiness and refinement to it. I think R2 is more than what an entry-level DAP can be so if you're an audiophile looking for an entry-ticket to this hobby, this is your chance. 
In the upcoming sections I'll be talking about the HiBy FD1 and how it pairs up with the R2. You can find the part on the HiBy FD1 on the next page. Click HERE.