Layout & Features
Let's start with the front. From left to right we have: the power button, the power LED, the network LED, the Frequency LED, hotspot LED and the hotspot button.
The Audio Format LED/Frequency LED has the following meaning:
– Green: PCM 44.1/48/88.2/96kHz
– Yellow: PCM 176.4/192/352.8/384kHz
– Cyan: DSD 64/128
– Blue: DSD 256
– OFF: No Streaming
It's a very tight and basic front lay-out, but it's all you need really. Maybe a screen displaying the audio format and frequency would have been sexier, but he colors do work and they're easy to figure out.
On the back of the unit we from left to right find:
– WiFi antenna
– Exclusive mode selector
– Coaxial output/SPDIF (with the iFi Audio iPurifier built in)
– Dual USB ports (USB 2.0/3.0 with ANC. Input to connect to DAC + output to connect to HDD, USB Drive, etc)
– USB-C port for FirmWare upgrades
– LAN/Ethernet connector
– Reset button
– Power connector
Both of the two digital outputs – asynchronous USB and coaxial S/PDIF – that provide connectivity to an external DAC or an amp with digital inputs are regulated by iFi's femto-precision GMT (Global Master Timing) circuitry to eradicate jitter from the digital audio signal.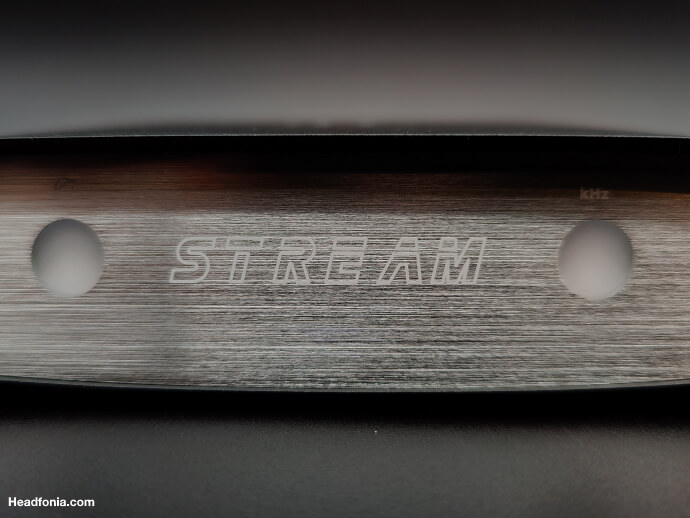 Specifications
Powerful 64-bit quad-core ARM Cortex microprocessor
USB and S/PDIF interfaces regulated by femto-precision GMT clock to eradicate jitter
Active Noise Cancellation II and iPurifier technologies for USB and S/PDIF interfaces respectively
Intelligent Ethernet switch controller
High-PSRR, low idle current, low-dropout voltage regulators with soft start
Synchronous 1.6MHz high-speed precision power supply controller
C0G capacitors and Taiyo Yuden and Murata low ESR inductors
Input Voltage: DC 9V/1.8A-15V/0.8A / AC 100 -240V, 50/60Hz
Input: Wi-Fi / Ethernet / USB HDD (Firmware updates via OTA and USB-C at rear)
Formats: PCM384/DSD256 (MQA-fully compatible)
Output: USB3.0 (Type-A Socket) x 2 / SPDIF (Coaxial)
Power Consumption: No Signal ~6W / Max Signal ~10W
Dimensions: 158 x 100 x 35 mm (6.2″ x 3.9″ x 1.4″)
Net Weight: 589g (1.44lbs)
The iFi Audio ZEN Stream is a true hi-res device. It uniquely supports PCM up to 32-bit/384kHz over Wi-Fi as well as Ethernet cable, plus DSD up to 11.2MHz (DSD256) which is still unusual in most Wi-Fi streamers.
If you still want to know more about the tech stuff and features, please check out the iFi Audio documentation here: https://ifi-audio.com/wp-content/uploads/2021/06/iFi_ZenStream_Lowdown_01.pdf
Usability
Setup & configuration
This is one of the reasons why I like the ZEN Stream so much. You don't need to be an IT professional to get it working, and you really just have to follow the QuickStart guide.
Basically you need to get the ZEN Stream connected to your home network, in a cabled or wireless way. Once that is done, the pleasure can start as the unit will be picked up by Roon, Spotify, etc directly if they are on the same network. In Roon just make sure to select the iFi connect and not Airplay if you're on a Windows device.
Also, once set up and connected you can browse to the ZEN Stream (http://ifi.local/), and go in to the settings menu to, well, set everything else up. You can also use that menu to play music directly from your NAS, web radio or your connected drive, though I really haven't tried the latter
Enjoying music
I have to admit that when I'm at my main desk home working, I tend to use a cabled USB DAC instead of a streamer or wireless receiver. It's different when I'm listening to music at my work place or when I am in the living room or kitchen. In these latter cases I move around a lot more and I can't possibly use a USB-Cable to hook up to a DAC. It also are the times when I am using my speaker system most of the time, and for me the ZEN here is an ideal companion.
Tidal or Spotify? Select what you want to hear and click play. If I'm in the mood for album that can't be streamed I just choose the album on my NAS using the ifi.local "page" and play that. It's incredibly easy, and incredibly fast. Change of moods? Wife complaining "Bring The Horizon" is too loud? No worries! Take your phone out of your pocket and select something different and click play. Done. Happy wife, happy life.
Basically the ZEN for me is the ideal link to all of my music. All you need is the ZEN, a working Wi-Fi connection and a phone. And of course a DAC etc, but we had that anyway, right? 😉
Continue reading the review on the last page. Click HERE.
Page 1: iFi Audio, Intro, ZEN Stream, Design & Build Quality
Page 2: Layout & Features, Specifications, Usability Part 1
Page 3: Usability Part 2, End Words