Today we check out the $699 iFi Audio Micro iDSD Signature DAC/Amplifier in this review.
Disclaimer: The iFi Audio Micro iDSD Signature was provided by a fellow audiophile. Special thanks to Burak Yorulmaz. Hence, this review does not have any affiliation to iFi Audio.
This is the last day of this rollercoaster year and I say good riddance and hope that we can have a much better year in 2021.
About iFi Audio
Belonging to the group AMR (Abbingdon Music Research Group), which is one of the largest audio equipment manufacturers in the UK, iFi Audio is a manufacturer of several DACs and amplifiers, as well as other accessories for computer & home audio. I already reviewed several iFi Audio products before this, such as the Nano iOne, the Nano iDSD Black Label, the xDSD, the xCAN, the ZEN Blue, the ZEN CAN, and the late popular Hip-DAC. Most of these products have entered our recommended lists.
iFi Audio has a very open and charming communication with a helpful and kind attitude, which makes things a lot easier. At least it's been the case for me. They pay attention to the products of course, but they also pay attention to make you happy. I'm pretty sure this is also the case for their actual customers. Although this particular sample is not directly from them, we're always in touch and they've provided me the NEO iDSD model which will also be here soon.
About Micro iDSD Signature
The iFi Micro iDSD Signature is a transportable DAC/Amplifier and it's a continuation of their Micro iDSD Black Label model. The first iDSD was the Micro iDSD and we can say that that was the ancestor of these two, and we actually reviewed it in 2015 here. Together with the famous Chord Hugo, it was one of the most trusted transportable DAC/Amps in the market. I was also impressed by its performance at the time.
Proving their abilities to create great DAC/Amps, iFi then released the Black Label version with improved sound quality and also with a warmer presentation. That one also has become a popular choice among audiophiles and the answer to why it has been popular is simple. It's very powerful and transportable, it has a great sound quality and it is built like a tank.
This Signature version has an improved audio circuitry with higher quality components and the S-Balanced technology now applied on both Balanced and Single Ended outputs. The new Balanced trend is also applied with a Pentaconn 4.4mm output. You can of course find much more details on the iFi Audio website. The output power figures are as below:
Turbo Mode
Power (max)
10.0V/4,100 mW
Power (continuous)
>1,560 mW @ 64 Ohm
>166 mW @ 600 Ohm
Normal mode
Power (max)
5.5V/1,900 mW
Power (continuous)
>100 mW @ 300 Ohm
>950 mW @ 32 Ohm
Eco mode
Power (max)
2.0V/500 mW @ 8 Ohm
Power (continuous)
>250 mW @ 16 Ohm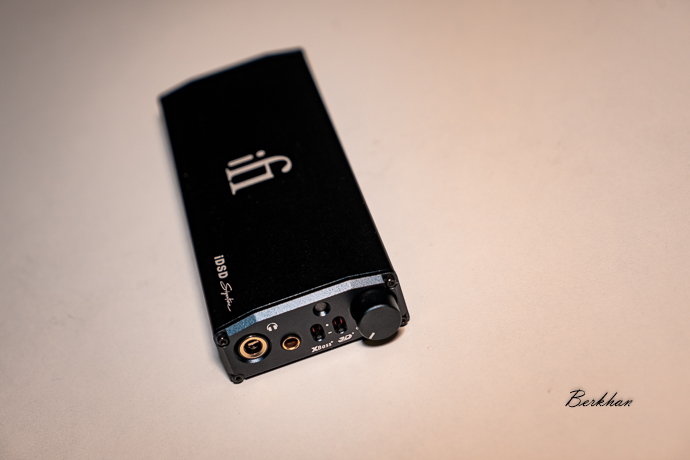 Packaging
The unit arrives in a gray rectangular box. The package is very similar to previous offerings. You get the device on the top and accessories on the bottom cardboard boxes. The boxes store an RCA cable, a recessed type USB cable, and a USB adapter for different types of cables. You also get a short USB Type C charging cable, a Toslink adapter, two rubber bands for stacking, and a soft pouch for traveling. There's also a 6.3mm adapter which is nice.
The presentation of the package is unimpressive, to say the least, but it works perfectly as I didn't see any deformations from shipping. iFi was never about fancy package designs whatsoever. I'm not too much into fancy packaging either, to be honest, so this gets the job done for me.
Design & Build
Appearance-wise the iFi Micro iDSD Signature looks exactly the same as the previous Black Label, except for the color and the Signature logo. This new color scheme however is a perfect choice for this particular series. It looks gorgeous and the Signature logo completes it flawlessly. I absolutely loved this dark blue color selection and I hope iFi keeps this up with new models too.
That aside, the Black Label was already awesome and designed very well so not much is changed here, for good reason. The layout is the same as it has 2 headphone outputs with the volume knob, and two switches for xBass and 3D sound effects. However, the device now supports the 4.4mm Balanced output. On the right edge, you have the USB Type C charging port and on the left side, there are 3 settings; Power Mode, Filter, and IEMatch. Back-side has SPDIF output, RCA output, and the USB data port.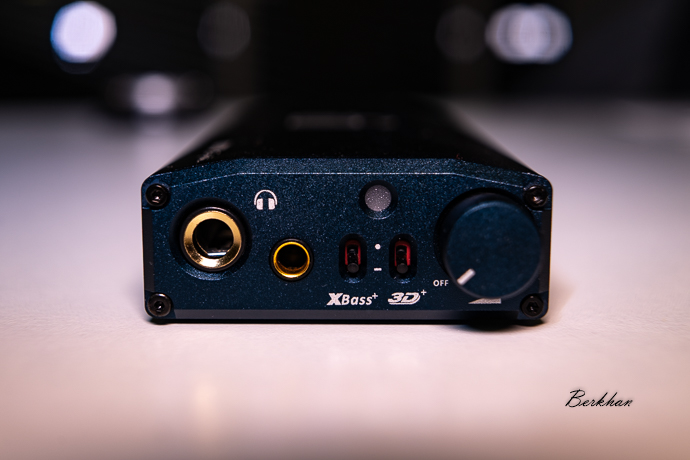 Build quality is great once again as it has the same casing and materials so there's no problem here. The volume pot is great as always with a sturdy feeling. I like its sleekness and simplicity with the brushed aluminum finish. I think this is a very thoughtful design and I'm happy that iFi kept it the same.
The review continues on page 2 about the sound.