In this review, we take a look at ddHiFi's TC44B, an ultra-compact DAC/AMP, available for $89 USD.
Disclaimer: the ddHiFi unit was sent to us free of charge by ddHifi in exchange for our honest opinion. At the moemnt we're running a Topping A50s giveaway, don't forget to subscribe here.
ddHiFi
Established in 2017, ddHiFi is a new brand of adapters, DAC, and more recently, earphones. Led by Demond Ding, a former member of FiiO and Oppo, the brand has gained some fame recently, and I was pretty curious to try their products.
The company goal?
"To use concise and brief design language to make user-friendly accessory products, abandon any decorative design that is irrelevant to practical usage and pay more attention to product material and craftsmanship details with cost-controlled"
Or in simple terms: good products at an affordable price. Which is often equal to Chi-Fi if you want to shorten it even more. And today I'm reviewing one of the most funky looking Double output DAC/AMP units I ever held in my hand. The TC44B.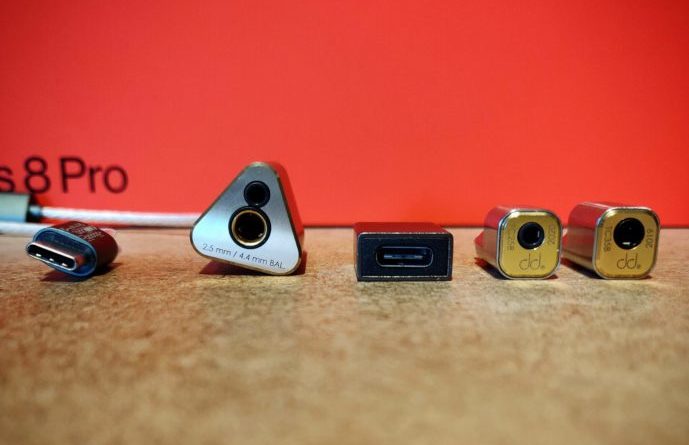 TC44B
The TC44B is fairly new and I haven't seen many in the wild already. You can find its dedicated web page here: https://www.ddhifi.com/productinfo/455367.html
Actually there was a DROP on these as well and the 55 units that were sold there, will be shipped out by the end of next month. You can find that here: https://drop.com/buy/ddhifi-tc44b-usb-c-balanced-dac-amp
Box
You have probably already seen the lovely wooden boxes the ddHifi units are shipped in. Unfortunately because of its size, the TC44B doesn't fit in these boxes. Ours came delivered in a simple plastic bag as I suppose the final packaging wasn't ready yet.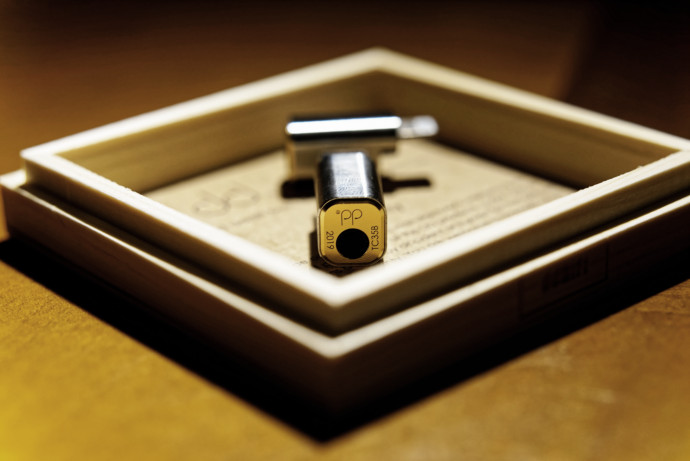 Knowing ddHifi however, I bet it will be something just as nice as the little wooden boxes everyone likes so much, me included.
Size & Design
We all know that ddHifi already is famous for producing micro-sized units. The TC44B however is a bit bigger because they're using a double DAC and because it features a double balanced 2.5mm and 4.4mm output.
So no, the TC44B is not in the "micro" segment this time, but it's more in the "normal" segment such as the EarMen Eagle, NuPrime Hi-mDAC, and the AudioQuest DragonFly Cobalt. And then at the same it also is not because the unit itself is quite a big smaller. Because of it's untypical triangular shape it's more bulky as we're used to and it of course has that attached cable as well. The (more or less) 10cm cable is terminated with a USB-C connector.
Or as ddHifi describes it: "The TC44B looks like a triangle cheese wrapped with matcha skin. One side is the headphone output ports, and the other side is the input cable". Make of that what you want, but I really like the design myself. It kind of reminds me of a mini Pono player and Toblerone bar but it's cute, different and it just makes you want to pick it up and look at it. The grey-gold/copper color combination also works very well together imo and it gives the TC44b a classy and refined look.
ddHifi for the design gets a high score from me, let's see later if it's easy to work with as well. End to end with the cable included this unit measures 14cm, so unlike with the TC35 you're not as likely to lose it or leave it in your pocket without remembering. The TC44B is still incredibly light and it weighs only 13gr. Impressive.
Build Quality
The TC44b's case is smooth and shiny. There are no sharp edges and even the screws are sitting perfectly flush in the design.
The 2.5mm and 4.4mm balanced outputs sit incredibly close to each other as you can see in the pictures, so let's hope the connectors stay firmly in place over the long run. On the other side of the unit the cable leaves the unit without a strain relief. We don't know if it's incorporated in the inside or not, so we'll also find out in the long run how this cable holds up after intensive use.
I unfortunately don't have the size screw-driver it takes to open up the unit, but once I do I'll be checking the inside for build quality as well.
Usage and Specifications
Daily use
So as said, the TC44B features two balanced output ports (no single ended) and both the 2.5mm and 4.4mm are easy to use. According to ddHifi, the 4.4mm output port is grounded connected, so it's more suitable to use with balanced active speakers.
You can hook up the TC44B to your smartphone and your laptop directly, as long as these have a USB-C port. For Windows laptops, you will need to download and install a driver. This was quick and easy.
As you can see in the specs below, the TC44B features dual Cirrus CS43131 DACs, which according to ddHifi are able to boost high impedance headphones. ddHifi also made an optimization to its output power range to get better sound quality when use with smartphones. We will find out later if the 120dB and 120mW @32Ohm is enough.
The CS43131, for your reference, is the same chip as used in the award winning NuPrime Hi mDac and HiBy R3 Pro. So this is promising.
Using the TC44B is easy. The only annoying point (and I'm nit-picking here) is that the triangle doesn't feel as nice in your pocket when you're using it with your smartphone. Of course you can also have the body (the triangle) hang out of your pocket to solve this. So all-in-all, no really issues with the daily use.
Full specs
Output power:                         120mW(32Ω)
Dimensions:                            18.3x 16.8x 30.0mm (triangle part)
DNR:                                       120dB
Cable length:                           85mm
THD+N:                                  <-110dB
THD+N:                                  <-110dB
Plug length:                             13.5mm
DAC (PCM):                          Up to 32bit/384kHz
Weight:                                   About 13g
DAC (DSD):                           Native DSD64/DSD128/DSD256
Let's check out how it sounds on page two of the article. Click here!