Today we check out the $149 iFi audio hip-dac.
[responsivevoice_button]
Disclaimer: The iFi audio hip-dac was sent to us directly by iFi audio. This review reflects my unbiased opinion as always. The sound impressions were taken with InEar ProMission X, InEarz P450, and P-EAR-S SH3 IEMs and also with the Thieaudio Phantom planar headphones.
About iFi audio
Belonging to the group AMR (Abbingdon Music Research Group), which is one of the largest audio equipment manufacturers in the UK, iFi audio is a manufacturer of several DACs and amplifiers, as well as other accessories for computer & home audio. I already reviewed four different iFi products before this one, which are the Nano iOne, the Nano iDSD Black Label, the xDSD, and the xCAN. I also reviewed the great iFi ZEN Blue most recently and it entered our Best Wireless Recommendations list.
iFi audio has a very open and charming communication which makes things a lot easier, at least it's been the case for me. They pay attention to the products of course, but they also pay attention to make you happy. I'm pretty sure this is also the case for their actual customers. Also, I would like to pay special thanks to Karina for this review sample.
About iFi audio hip-dac
The iFi audio hip-dac is a very compact and portable DAC/Amp mostly for mobile users. It supports hi-res PCM up to 384kHz as well as DSD256 and MQA as used by Tidal's 'Master' tier. The hip-dac has standard iFi traits such as "power match" -which is the gain switch-, and an X-Bass switch for more oomph. The new thing here is the 4.4mm balanced output. This is becoming the standard socket for balanced audio nowadays. You have a standard 3.5mm as well of course.
Take the hip-dac, our mini DAC/headphone amplifier, with you wherever you go.
Design & Build & Package
The new design is very modern, sleek and to me stunning. The xDSD's design was also very nice, but I think this simply is the next level in terms of looks and convenience. It's very slim, very compact and sexy looking. It is a fresh renovation in their line-up in terms of portable DAC/Amps. It's very flashy, eye-catching and cool.
It's somewhat less serious with a more consumer looking approach when compared to iFi's previous devices. The outside of the device is full aluminum. The front side has a black plastic panel as well as the backside. The color scheme is beautiful with a petrol blue and black combination. The design is finished nicely with a copper volume pot and it gives the device a certain character.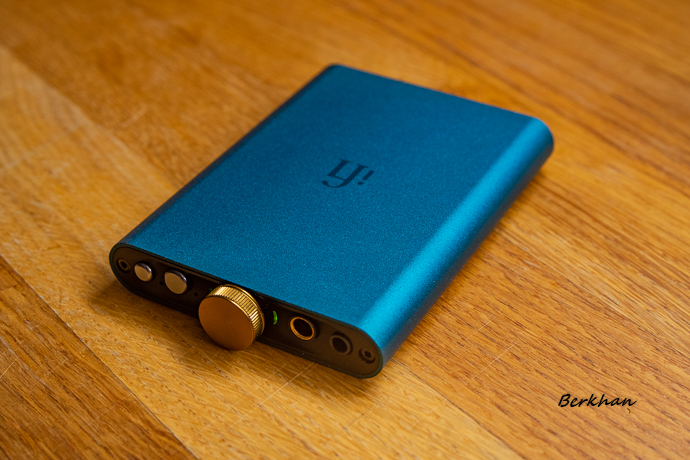 The build quality is very good and the volume pot, in particular, gives a very premium feel. The xDSD was not good in that regard as well as the xCAN, as I mentioned in their respective reviews. The recessed USB socket of the device is very rigid and I find this solution thoughtful overall from iFi. This way you can use this device many years to come without worrying about the lifetime of the USB input. However, this also prevents you from using your existing USB cables because of the recessed male form.
iFi supplies a USB-C cable for that purpose, meaning you can use every modern smartphone with it. In the past, I criticized iFi for not putting that cable in the package of their DAC/Amps. This time you have it, and it looks like it's the same cable that I covered in 2018; the iFi OTG Cable.
User Experience
The new hip-dac is slimmer than the previous offerings so it's a nice companion for smartphone users. If you like this minimalistic approach, it's a nice companion for slim laptop users as well. Just sit at a cafe, connect the USB cable, open up the volume pot and you're good to go. It's plug and play for smartphones, though you need to install USB drivers from iFi for Windows.
The xBass button is useful if you want to enjoy EDM tunes, but I mostly kept that off since I don't like artificial effects. The device supports every file format you can think of, and it's flawless to listen to MQA recordings from Tidal with USB Audio Player Pro with a smartphone.
There's an IEMatch button next to the xBass button and that acts as a gain switch on face value. However, it acts the same as the iFi's IEMatch accessory. It performs an impedance matching to your IEMs and provides you the optimum gain setting.
One thing that I liked is the inclusion of the 4.4mm Balanced output. This output sounds just a bit cleaner than the 3.5mm one, and it allows you to use your 4.4mm jack. This provides a very rigid and secure connection compared to 2.5mm. Also, the 3.5mm output has an "S-Balanced" output, so you can perfectly use your 3.5mm Balanced cables if you have any.
The battery life is very good and my experience has been consistent with the 12-hour mark.  Speaking of it, the charging and data ports on the hip-dac is separated. So for charging you use the USB Type C connector, and for data you utilize the classic USB-A. This is an important decision since it separates power and data flow to the device.
There's a channel imbalance when you use very sensitive IEMs at very low volume levels, so be aware of that.
The review continues on PAGE 2 with sound quality.