In this article we review the universal MMR Balmung IEM, which is selling for $2,699.
Disclaimer: The MMR Balmung was sent to us directly by MMR in exchange for our honest opinion in this review. The Balmung doesn't need to be returned to the factory after this review.
MMR
Metal Magic Research (MMR from now on in this article) is an IEM company in Singapore, lead by Joseph Mou which we of course all know from Jomo Audio. Jomo Audio has launched some great IEMs over the year, but with MMR the goal is to innovate. MMR strives to perfect the consummation of impeccable acoustics design with excellent aesthetics & ergonomics through the use of various ingenious methods to process manufacturing implementation.
"At MMR, we value ourselves at innovation excellence, superior customer experience and unsurpassed value preposition. Our products are meticulously designed to offer unsurpassed product serviceability and a unique portrayal of realism sound that adheres to our core principles of musical enjoyment. In doing so, we hope to foster a closely knitted community of music enthusiasts through our products and service".
Up to now MMR had already launched three different IEM models: the Homunculus, the Thummim and the Gae Bolg who all had very outspoken and special designs. Of these three, we were only able to review the Gae Bolg IEM. According to MMR their universal IEMs are enclosed within luxury ultra precision CNC milled titanium shells offering perfect ergonomics, robust and allows for calculated acoustic reverberations. MMR products utilize cutting edge technology and unconventional acoustic chambers to produce IEMs with stellar performance.
In this review we will be looking at the latest Balmung IEM. We've had it here for a couple of months already to be honest, so it's really about time we have a closer look at MMR's latest creation. Apologies to MMR and readers for the delay in publication of this IEM.
Before reading our Balmung review, it might be interesting to read our Gae Bolg review first. You can find it here: https://www.headfonia.com/mmr-gae-bolg-review/
Balmung
Of course the Balmung has a dedicated web page on MMR's website and you can find that here: https://metalmagic.co/products/balmung
The universal Balmung IEM is part of MMR's new "Metal Series" if I'm not mistaken, and the MMR Balmung comes second in line after the Thumimm. MMR is still calling it a flagship IEM however. Balmung – according to MMR – is inspired by the Azure Balmung of mythological weaponry, with key product design elements drawing references from the azure sword.
The MMR Balmung sports no less than 12 BA drivers from the latest generation. The driver setup is the following: 4 Tweeters, 4 Mid-High, 2 Vented Mids, 2 Vented Lows and this with a 4-Way Electro Frequency Division.
From MMR: "MMR developed a synergize advanced 4-way passive electro-frequency division (Balmung 4-Way EFD) system that is inlaid with passive electronic components. The frequencies are rent to encompass a perfect division of Low, Mid, Mid High, and Super Highs. Coupled with a specific RLC filter circuit to allow calculated electronic signal of the various frequency bands to conjoin at specific drivers. However, the inclusion of passive electronic components and filter circuits within will result in a Frequency Phase shift. Ergo, MMR spent a major part of R&D on developing a Balmung specific Acoustics Chamber (BMAC) which is the central system behind Balmung's tuning and performance. The 'BMAC' not only corrects compensate phase but also provides a controlled tune of the sonar output. Due to the complexity and sensitivity of the drivers, there are an array of aspects that impact the final sound output. "Density Of Chamber", "Pathway Length", "Consonance", "Pathway Angle", "Inner Diameter" are among the key variables that have been gone through unending tests that result in the final rendition of the Balmung."
Are you still following? If you want to find out more about MMR's Asymmetrical TriBore Waveguide and Acoustic Chamber™, then don't forget to check out their explanation on their website.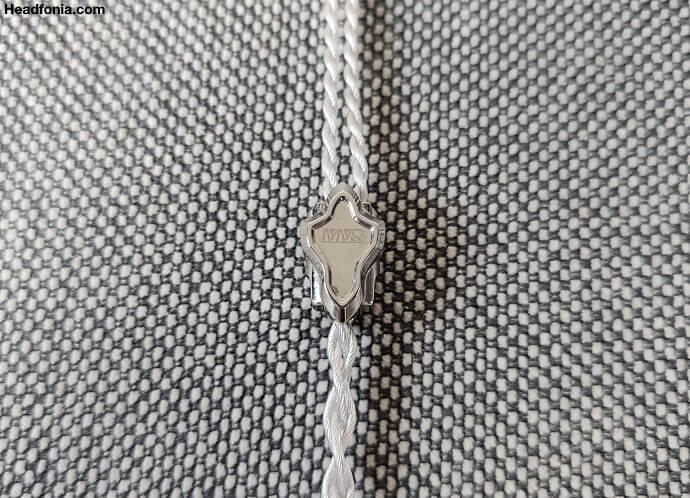 We'll find out how it really sounds, in just a bit. At a selling price of $2,699 USD, the Balmung can be seen as a high end universal IEM.
Technical Specifications
12 Precision New Generation Balanced Armatures
4 Tweeters, 4 Mid-High, 2 Vented Mids, 2 Vented Lows
4 – Way Electro Frequency Division
Asymmetrical TriBore Waveguide
Balmung Acoustic Chamber™
Frequency Response: 18Hz-48kHz
Impedance: 13ohm
Noise Isolation: -18db (UIEM)
Exclusively selected 26 AWG UP-OCC Silver Plated Copper wire, hand-braided cable
Box, Accessories, Cable
This part is going to be short and easy. As this product was brand new it came delivered in a blue soft carrying case. On the inside we only found the IEM, the Eletech cable and one box of Acoustune silicone tips with 3 sets inside (1 set in 3 sizes actually). Each ear piece was carefully packed in a tiny bubble wrap bag. Really cute.
So yeah, we have no clue how consumer the box looks like and how the Balmung will be presented or what accessories you will get with it. So unfortunately there isn't a lot we can share about this, but you can probably find it on the www.
The MMR site shows you can choose between a 2.5m or 4.4mm balanced cable. Ours came with the 2.5mm one. The cable actually is a specially tuned 26 AWG UP-OCC Silver Plated Copper wire, hand-braided cable by Eletech. MMR says: "With Eletech's expertise in cabling craft during the development phase and it's been found to be optimal in bringing out Balmung inherent traits and stipulated sonar response."
The article continues on the next page. Click here or use the shortcuts below.
Page 1: MMR, Balmung, Specifications, Box & Accessories & Cable
Page 2: Design, Build quality, Fit, Comfort and Isolation, Sound intro, Sound general
Page 3: Sound Classics, Comparisons, Conclusion