In this first look episode, we take a look at the Hi-mDAC from Nuprime, the smallest USB DAC from the brand. The tiny USB-Key sized DAC is now available for 139€ at your local store.
[responsivevoice_button]
This is part of our Picture Sunday series, where we take a quick look at some products in the review cycle. You can find all previous First Look Sunday posts here.
As this might be the first introduction of the brand, on Headfonia, here is a quick presentation.
Founded in 2014 by Jason Lim, Nuprime was born from Nuforce's buyout by Optoma. The guy bought back the high-end division and produced "affordable" high-end gear. Almost all of their products are designed to fit a classic HiFi setup or a home-theater, and as an owner, I must say it works pretty well for that purpose.
And, out of the blue, they sent me the Hi-mDAC, with a bold claim: "better than the Audioquest Cobalt, and cheaper too". So… I had to add it to my review list!
NuPrime Hi-mDAC – The design
At first glance, the Hi-mDAC doesn't display the same visual appeal found in the Cobalt.
When Audioquest tried to smooth every edge, Nuprime chose to go with the boxiest case they could think of. Fortunately, the aluminum enclosure is so tiny – only 5 x 2,2 x 1,2 cm – that the bulky design won't be a burden on a daily basis.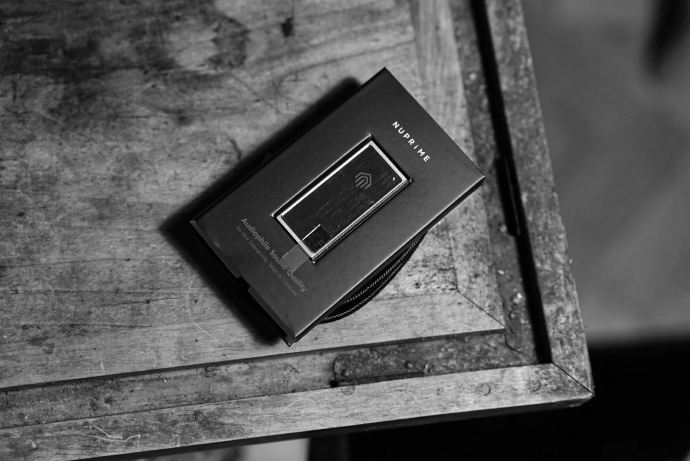 The build quality is good, but don't expect the same classiness found in the Cobalt. The case is made of plain anodized aluminum and the only extravagant quirk comes from the mirror-finished front plate, emblazoned with Nuprime Logo.
That said, this design might be one of the Hi-mDAC strengths. You'll never ask yourself whether or not you could/should carry the DAC with you. I forgot mine at the bottom of my bag for two days, and when I finally found it back, the case was pristine.
I/O is simple as it could get :
a USB-C Port made to connect with your source (iPhone/Android/PC/Mac)
a 3.5mm headphone jack, that doubles as an Optical output. Neat!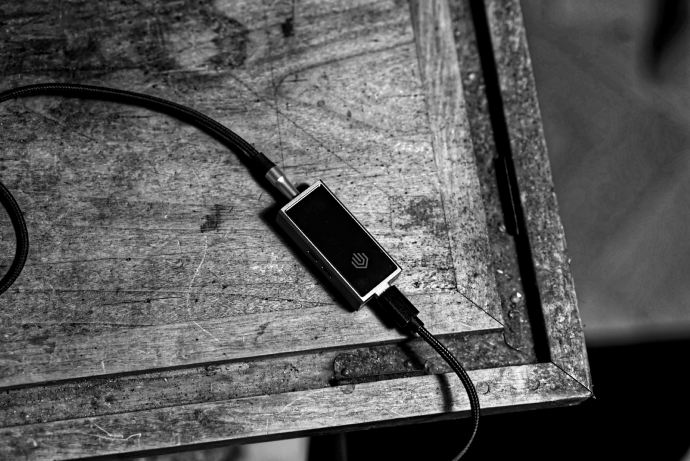 None of the inputs or outputs are gold-plated, and there are no balanced ones either. Some might be displeased but for those of you I'd suggest checking the DAC-10HSE who's seriously Gold Plated (!)
Finally, let's talk about one cool feature that the Hi-mDAC has, but the Cobalt doesn't: volume up/down. If this may look like a gimmick, I still think that a volume control remains incredibly useful on the go, when you don't, or can't access your DAP/smartphone.
Nuprime Hi-mDAC – A quick view
For the price, the Hi-mDAC is surprisingly well equipped and may become a great addition to a portable setup.
First and foremost, it supports high-resolution files. But, not just your classic 96kHz/24bit. No, no, no, the DAC can decode files up to 384kHz/32bit PCM files and DSD 64/128/256. To do so, Nuprime combined an exclusive USB communication chip, customised from a supplier, with a CS43131 from Cirrus Logic, the same DAC found on the Cowon Plenue D2 for example.
Nuprime states that "to minimize pre-echos and ringing artifacts, the CS43131 is designed with proprietary digital-interpolation filters that support five selectable digital filter responses". Even though, I don't know how you'd access those five roll-off options, as the Hi-mDAC doesn't come with an app.
Likewise, the Hi-mDAC is said to be compatible with all kinds of devices. And, to ensure the lowest noise, the DAC offers adaptive impedance detection, to support headphone fingerprinting. It's kinda like iFi Audio with their IEMatch, but where you have to switch on the option on the iDSD Nano or Zen DAC, this happens automatically on the Nuprime.
Finally, let's talk about the USB port. Most of the time, USB-powered DACs make my iPhone display the annoying "device draws too much power". Thankfully, this one doesn't and I was still surprised by how powerful it gets with most headphones. Still, don't use it to drive a Sennheiser HD800S, or a Hifiman. It's powerful, but not magically powerful!
Yet, I still prefer the USB stick design of the Cobalt, as it remains easier to connect to a computer or a smartphone with an OTG cable.
Let's talk about the sound now.
Nuprime Hi-mDAC – First impressions
So, is the Hi-mDAC as good as advertised?
(Un)surprisingly, it is very (very) good. I would not say that the Hi-mDAC is better than the Cobalt, but most of the time it is at least on par, and definitely better than the Dragonfly Red.
Compared to the FiiO K3, another small DAC available under $/€200, the Hi-mDAC offers smoother voices and more definition in the mid-range. It's subtle with the Meze 99 Classics, but much more palpable with the Shanling ME500.
A pretty good match was achieved with the good old Fearless S8: tight bass, wide soundstage and more power than you'd ever need. On the opposite side of the scale, the Sennheiser IE800S, albeit shown on the brand website, didn't give me any satisfaction. Hard highs, unnatural transients, and worst of all, thin bass.
Dynamics are definitely one of the best features of this DAC. With good tracks and a good can, I could match some pricey, but old, DACs on my daily commute, without the hassle of the size.
All in all, for a first try, I'm pretty pleased by the Hi-mDAC. But, I'll keep my final judgment for a complete review, as I think this little one deserves a full-fledged one. So, let's keep in touch!