Disclaimer: Headfonia is media partner of Canjam Europe / Essen. The community area was "organized" by the Headfonia and Canjam Europe team. Canjam Europe isn't related to the Head-Fi Canjam events in any way, just to make this clear (again.) Part one is here and Part three here
Canjam Europe 2016 – Part 2
It's the event a lot of European personal audio fans have been looking out for the last few months. Canjam Europe delivered with yet another successful edition, one that went by way too fast. The list with the exhibiting brands again was very long but we managed to get almost everything done over two full days. In total I took about 700 pictures at the show, of which you'll get to see around 200 in this picture report. Because of the large number of pictures, the report will be split up in three parts and it will be published over the same amount of days.
Next to that I'll be naming the Best of Canjam Europe 2016 units for the following categories at the end of the series:
Best inear monitor
Best desktop amplifier
Best portable dac/amp combo
Best DAP
Best Headphone
To Follow
And so the report continues with the next brand!
Focal
Ever since Focal launched the Elear and Utopia, everyone has been talking about the French brand. For me personally it was the first time I heard both headphones but boy do I love them
Focal brought all there speaker experience to their headphones and the driver, especially the one of the Utopia looks very impressive
The $999 Elear was a great sounding headphone and while it it slightly different tuned than lets say the LCD2, HE-560 and the Sennheiser HD800, this headphone will over many hearts and ears. It for sure is a giant killer. I didn't really like its looks though and the comfort to me wasn't the best but the pads and sound were sublime.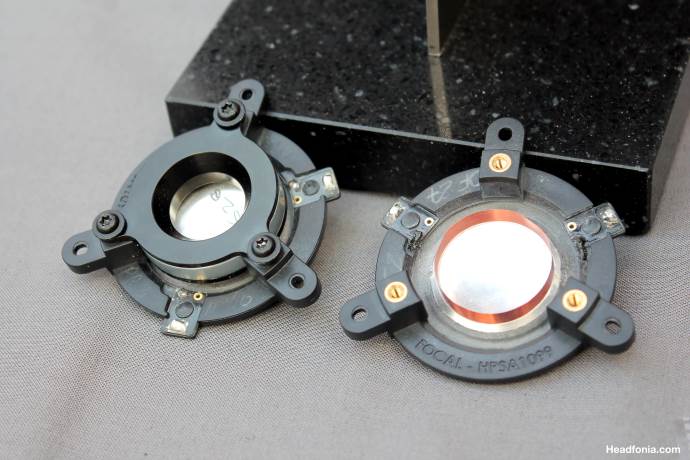 The Utopia driver is on the left, obviously
The UTOPIA earpads don't only look nice but they, together with the rest of the design, make it a very comfortable headphone. It doesn't only look extremely good but its sound is out of this world. It's like listening to really good speakers right next to your ear. It just might be one of the very best headphones out there and for $3999 it should be 😉
German Maestro
At a German show the German Maestro of course has to be present. They're no stranger to us and their low priced headphones have found their way to Headfonia before. Right HERE.
Grado
The German Grado guys always come with a big booth and all of their models. There's always so many people listening to the Grado headphones. I really like how they look and I do feel they keep getting better and better each year. The SR80 and the other low-end models still are the best selling one. And I agree, everyone should have has an SR-80 at some point.
The new GS-2000E looks really good and it sounds impressive on that tubes amp
But basically every single Grado looks good on a nice Sieveking stand, don't they?
Hafler
I have to admit I wasn't really familiar with this brand but this HA-75 tube amp made an excellent pairing with the Kennerton Odin
Headsound
The guys from Headsound.de can always be found in the same corner and they always bring heaps of top quality budget gear
One of the most popular items at their booth – just like last year- was the JDSLabs Element. It always fun listening to (and smelling) the CMOY amps
Star of their booth for me was the Fidue Sirius A91 with its 4BA + 1 DD combination, awesome sound for $899
IFI
I love how IFI works with the community to develop their units and as a result they have some really great gear. For my personal taste their amp sections are a bit too clinical but their DACs are great
I always love seeing those IFI racks with the iDSD and it's brothers. Star of the IFI table however was the PRO iCan, Haja couldn't stop talking about it so I think doing a review of it is inevitable
Click HERE or below to jump to page two of the second part