Disclaimer: Burson Audio sent us the Burson Cable+ (two versions) in exchange for this review. As far as I know these samples don't need to be returned.
Burson
The Australian Burson Audio was founded in 1996 and is well known in the world of personal audio and beyond. They've successfully launched several amplifiers such as the HA-160D(S), Soloist, Conductor, Virtuoso, Soloist SL and the opamp-rolling back to basics Lycan under the Supreme Sound brandname. Next to that they have a series of popular and good sounding opamps like the V4 and V5(i) (reviewed in the Lycan article) and now they're back with a new product called the Cable+.
The Burson philosophy is simple: the fewer components interfere with the audio signal the more complete your musical experience.
Cable+ : Why and How?
The "Cable+" is Burson's latest invention and it is a high dynamic active (Aux to Aux/ Aux to RCA / RCA to RCA) cable with their V5i "Audio Module" integrated in the design. The Cable+ can be used both in your HiFi setup as in your portable setup.
So what's the idea behind it? According to Burson, today's multi-core high power CPU in our phones, tablets, and laptops, the devices able to process high-resolution music is already in your hands. However, when connecting these devices to an audio amplifier, the resulting music quality is guaranteed to disappoint, lacking dynamic and soundstage with a blurry vocal and harsh high notes. They state that there are two bottlenecks preventing your phones, tablets, and laptops, from sounding hi-end. They are the low voltage output of these devices and the 1940 era audio cable connecting them to the audio amplifier. You can either read the explanation in the next paragraph or watch this short video:
"The conventional audio cable was designed in the 1940s and has not changed since. They were meant to transfer audio signal between high voltage devices.  Using such cables to transfer today's typical low voltage audio signal from mobile devices and laptops results in signal loss and distortion.This resulting mismatch is the reason why you have to turn up the volume of your amplifier and yet music playback sounds strained, lacking clarity and impact."
The Burson Cable+, utilizes the V5i audio module to raise the signal level from 5 Volt mobile devices to the standard RCA line level, ensuring a perfect match with any audio amplifiers and active speakers. The Cable+ can as a result also be used in your home system, removing the impedance mismatching between units in your setup. It removes any impedance mismatching by acting as an isolation platform between any source components (CD, DVD, Media Player) and downstream amplification (preamp, integrated amp, active speakers). It is designed to increase signal transmission efficiency and unlock the potential of any system. If you liked the previous video you'll probably like the next two as well:
Hifi:
Portable Audio:
To launch the Cable+, Burson used the online crowdfunding website Indiegogo where the Cable+ got founded 303% which was more than needed to successfully launch the idea. They also have a dedicated thread on Head-fi where Headfiers are reporting their Cable+ findings. It's always nice to read other people's experience so certainly go have a look there.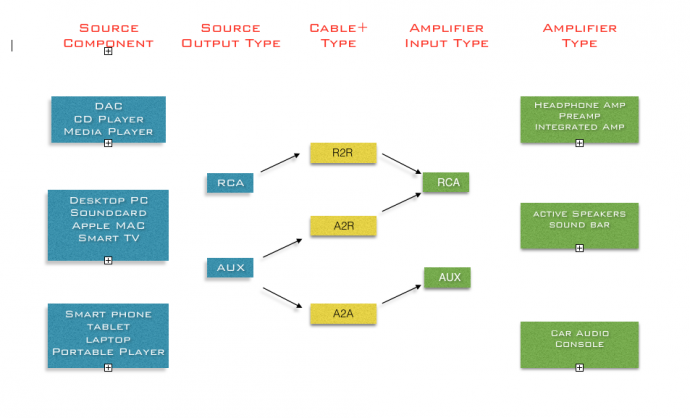 The Cable+ Specs
The cable, after the Indiegogo $99USD period, is selling for only $149USD. For what it does and with the i5 module inside, this is a very acceptable price making the Cable+ affordable for a whole lot of people. It's well built and it's only a small investment to make to improve your sound or even just test it if you're skeptical. The only thing you have to take into account is that the Cable+ needs to be powered by micro USB, so you'll need for it to be close to a power source.
| | | | |
| --- | --- | --- | --- |
| Measurement | | Package Content | |
| Input impedance: | 250 KOhms | 1 x Cable+ | |
| Frequency response: | ± 1 dB 0 – 55Khz | 1 x USB Power Cable | |
| THD: | <0.005% | 1 x USB Power Supply | |
| Input impedance: | >8K Ohm | | |
| Output impedance | 3 Ohm | General | |
| Signal to Noise Ratio | >118dB at 6dB gain | Weight: | app. 200 (net) |
| Power Dissipation | 5W (1VA USB Power) | Cable Length: Appx | 120cm / 47.2in |
Setups and Testing available on the next page after the click HERE