Disclaimer: The Australian Burson Audio is a Headfonia advertiser. Supreme Sound isn't but indirectly there of course is a link. The Lycan was sent to us free of charge together with the V4 and V5 discrete op-amps.
Intro
The goal of this article is to explain the Lycan, op-amp rolling and a little bit of discrete circuits to everyone, from beginner to DIY expert.  This is the first piece of "Burson" gear in my collection. I did review the original HA-160 years ago and listened to plenty of their units at shows though.
Burson & Supreme Sound
The Burson philosophy is simple: the fewer components interfere with the audio signal the more complete your musical experience. This is their core design philosophy since they began in 1996. If equipment is designed well and transparent enough then the pace, rhythm, timing dynamics and tonality becomes a natural expression of the music. Burson feels this can never be achieved with standard circuit building blocks like IC chip op-amps, IC regulators, or even standard transformers. Instead Burson researches and develops customized discrete circuits specifically to suit their applications. According to Burson, only then does each and every component in the signal path perform at its peak and only then will the end result match our expectations.
Supreme Sound Audio Components (SSA) is a division of Burson Audio. SSA provides DIY and OEM parts and testing equipment. Burson's iconic all-discrete op-amps are the first products available on the SSA site along with the Lycan Op-Amp Test Bench.
According to Burson and SSA, all discrete circuits are custom-built for specific applications rather than an op-amp's jack-of-all-trades-master-of-none specifications. The art of circuit design yields superior sound in every way in comparison to simple plug-a-chip engineering. A system can only sound as good as its weakest link. All our products use thick, quality, temperature-stable printed circuit boards with high-purity copper traces and gold-plated soldering pads. An extra coating is applied to both sides of the PCB to prevent oxidation. The boards are hand-built use high-spec metal-film resistors and other audio-grade parts using as few hand-matched components in the signal path as possible.
Advantages of a Discrete Design:
Custom circuitry designed for specific application
Significantly reduces component count to better preserve signal integrity
0.1%-matched metal-film resistors and silver mica capacitors
Extremely temperature stable
Each transistor is chemically optimized for its application: NPN or PNP
Each transistor tested and matched before hand-soldering onto the PCB
Op-amps
Rolling op-amps is a bit like rolling tubes. One of the big differences is that it's a lot harder to swap op-amps as tube amps most of the time are built for easy access to the tubes compared to op-amp designs. That's where the Lycan comes in as it is especially built for easy op-amp rolling. I roll a lot of tubes in several of my tube amps but I never felt too confident about opening up my solid state gear. With the Lycan however it takes like 15 seconds and it is all very easy. Click pause, volume 0, power off, unplug single or dual op-amp, switch op-amp taking into account pin 1, power on, turn volume up and click play.
Op-amp rolling is very popular among audiophiles and the Lycan encourages that tradition.  The sonic characteristic of the Lycan changes when different op-amps are used.  Its open frame design and gold plated DIP socket make op-amp rolling with the Lycan fun and easy. The SS4 op-amp was sent to Nathan and me when it was first launched but up to now I never had the possibility to try it out. The SS5 compared to the Gen 4 SS op-amp requires less voltage and current. That means peak performance can be reached using less power. There is no sonic difference between adopting one unit of dual SS op-amp and 2 units of single SS op-amps. Gen 5's cascade output stage is the result of over 10 years of research and five generations of designs. According to Burson, its sonic signature is the most refined we ever created. Burson also just launched the V5i just last week but it hasn't reached us yet.
The Burson SS Op-amps are directly replaceable with the following op-amps:
Dual Op-amps: AD823, AD823AN, AD8066, AD8620, AD712, AD827, C4570, JRC4580, JRC5532, JRC5532D, JRC5534, LF353, LM4562, LME49860, LM833N, MUSES8920, NE5532, NEC4520, NEC4570, NJM2068D, NJM2114, NJM2214D, NJM4558, NJM4558D, NJM4560, NJM5532, NJM4558P, OP275, OPA1612, OPA2277PA, OPA2132, OPA2134, OPA2604, JRC4558, RC4558D, RC4558P, TL052, TL072
Single Op-amps: NE5534, LT1122, OPA134, OPA627, AD811, AD844, OPA604, AD8610, AD797, LME49990, LME49710
With single op-amps you will need two units, one for each channel. These op-amps in the Lycan have to be placed in both the left and right side. A dual op-amp does both left and right channels and this op-amp goes in the middle slot of the Lycan. Next to the SS4 and SS5 we'll be looking at the OPA2134PA and the OPA627BP from Burr Brown.
Lycan
If you look at the Lycan you immediately realize it will never win a Red Dot Design Award. The Lycan – which name always reminds me of the Underworld movie series – is a very basic unit unlike the regular Burson designs. Both pictures below perfectly describe the lay-out of the Lycan. As you can see the Lycan has a completely open design without any case built around it. Its looks are minimalist but it wasn't created to look good, it's made to allow easy op-amp rolling and to perform as well as possible for the money. The volume control is very basic though, I'd love to use a better one in the unit.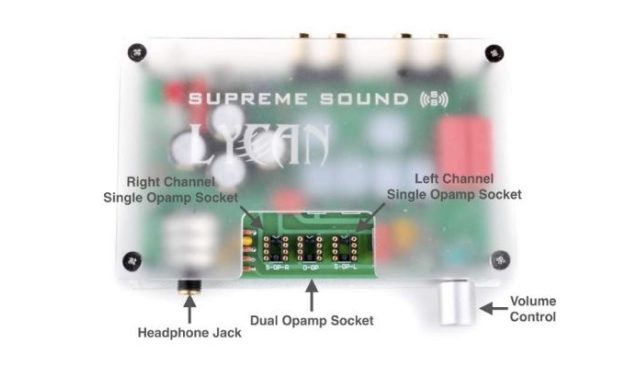 Do note that the Lycan bottom plate after a few hours of non-stop use gets pretty hot. The Lycan is extremely easy to use and stays fairly stable on your desk when connecting your headphone.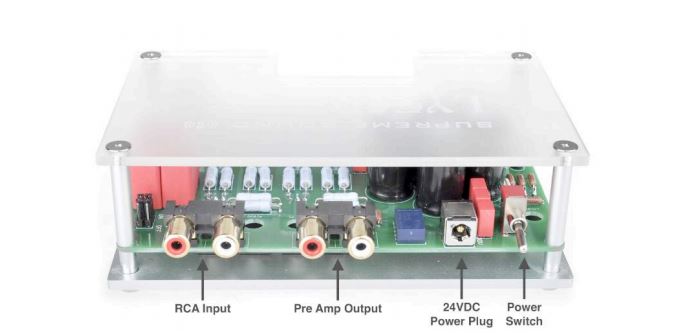 The Lycan first and foremost is a powerful and detailed headphone amplifier which comes fully assembled and ready to play.  With roughly the same footprint as a smartphone, it is a Pure class-A and fully discrete design outputting 2.2 watts (2200mW) per channel into 16 ohms. It is also a preamp and I ended up using it very often with my 300B amp. When a headphone is connected, the pre-outs are disconnected automatically. You should always power down the Lycan before switching between headphone and preamp mode as that will avoid any noise surge during switching.
The Lycan has a 60W power supply and 8800uf of power caps ensuring plenty of head-room regardless of the impedance and sensitivity of the headphones. Burson states that you through this headphone amplifier will hear the finest details and greatest dynamics in your music.


The Burson/SSA Lycan is starting from only $249USD and the great thing is the Lycan is built to the same exact standards as all Supreme Sound and Burson Audio products. So you basically get a mini Burson for just a fraction of the price. The Lycan has gold plated headphone jacks, Dale resistors, Slimic II Caps and is built to last a life-time. At $299 USD, the Lycan comes with the Supreme Sound Audio V5 Dual Op-amp, which is pretty great.
"Sound" can be found right after the jump to the next page