Disclaimer: Cayin sent me the Cayin N5 DAP free of charge for this review. This is a free sample that will be kept in my collection for further reference.
Cayin – The N5
Cayin is a premium Chinese high end audio brand (since 1993) and until a few(?) months ago their products were quite rare to find in Europe. Their focus has been always dedicated HiFi equipment covering every chain in the music reproduction path, from CD player to speaker, but the essence is no doubt their tube amplifiers. Their equipment ranges from around US$100 to just below US$10,000 per item, covering the needs of different requirements and budget. At Canjam Essen, Audiogarden.fr, was displaying all the Cayin products and it is because of them that I got in touch with Cayin directly for a review of the N5 DAP.
The Cayin N5 is the little brother of the N6, Cayin's actual TOTL DAP. The N5 is a mid-fi audio player and it is available for about $319USD on Amazon. It's not the first time we've looked at Cayin on Headfonia, Nathan actually reviewed the C5 portable amplifier a few months ago and he really liked it. This however is the first Cayin DAP review on Headfonia.
One of the other Cayin products I really like is the HA-1A, a full size tube based headphone amp. It completely surprised me at Canjam Essen and maybe we will get a chance later to review it. Before that happens however, we will probably be back with another Cayin DAP review. You see, Cayin will actually announce a new DAP (Cayin I5) at the end of the month.
Looks & Build Quality
Cayin's design is, well, it's special. You either love or hate it. I personally like the design of the Cayin N5, but the N6 isn't what I would call a sexy looking DAP. Most of their high end products however look really nice. The N5 came in a rather nice box and the accessories were an extra screen saver, a coax to 3.5mm cable, a premium flat USB-3 cable and a thick leather case.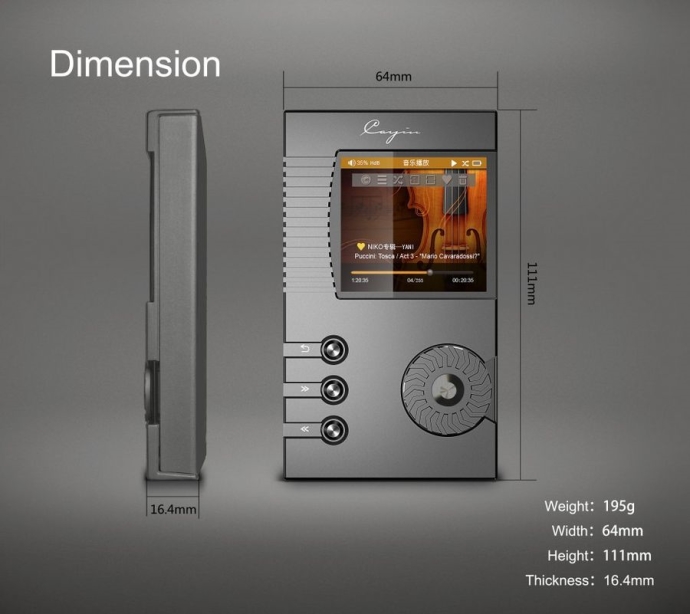 The N5 measures 111 x 64 x 16.4mm and weighs about 195g. It actually feels a bit heavier than the other DAPs in this (price) range but it actually is carrying a 4200mAh battery in the inside. The Cayin N5 is made out of aluminum and has a dark grey color. On the front you'll find a small 2.4" (non-touch) color screen, a navigation wheel with an orange LED (charging) behind it and the return/next/previous button. The screen is quite small and it is packed with information (see below). Small screens usually mean the user Interface has to be simple and good, but more about that in a minute. On the left side you'll find the menu button and the volume buttons that serve as next/previous when long pushing them when the screen is locked. On the bottom you'll find the USB port, the reset hole and the double slots for the MicroSD cards. The back of the N5 is covered in carbon but it looks to have been glued on. Build quality overall is superb however. I actually managed to drop it on several occasions without the N5 being in its leather case and that hasn't harmed the N5 one bit. It feels built like a tank and behaves just like that.
The aluminum case on the left side of the screen is ribbed for your pleasure and when holding it, it actually improves the grip on the Cayin N5 a lot. All the audio outputs are situated on the top and from left to right you'll find the 2.5mm TRRS balanced output, the Single Ended output that also serves as Line Out, the Coaxial output and the power/screen lock button.
Inside / Specs
The CayinN5 uses the AKM (not TI) AK4490EQ DAC converter chip and does PCM and DSD with OPA 1662 to achieve low-pass filter and AD712 as voltage amplification. The headphone amplifier part is using four (in balanced mode) BUF 634U as a current driver. When connected to the computer via USB cable, the N5 can be used as a USB DAC supporting PCM 192KHZ/24BIT and DSD64/128 decoding.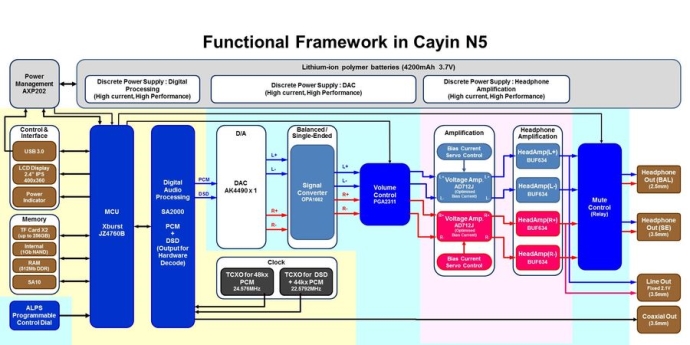 The 4200mAh battery doesn't have to support a big touch screen and it -with my monitors- easily lasts over 9 hours. I used the Cayin N5 for over 10 hours just last week when flying to San Francisco and the battery wasn't even dead when I landed. The battery charges very fast with the supplied cable but you can also use a regular micro USB, which is what I mostly used to charge it.
The Cayin N5 has 2 micro SD slots but it doesn't have any on board memory unlike several of its competitors. Each slot should be able to take SD cards up to 256GB. Doing an update of the media library on these cards is easy and very fast, especially when compare to several other players. The N5 doesn't come with Wifi or Bluetooth so you'll always need a "cable" to listen to music or to update it. It does look like the N5 can be easily upgraded as I've seen several posts of users that upgraded the OPAmps etc.
User Interface & Friendliness
When you turn on the unit a slogan will pop up that states: "Salute to Hi-Fi Burn your music". Up to this day I have no clue what they mean with that but maybe that's just me.
As I stated before the N5 has a fairly small non touch screen (2.4") and that requires an easy to use Interface. I'll get in to the menus right away but first a bit more on the screen. While every bit of information you might need is there, the LCD screen is packed as full as it can. Right now on the top from left to right it displays: Volume level – SD Card – Gain – Phone (scrolling) – Playing now – Play/Pause – EQ OFF – Shuffle play – battery level – battery icon. 80% of the screen is taken by the album art that loads in less than 1 second after you start playing a song. In the album art you'll find the name of the album, the file name, the bit-rate and the type of file. Beneath that you'll find a bar that shows you where in the song you are and how long the song takes. It also shows the total number of files and which one is playing. If you don't have any album art stored on your card, generic wallpaper will be shown. Anyway, that's a lot of information for such a little screen, but it does what it needs to do.
The menu structure is as follows (each menu item shortly lightens up when going to it):
* Music Category
My favorite
Recent played songs
Album
Artist
Genre
Songs
Playlist
The downside for me is that there doesn't seem to be a "between folder play" when selecting one single artist. After one album is done, you will go automatically back to the previous menu where you manually have to select the second album.
* Music Library
TF Card 1 (Folder view)
TF Card 2 (Folder view)
Update the Music Library
* Playing now
* Music settings
Gain setting
Digital filter
DSD gain compensation
SPDIF out (DSD64)
EQ
Play mode
Output selection
Breakpoint resume
Gapless
Max volume
Startup volume
Setup startup volume
Balance
Album Art
Lyric
The EQ, which I never use, has 10 bands and it can be set manually or you can select one of the presets.
* System settings
Language
Theme selection
USB Mode
Backlight Time
Brightness
Folder Operation
Enable hibernation
Idle shutdown
Idle shutdown time
Scheduled power off
Scheduled power off time
Format TF card
Reset
About the player
As you can see Cayin has everything covered and the menu actually is extremely easy to use, even more so with the Quick Menu which is available by clicking on the menu key on the left side of the player. While the N5's UI is very clear and works well this isn't the most modern of interfaces and it takes you back a decade, a time when all menus were done this way.
That being said, I do have an issue or two with the Cayin N5. First of all it annoys me that when the screen is locked/black, the volume keys (when long pressed) are used to skip songs. The navigation buttons on the front simply do not work. Second, the case that came with the N5. The leather is of good quality and it is thick leather but the downside is that the buttons aren't "cut out" and you can hardly feel what button you are pushing. I have seen other "stock" cases with cut-out buttons though, so maybe my case is just weird. Beside this and the folder play, I would love to have seen a search function: scrolling to the middle of the alphabet takes quite some spins and time. But even if the interface looks a bit old, it just works.
Sound right after the click