We today take a detailed look at the FiiO FH9, the company's flagship hybrid In-Ear Monitor.
Disclaimer: The FiiO FH9 was sent to me by the company itself for this review. The price of the FH9 is 599$ at this time. You can get the new FH9 on the Official FiiO Store here.
About FiiO
FiiO doesn't need an introduction. Everybody knows them. You don't? Then you can go to FiiO's website here. They now produce almost everything when it comes to portable audio. They want to be competitive in every field they're operating, and I respect their work. Just wait and see Lieven's M17 review and you'll know what I mean.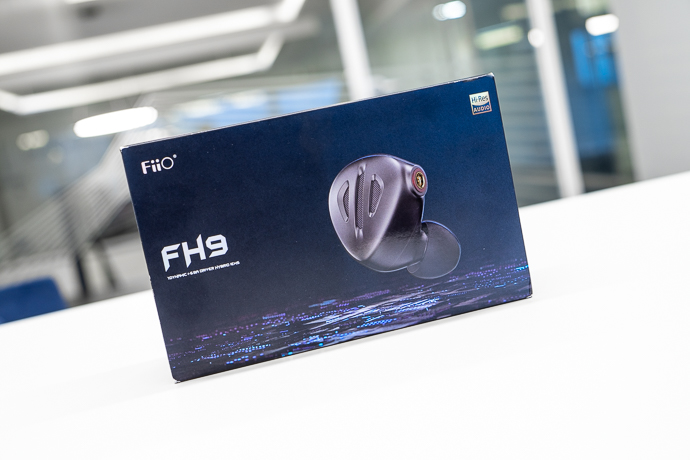 We have reviewed the UTWS5, BTA30 and FA7s earlier this week and you can find the FH reviews here:
FH1:
FH1S:
FH3:
FH5: https://www.headfonia.com/review-fiio-fh5/
FH5s:
About FH9
The FiiO FH9 is FiiO's new flagship hybrid in-ear monitor that once again introduced a few technologies. The configuration consists of 6 BA drivers with a single dynamic driver. It's certainly an exciting product for FiiO and their IEM business.
FiiO's know-how is still growing, their ambition is quite obvious and they want to transform themselves into a very good IEM manufacturer. If they keep their motivation at this level, I think the results will be great. One such great outcome has been the FH7 model, and I have high expectations from the FH9 as well.
With the flagship status, of course, there are some developments in terms of design and tuning. The housings are made from titanium, which provides excellent durability and lightweight shells. The 6BA drivers are configured with the assist of Knowles. There's a specially-engineered notch filter, and a 2nd generation DLC bass driver, as well as a new pure silver cable. The angled MMCX connectors are made from stainless steel.
Another note is the inclusion of adjustable filters. The nozzle filters are removable to alter the sound to your specific setup.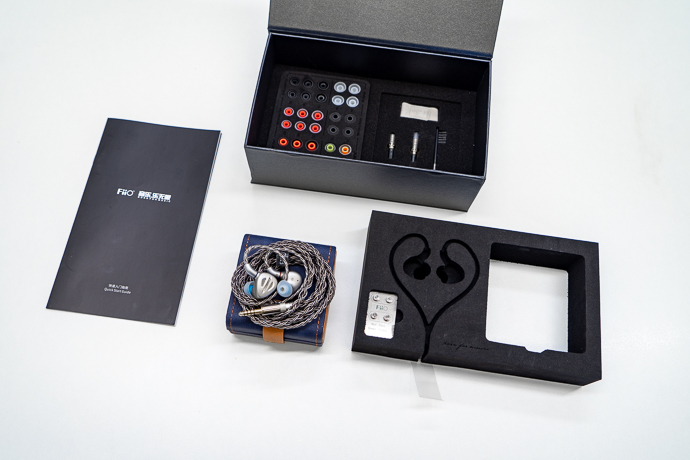 Package
FiiO has established a very nice brand image and presentation with its packaging. The box has a premium feel overall with lots of accessories inside. You get a very luxurious carrying case, which has a very nice leather/suede feeling. I liked this carrying case design and I appreciate FiiO's generosity here. Some more expensive IEMs don't even come with a case at all, and some have mediocre ones, but not FiiO.
Another feature is the interchangeable headphone jack. You can remove the classic 3.5mm jack and fit 4.4mm or 2.5mm depending on your source device. All three are supplied. This is done by a new cable design that supports removable jacks. Instead of providing adapters, FiiO has chosen to take a different approach and I liked that as well.
There are a lot of ear-tips inside, a total of 16 pairs. 2 of them are foams, and 2 more pairs are bi-flange tips. There are additional 9 pairs of silicone tips which are divided into "bass", "vocal" and "balanced". On top of all that, you get SpinFit tips for the flagship hybrid IEM. These weren't present with the lower range FH5s model.
The tips are easily recognizable since they all have different colours. Once you memorize their colour you know which is which. Overall FiiO has covered the accessory part very well and you have absolutely everything you need inside. You even have an MMCX tool for making the detachable cable easier to work. Great attention to detail. Overall this is excellent packaging with a great presentation.
Design
The new FiiO FH9 follows the footsteps of its predecessors, but it distinguishes itself with a different, elegant shell and aggressive face-plate. I liked the design more than the FH5s, and FH7. If I look at it as a single IEM model, the design is also very impressive. FiiO even thought about the MMCX connectors and made them from stainless steel with the same colour as the shells.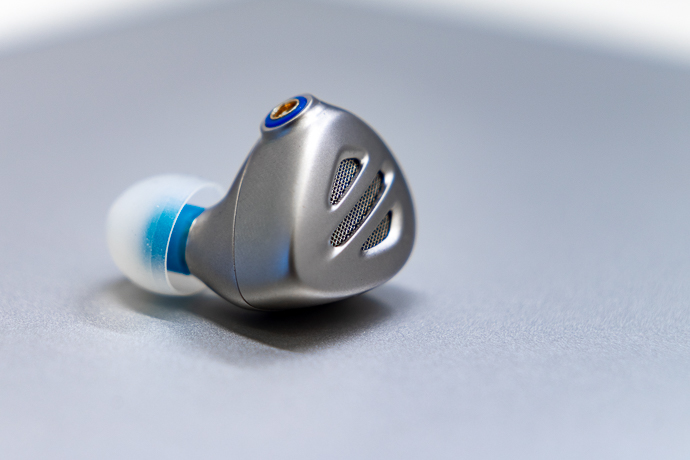 Once again this is a distinctive design language by FiiO and I have to say, they've come a long way in designing their monitors. To be honest, the FH9 is quite original in its looks and it's a very classy design thanks to those fantastic-looking faceplates. Besides the faceplate, the overall design is much more elegant than the previous models. So the design is certainly worthy for a flagship FiiO hybrid IEM.
Page 2: Build, Fit, Sound Quality
Page 3: More on Sound, Technical Performance, Comparisons, Conclusion