Sound
µBTR also sounds good; hell, it might well sound great. The sole caveat I have with it is that it hisses. Not a lot- at least not as Bluetooth receivers are concerned. Some hiss so bad that even the least sensitive earphones hiss when plugged in. And some, like FiiO's FB1 are so bad that the earphones built for the amp/DAC hiss. Well, µBTR's hiss is about like what you'll hear from a previous generation Sony Hi-Res DAP. That is, you'll not pick it up with Sony's awesome MDR-EX1000, but you certainly will with Campfire Andromeda, Comet, Ultrasone IQ, Shure SE846, Grado GR8e, and even the 55Ω Audio Technica CK10. 
But the sort of hiss it makes is free of modulation, phase pressure, and blips and bloops. In short, it's the sort of goodly hiss that you (and even I) should be able to live with. It's also less than some modern hi-end amps and DAPs. So, there's that. 
The other caveat is this: it appears to have a slow low-pass filter built into it. It starts at 5kHz and continues a perfect half parabola downturn to its highest frequency. To me, this is a benefit. It softens the shimmery and often harsh highs of some of my favourite earphones/headphones, and gives a slightly more relaxed sound to my favourite music. If you're crazy about having perfectly flat responses, µBTR may not be for you. 
If you're not, get ready to have your mind blown. I detect no load problems no matter the earphone connected. Gosh, it runs an Earsonics SM2 better than does an AK380- at least as ratios of distortion-against-unloaded-signals are concerned.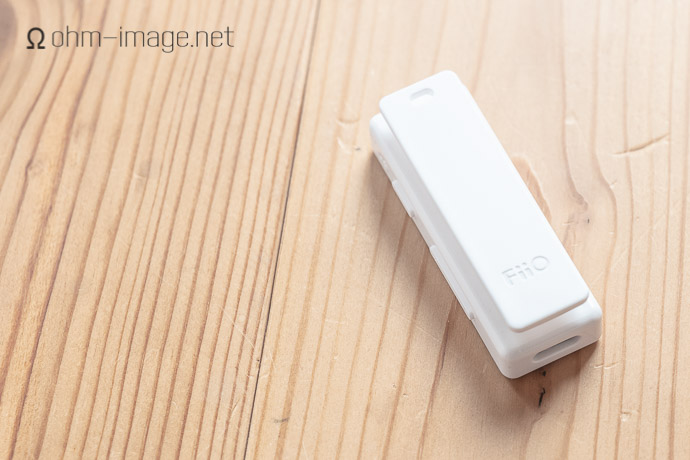 Even stereo image, which almost everyone seems to screw up is good. It's not got the most nuanced rendering of stereo texture, but it sure as hell nails details. There's no frequency that stuffs up even under load. In fact, it may be the best-testing device I've ever had on the bench- again, as it comes to loaded/unloaded ratio testing. But even with that proviso in place, it handles load so damn well I wonder if it's magic. Jitter is mild to invalid. And by and large, no harmonic or phase artifact jumps testably under load. 
If it weren't for the minor bit of hiss the µBTR outputs, I'd be singing its praises as one of if not the best-sounding Bluetooth decides out there. What is that? 
(NOTE: the final 'NL' labelled items are: Audio Technica ES7 and Beyer Dynamic DT880. Apologies for the mislabel, 'NL'.)
As for power, it's a bit less powerful than an iPhone SE, staying a couple of decibels under any iPhone when tested at +0dB on a Lynx HILO. And, no, it doesn't test as well in absolute figures, but considering that you listen to music at 85-95dB and not 110dB, it's almost perfect. 
End Words
I mean, this is a 30$ device. FB1 is also 30$ and I feel it's awful. The Fiio µBTR is 30$ and that should cause anything at any price above it to turn real red real fast. Sure, it's not super powerful, but it's enough for portable use and for all earphones out there. You'll not be listening to it with your 300Ω HD600s. And I don't think FiiO think you will be, either. The only thing I'd fix is that hiss, but again, it's minimal at worst. And, this is 30$. 
Gee whiz, this thing is amazing. To the Recommended Accessories list it goes! -> https://headfonia.com/accessories-recommendations/
Well done.