Disclaimer: Campfire Audio supplied this earphone for the purposes of this review. I am told that I can keep it. Many thanks. Andromeda is a five-driver thing of metal. It goes for 1.099$ USD. You can find out all about it here: Campfire Audio Andromeda.
Relevant links:
review: Campfire Audio Jupiter
review: Campfire Audio Lyra
review: Shure SE846
review: Ultrasone IQ
review: Noble Audio K10c
ohm-image: Andromeda – excitement engine
ohm-image: Eyes on Jupiter
Not Sound
Jupiter and Andromeda share the same chassis, the latter of which is augmented in several ways. Jupiter is mottle-finished while Andromeda is smooth. Details like the logo and the L/R channel markers are cut more precisely: details revealed especially well under the macro lens. Bring your eye close enough and you will see faint brushed strokes and fine CNC scores. These details do not affect sound, but speak volumes about Campfire Audio's manufacturing prowess.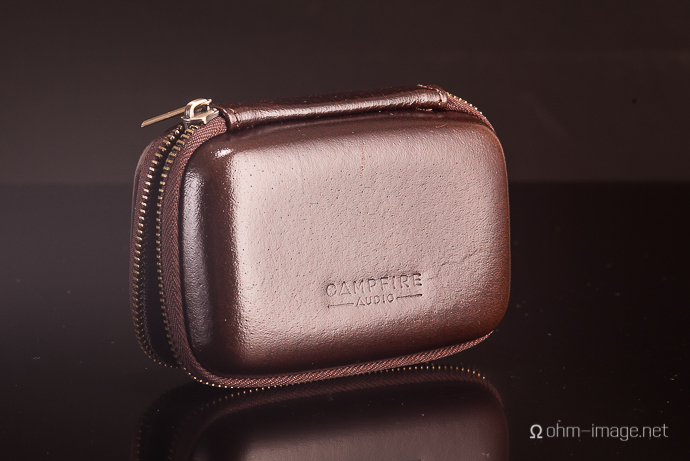 The edges of Andromeda's fastening hardware are squared, rather than smoothed, and the bolt fittings are jewell-like in their precision. Best bolts in the business? Maybe. However, the sound ports are bored less precisely. There are now three rather than two: one for each frequency-bound speaker group. Three is cooler than two, but Jupiter's are cleaner, less notched.
Several other things have changed.
Andromeda's case is painted rather than bare leather, meaning that it won't age quite as personally. It is still tough and still just as comfortably lined. Gone is the 2,5mm TRRS balanced cable. In its stead is a supple, nearly microphonically immune cable with Campfire Audio now-iconic high-profile L-shaped plug.
Why has much of the rest of the market gone for pocket-unfriendly straight plugs?
If Jupiter fit well, Andromeda will, too. If you've not tried Jupiter, conjure up a flusher-fitting FitEar ToGo!334 with edges and metal. I dig that Andromeda fits flush in my ear. What I don't dig is its short, fat, sound tube, which doesn't anchor as well in the ear hole. Anecdotes in support or against Andromeda's ergonomics abound. Overall it is a very well-constructed earphone whose machining is top notch. It is of middling comfort, but overall well thought-out.
And, just like Jupiter, it is sensitive. You won't need to punch up the volume of your iPhone or player very high to find a comfortable listening level. At the moment, I've got my iPhone 4s set to a volume of 3 (out of 16) and am in my quiet office listening to folk music. Move to trance and I'm almost comfortable at a volume of 2. On the train, I'd bump both genres up a notch.
Sound and more after the jump: