After coming out with the RSA Shadow, people started asking question if it's worth selling their P51 Mustangs to get the newer Shadow amp. We did a short comparison to find out.
If we look at both the Shadow and the Mustang, both amps are pretty tiny, though the Shadow is still considerably smaller than the Mustang. Perhaps the thickness of the Mustang makes it less practical if you decide to stack it with a DAP and to put it inside a jeans pocket.
Feature wise, the Shadow comes with a digital volume control, where the Mustang still utilizes old fashioned analog potentiometer. On the other hand, the Mustang comes with selectable gain, definitely a big plus if you frequently alternate between headphones and IEMs. The fact that most people uses IEMs for their portable set up means that the Shadow with its digital volume control should be much more appealing than the Mustang.
What's next? Loudness level on the Shadow is identical to the Mustang at the low gain setting. The sound of both amps is very identical. The Shadow is slightly more neutral and it has a slightly better instrument separation, which somewhat gives an impression of a faster speed from your IEM, because instruments are less mixed together. The Mustang has a little lift in the upper treble for a more airier sound, though its mids are slightly more recessed. Notice all the "little" and "slightly" words I added to the description, because both amps really sound identical for all practical purposes.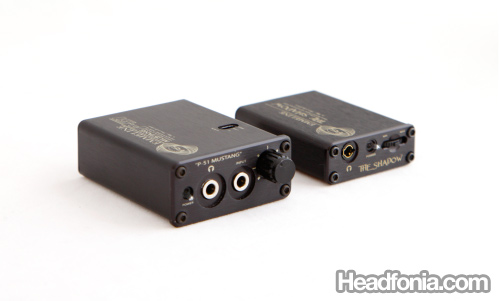 The RSA Shadow is definitely the amp to get, if you haven't gotten one of these tiny portable amps for your IEMs. However, I'd probably wait for the next upgrade cycle if I'm already a Mustang owner.
Special thanks to nspr6 and Dayak for making this comparison possible.
System for auditioning:
Headphones: Shure SRH-840, Westone Um3X
Source: Ipod Classic 120GB
Amplifier: Ray Samuels P-51, Ray Samuels Shadow