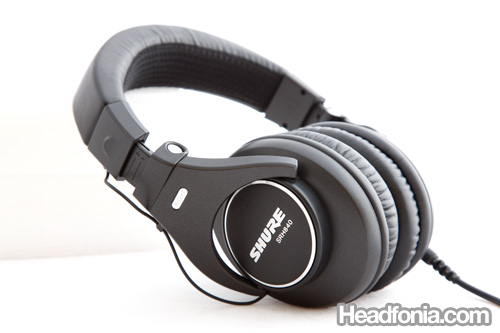 After many more hours on the SRH-840, my impressions have been growing more and more positive. I've been using the SRH-840 with three of the newest portable amp on the market: The RSA Shadow, the ALO Rx, and the TTVJ Slim. On a desktop set up, with the Grace M902 and the WooAudio6, the Shure is just as fun sounding. The SRH-840 has this ability to blend nicely and adapt to a wide range of amplifiers and music.
Coupled to the RSA Shadow, the SRH-840 presents a nice and clean instrument separation. On live recordings, the SRH-840 very nicely differentiates different instruments on the stage. Listening to Alicia Keys Unplugged, for instance, Alicia's voice remains close and intimate, while the background singers, the piano, and the audience clapping all take an appropriate distance. Playing Yanni's Live At the Santorini, the sound is big and spacious, exactly what you'd expect from a Yanni live performance, and yet still every instrument is nicely separated. Very nice indeed.
When you feed bigger portable amps to the SRH-840, the sound grows appropriately. I've been listening more and more to the SRH-840 with the TTVJ Slim and the ALO Rx. The SRH-840 already has a potential for playing vocal, and combined with the TTVJ Slim that has a great midrange, the combination becomes sublime for playing vocal and if you're looking for an intimate presentation. With the ALO Rx, the SRH-840 has an expansive soundstage and great dynamics, and is currently my favorite for listening classical music when I'm away from the HD800 set up.
If the HD800 is my current favorite high end headphone, then the SRH-840 is my current favorite for when I'm not using the HD800. Unlike the HD800 that needs a high end set up to truly shine, the SRH-840 works well with just about everything, it has become one of my favorite headphone for reviewing an amplifier. The SRH-840 after 300+ hours becomes a very neutral phone. The frequency is flat, with just a small lift in the treble. This small treble lift gives a nice sparkle and airy sound. Of course when the recording is bad, you will get some sibilance, but I really don't want to blame a nice headphone if the fault is actually in the recording.