Sound performance
For the purpose of this review, I used my Onkyo IE-C3 for IEM testing and the Sennheiser HD-800 for headphone comparison. All files were FLAC 16/44 or FLAC 96/24 from Qobuz, be it in USB DAC mode or pure player mode. Streaming comes from Spotify in "exceptional" mode and is send directly though Airplay and Tidal is streamed in Hifi+ quality.
Overall signature
The FiiO M2X sounds… almost exactly like the M5S. If FiiO created some differences between the M7 and M9, this is not the case with Shanling. It's the same dry and chasing sound, followed by the same amazing dynamics you heard in the M5S.
I'll quote my old review, it's still accurate up to this day :
"It's amazingly flat and unless you never heard a monitor speakers, it's hard to describe how tight they feel. Every nuance or sensation is perfectly transcribed but the natural rumbling I'm used to is almost nonexistent.
It took me no less than a a full album to get my hearing accustomed, even more with classical music. A good track to test was Aulos from Vladimir Cauchemar – Orchestre lamoureux version, beginning pianissimo and rising steadily to a massive fortissimo."
The output power is lower than before, the Sennheiser HD800 was not happy with the M2X but it's still enough for 90% of users. As before, stay with the balanced output, always. The sound stage is wider, by far, and you can definitely hear massive improvements on the lower end of the chart.
Lows are shyer than before and I had to push the volume a bit higher, compared to the M5S. Transitions are clean and ASDR remains exceptional, that's really impressive for a sub-300$ player. If you're on a budget but want something more analytical than your average DAP, you should really give the Shanling M2X its chance.
Tonality
Highs : neutral and pleasant. The M2X is more analytical than musical, that's a fact. Details and micro-details flow uninterrupted and I was surprised with subtle sensations I could not hear on the FiiO M6 before. For classical music, it's nothing short of amazing.
Mids : flat (maybe too much). I'm a bit less convinced by the mids, flat is good but I'd have prefer a more engaging signature. It's a bit like the Cowon Plenue D2, details and dynamic with less emotion than the FiiO M9 (my favorite player in this regards, in sub-300$ player). If you already heard the M5S, no surprise here, it's… identical.
Lows : accurate and tight. Bass are less potent on the M2X, that's probably cause the new amplifier are a bit less powerful. At equal volume, it feels like the sound is thinner, especially around 150Hz. Some might prefer this, I don't. Yet, it's very subtle, unless you heard the M5S five minutes ago, you could never spot the difference.
Noise : the Shanling M2X is absolutely dead silent in any conditions. Hurray !
Conclusion
Simply put, the Shanling M2X is an M5S in kid clothes. You get the same sound signature – dry, precise, subtle – without the awkward design previously shown by the M5S. I was afraid the M2X might have lost what made the M5S different, in a good way, due to the mono DAC circuit instead of dual mono, but that didn't happen. Sound stage is a bit narrower but honestly, that's the only issue you have compared to the M5S.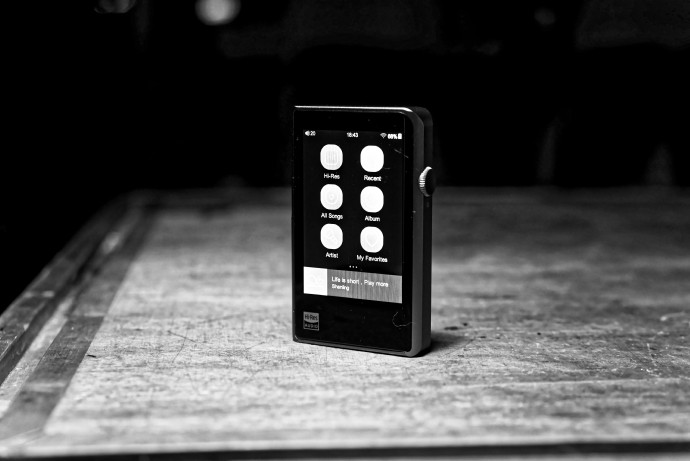 Sure the UI is still awkward, but if I found the Shanling M5S polarizing, it's a very different story with the M2X : for 219$, it's a very solid choice. Sound quality is top-notch, build quality is astounding and if you're used to AirPlay streaming or Tidal, it's a great alternative to DAP such as the FiiO M9.
A great player which goes directly in our recommendation list for the sub-300$ category.