Sound performance
My main sources were: iBasso DX300 / Shanling M6 Pro 21 / iBasso DC06. Trusted sources from trusted brands that I used extensively for the past weeks/months.
As usual, files were played from either Apple Music / Spotify or my own music library. Some tracks will be highlighted, just so you can try them home too!
Overall signature
So, how does the Shanling MG600 fare compared to the ME800 and ME700? Quite good, with deep lows, especially when properly driven.
In fact, hooked to the DC06, in balanced mode, the MG600 is one of the best surprises of the year – at least for me. It's powerful, warm with the same richness found on my FiiO FD7, without the rigidity of the Beryllium diaphragm. Sure, head to head the FiiO shows more brilliance and seems to put more emphasis on accuracy, but that's exactly where the Shanling shines. 
For sure, the dynamic driver tastes different than what I expected, but in a very good way. Dynamic is on par with the ME800, but lows aren't as sharp, the dual-woofer system maintaining its apex position with an additional layer of finesse. On the other hand, I found the MG600 soothing mids particularly detailed, with lots and lots of micro-details, even when I chose to play my music at (very) low levels.
On tracks like Love Will Work It Out from Durand Jones & the Indications, the mid-range sounds more natural, delivering a warm and full note structure, with a wider soundstage. You don't have to go balanced on this one, as single-ended already provides a great sense of space. Yet, if you decide to go the extra-mile, the enhancements will be there, with better mid-lows and cleaner voices at mid to high-volume.
In this regard, the MG600 shares some traits with its bigger sibling. Quick, pure lows dwelling deeply into my eardrum, without overpowering the rest of the spectrum. It's a cool rumble until you crank up the volume and get slammed by the bass. It's never as tight as the ME800 could be, but clearly, the MG600 is much funnier and perfectly suits my bass-heads needs. It gets better and better each time you turn up the volume. Quite addictive, but a bit risky for your ears!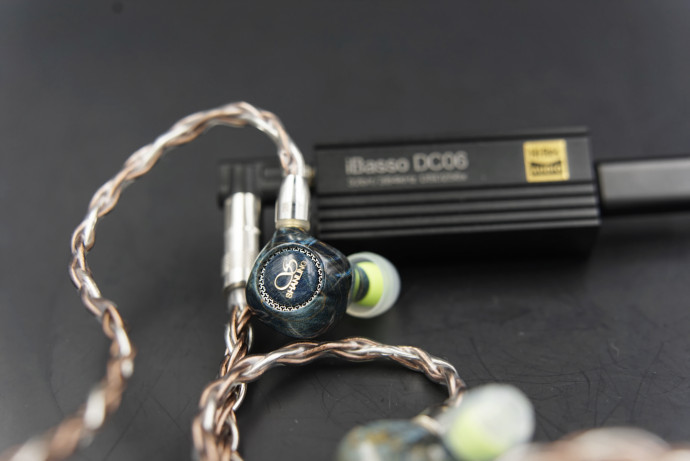 Overall clarity is excellent and, distortion levels are minimal and, there is an immediate sense of fullness as soon as you start pushing the volume. That, if you get a solid DAC/AMP or DAP, of course. Paired with the iBasso DX300, the result was terrific and the combo gave me astute highs, strong bass and the same 3D/holo effect that I praised the ME800 for. 
With a DAC/AMP less powerful, like the DC06, the result was less conclusive, but it'd be unfair not to praise the good little DAC. Through the 4.4mm Pentaconn, it's still a solid option, even more for something simple, on-the-go: great texture, solid lows, clean mids, and the same warm signature. In the long run, it's a lovely IEM, less demanding than the ME700 and ME800, one that carries you through your musical journey and leaves you in a better shape than you were when you embarked.
This happened to me on Rock You from Dirty Loops (an underrated band that you MUST listen to right this moment) and the Shanling MG600 was perfect for the job. The lead singer seemed uncannily closed, the drums simply popped out of my ears(drums) and I fell in love, once again.
A very, very nice IEM: inside and outside.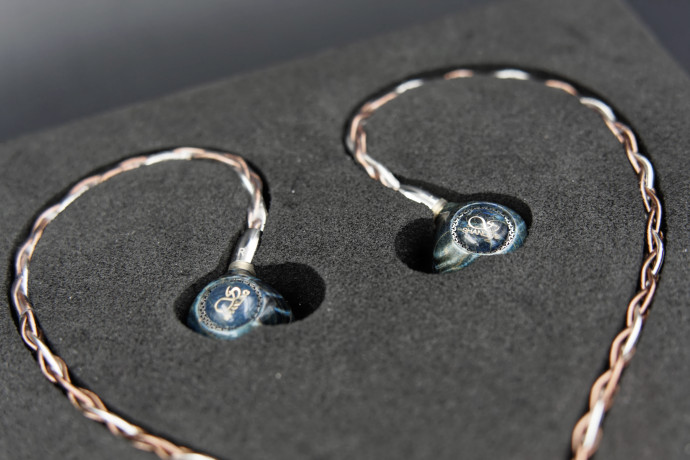 Tonality
Highs: crisp and lively. As usual with Shanling, there is a slight emphasis on highs but nothing to be afraid of, unless you're really sensitive. Personally, I really like that signature, and found the MG600 quite lovely and never too hissy. Add to that the impeccable ASDR and, once properly driven, you get a very lovely IEM.
Good test-track: I gotta keep Dancin'(Keep Smiling) – Carrie Lucas
Mids: warm and spacious. Obviously, the wide soundstage and soothing voices make for a very pleasant experience. As usual, Shanling's done an excellent job in this regard: voices are bliss, and the IEM can fully immerse you, in just a few seconds, even with a basic source, like my ddHiFi TC35C.
Good test-track: Metroma (Jody Wisternoff & James Grant Remix) – The Sei
Bass : deep and powerful. As usual, lows are the pillar of all the great things that happen upfront. It's deeply immersive, with just the right amount of oomph to push you out of your comfort zone, and enough control to keep you hooked. I played a few games on my (awesoooome) Steam Deck, paired with the iBasso DC06 (once again) and I was completely engulfed into my games. I love it!
Good test-track : Alternate Realities Pt. 1
Pairings
Shanling MG600 + iBasso DX300: the master, once again. If you want the best sound and don't want to go cheap, the DX300+MG600is a sure choice. You get streaming services, great sound quality, powerful bass, and all the luxuries, with the only drawback being that you have to carry a larger-than-usual device. A player that won't fit in every pocket, but it's worth the hassle. (Spoiler: a new DX320 is out, I've got it, and it's even better)
Shanling ME800 + Shanling M6 Pro 21: made to work. Shanling players have become better and better over time, and in my opinion, the new M6 Pro 21 is one of the best player in its price range. If you want to get good sound on the go, but don't want to break the bank, the combo is a sure choice. Shanling's offers a delightful package, with balanced outputs, clean bass, powerful vocals, and a beautiful soundstage, that puts you in the center of everything.
Shanling ME800 + iBasso DC06: pocket bliss. The iBasso is, with the FiiO KA3, my go to DAC that follows me everywhere and every time. It may looks a bit bulky in picture, but in real life, it's super handful to use and thanks to its dual Sabre DAC, paired with a 4.4mm Pentaconn output, it's mighty powerful. One of the best DAC in this price range, giving the FiiO KA3 and Hidizs S9 Pro a real run for the money. I love the form, I love the sound and nowadays. 
Conclusion
Once again, Shanling has released a great addition that perfectly completes their range. The design is superb, the sound is excellent, the comfort very good, and if the FiiO FD7 sounds a tad too dry for you, the Shanling MG600 could be the right alternative. And the wood just adds that little touch of quirkiness.
More warmth and openness, softer mids, and the same ability to magnify the smallest details, clearly, it's the perfect model for anyone who wants power and control, in an atypical box. A great IEM!