In this review we're taking a look at the new $459 SMSL SU-9 DAC from Chinese manufacturer SMSL.
Disclaimer: ShenzhenAudio sent us the SMSL SU-9 for this review, free of charge. I only covered the customs fees & taxes. All thoughts and experiences with the product are naturally my own. You can find more about it HERE.
S.M.S.L
Honestly, if you don't know SMSL, you have to get acquainted as soon as possible because you're missing A LOT. They're a Chinese company that focuses on a wide range of devices, the most notable ones being DACs & AMPs. They are famous for their value for money-oriented products and that's the main reason I found them online about 5 years ago.
Their products are always well-built and they quite like to use high-quality components. I have never used anything from them that was not CNC machine milled. That is some commitment right there! SMSL (ShuangMuSanlin Electronics Co. LTD) was actually founded in 2009 in China's famous techno-city, Shenzhen. Today we'll be reviewing one of their latest DACs, the SMSL SU-9. It features the ESS Technology ES9038PRO flagship DAC and native MQA support.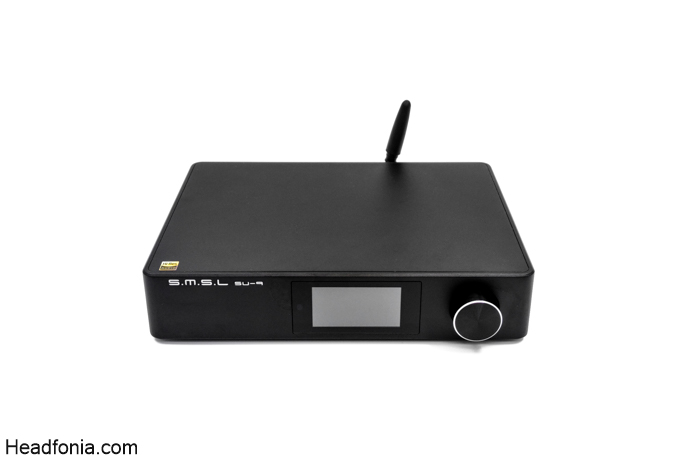 SMSL SU-9 Desktop DAC with MQA & Bluetooth
Highlights & Technical Specifications:
Input: USB / Optical / Coaxial / Bluetooth
Output: RCA / XLR
THD+N: 000090(-121dB)
Dynamic Range: XLR/130dB ; RCA/123dB
Output Impedance: XLR 207Ω; RCA 142Ω
USB Transmission : Asynchronization
USB Compatibility: Windows 7+, Mac OSX、Linux
Bit Depth: USB 1bit, 16~32bit; Optical/ Coaxial 1bit, 16~ 24bit
Sampling Rate: USB PCM 44.1 ~ 768kHz;
DSD 2.8224 ~ 22.5792MHz ; Optical / Coaxial PCM 44.1 ~ 192kHz;
DSD DSD64(DoP)
Hi-Res Bluetooth Codecs: UAT: 24bit/192kHz (1200kbps)
LDAC: 24bit/96kHz (990kbps) aptX-HD: 24bit/48 kHz (576kbps)
Power Consumption: 5W
Size: 187.5*154*40MM(W*H*D)
Weight: 0.79kg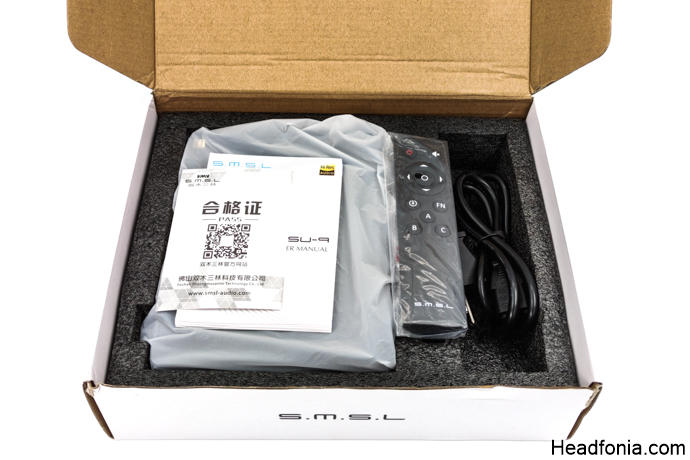 Packaging
The SU-9 comes in a white, rectangular, cardboard box. SMSL aimed for a cleaner look here as the specifications are not listed on any side of the box. The package comes with the following accessories:
1x SMSL SU-9
1x Power Cable
1x Remote Control
1x Bluetooth Antenna
1x USB-A to USB-B Cable
1x Manual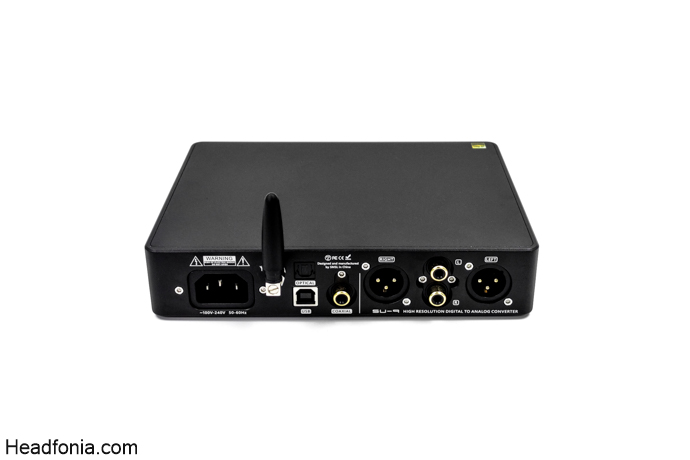 Design & Build Quality
Top-notch. Like everything from SMSL, the SU-9's design has their famous cues such as the CNC milled aluminum chassis, a perfect, anodized matte black paint job, and an all-together durable construction. There are no CNC imperfections and the milling is perfectly done. It is surely built to last.
As for the form and factor, it is not a huge device and it won't take much space on your desk. It is rather compact, especially when stacked with a similar form-factor device. Let's talk about the layout. On the front, we have a 1.9-inch color TFT display and a volume knob. The screen shows information about the volume level, sample rate, and active input. The volume knob also acts as a navigation button and can be pressed on. Note that it is not very easy to navigate through all of the options with the knob. Think of it like it is good for the essentials such as input selection. The detailed menu can be accessed via the included remote control and we're going to be talking about that in a short while.
Overall build quality is very, very impressive, the knob feels durable and tactile. All I/O options are located on the rear side of the DAC. From left to right there is an IECC power socket, an antenna socket, optical and USB inputs, coaxial input, and balanced XLR and unbalanced RCA outputs side by side on the back. Everything feels incredibly solid and well-made and I am getting used to this with SMSL products.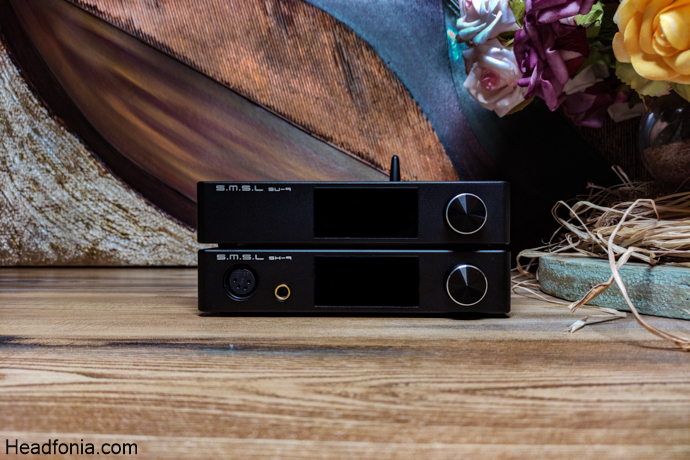 Technology Inside
The SMSL SU-9 utilizes the ES9038PRO flagship DAC from ESS Technology coupled with ES9311 low-noise voltage regulators specially designed to accompany the ES9038PRO to maximize its performance. SMSL added a shielded low noise conditioner for a clearer background and a low-phase noise and clock processing circuit to lower the jitter to an almost non-existent level. As for the amplification stage, OPA1612 and SMSL's secret mix of high-end audio components were used.
Furthermore, the SU-9 features a 2nd gen XMOS USB controller and fully supports MQA. If you don't know what that is, let me explain. In a nutshell, Master Quality Authenticated (MQA) is an audio codec that lets you stream songs in Master/HiFi quality. After capturing and recording the performance, MQA folds the file to make it small enough to stream or download. They call this "Music Origami". Products with a full MQA decoder, like the SMSL SU-9, unfold the file to deliver the highest possible rate for the user. Popular streaming service Tidal supports MQA and I think you should give it a listen as soon as possible.
The SU-9 also supports DSD512 & PCM up to 32bit/768kHz. Wireless-wise it does have access to the latest arsenal such as the UAT, LDAC, and AptX HD via Bluetooth 5.0. The measurements and the performance of the device are really good on paper, we'll see how it performs soon, in the sound section.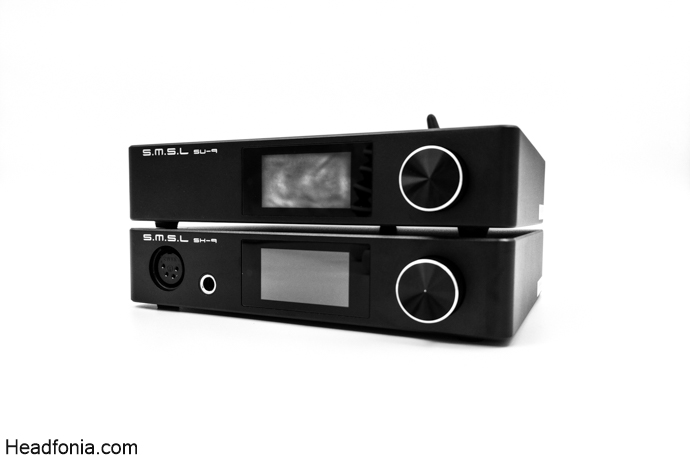 Other Features
The SMSL SU-9 is not a simple DAC. It can be used in several combinations and rigs. Whether you go Bluetooth or wired, the SU-9 got you covered. It has an extensive list of options that you can mess around with. The navigation is much easier with the included remote control. You can activate it by installing batteries and holding the C button. You have the option to change PCM filters, DSD filters, toggle the PRE MODE on and off and finally change the sound color option.
During my testing, I found out that filters have an almost inaudible impact on sound quality. The sound color option, however, manipulates the signature subtly and its effect is more audible compared to filters. We'll talk more about it in the sound section. Do note that PCM & DSD filters will not be in effect when the SU-9 is playing an MQA track. Pre-Mode can be used to disable volume control and enable pure DAC mode of the SU-9. If you toggle this option on, you will not be able to control the volume via remote or knob so be careful if you're hooking the SU-9 into your active monitors.
The review continues on the next page. Click here or use the jumps below.