In this article, we review the $79 USD Bluetooth DAC & AMP adapter, Fiio UTWS3.
Disclaimer: Fiio sent us the UTWS3 for this review free of charge, I only covered the import taxes and fees. All thoughts and experiences with the product are naturally my own. 
FiiO
FiiO is one of the most popular audiophile-focused companies in the world. You heard of them, you for sure know them. They design and manufacture a wide range of audio devices, and they are all popular.
They have been in the industry since 2007 and they are pushing the limits of audio each passing day. They recently entered into the Bluetooth playground with solid products such as BTR5 & BTA30. We recently reviewed BTA30 here. Today's device is a Bluetooth adapter that you can connect to your MMCX or 2-Pin connector earphones and it is a feature-packed device. 
We have reviewed and awarded a lot of Fiio gear here on Headfonia over the years, check out their reviews here: Headfonia Fiio reviews
Let's get to the review and start with technical information about the device.
Fiio UTWS3 True Wireless Bluetooth DAC & Amplifier
Available in both MMCX & 2-Pin.
Specifications & Technical Data (more here.)
Bluetooth chip: QCC3020
Bluetooth version: 5.0
Independent Amplifier Chip: TPA 6140A2
Output Power: 38mW (16Ωload) – 25mW (32Ωload) 
Noise:<8μV 
THD+N:<0.06%
SNR: 100dB
Output Impedance: approx. 0.7Ω
Bluetooth Codec Support: SBC/AAC/aptX
Bluetooth Range: 10m
Unit Battery Life: TWS+ 7hs, without TWS+ 5.5h)
Battery Life: 30h (up to 5 times recharge from the 800mAh case)
Standby time: 650h 
Charging time: approx. 1.5h per ear unit, approx. 2.5h for charging case 
Output power: 25mW (32Ω), 38mW (16Ω) 
Charging connector: Type-C 
Dimensions: 93.5×71.1×34.6mm
Weight per ear unit: 6.5g (without earphones) 
Weight total: 125.5g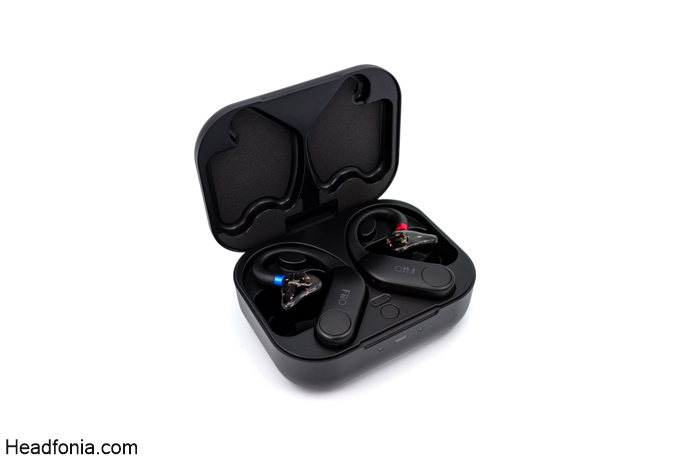 UTWS3 – What's New?
"So what's new with the Fiio UTWS3?", you may ask. I'll just quickly give you a recap of what has changed, compared to the UTWS1. First of all, we now have a new amplifier chip from Texas Instruments. TPA 6140A2 successfully boosted the output power over two folds and improved the sound overall. SNR went from 88 dB to 100dB and the noise floor improved significantly with the new circuit. Fiio introduced a better, more reliable dual-mic layout for the UTWS3.
Also, the most distinct change is that the new UTWS now comes with an 800mAh charging case. The case can be used to charge the adapters up to 5 times. It also offers a more convenient way of charging your adapters. There is more. The UTWS3 features a complete design overhaul. The UTWS3 features new light-to-touch control buttons, new high purity copper wiring, FiiO app support, better water resistance capability, independent volume control, USB-C charging, and more. We'll talk about these, in detail, in this review. Keep on reading!
Packaging & Accessories
The UTWS3 comes in a black, elegant FiiO box that we got used to from previous FiiOs. FiiO did not list the specifications or technical information on the box so it looks quite black. As for accessories, you only get a short USB-A to USB-C cable. I would prefer a longer one for increased convenience. Despite being short, the supplied cable is of good quality.
Build & Design
Fiio's track record has always been good. I still remember the first time I held Fiio X5 DAP in my hands. Even their budget-oriented products maintain a distinct design line for years without falling below a certain quality level. That is, in my opinion, one of the strong suits of FiiO. Their price to performance ratio has always been good too. Fiio's first universal adapter that was designed to liberate you from the cables was the UTWS1. They have now improved it and here we are with the UTWS3. 
The UTWS3's design is mostly plastic, however, it looks and feels like metal thanks to the matte black finish. Frankly, I liked the build quality of the UTWS3. The hinges and the lid seem durable. If you go ahead and open it, you will notice that FiiO has put a smooth fabric to protect your IEM's faceplates. Immediately after that, you will notice that it has enough space to store big CIEMs or IEMs that you might have.
FiiO has placed a multipurpose button in the middle. If you long-press the button for about 3 seconds, it will go into the pairing mode. If you hold it for about 12 seconds, you will start the resetting process. Lastly, if you only tap it once, you will be informed about the remaining battery. Moving on to the units themselves, they are quite light to start with. I like the new, smoother finish on the hooks. It enhances comfort while sitting on your ears. There is a small grille under the unit and according to FiiO, that is the primary mic that picks up your voice. There is another grille near the top of the unit and that's for picking up the ambient noise. These have the cVc noise-canceling feature that we are going to talk about in the upcoming "Features" chapter.
Apart from that, the smooth surface that majorly touches your ears has a memory wire inside. You can adjust it to fit your ears perfectly. I especially like the Left & Right indicator rings that have a color-coded metal finish. In this part, FiiO used monocrystalline silver-plated copper to enhance conductivity and improve dynamics. Units themselves are mostly made of plastic as well. It is the same plastic that was used in the case. It feels good in the hand and on the ear. There is a multi-functional button on each of the units. We will talk more about it very soon. As for the form & factor, I think FiiO did a good job here.
The case is not monstrously big like we've seen with the Fostex TM2. The units are very compact as well compared to IEMs that you're probably going to pair them with. Assuming you want to liberate your multi-driver IEMs, of course. Slight note here. These will probably won't work with flushed 2-Pin IEMs so be aware of that fact. 
The review continues on the next page. Click HERE or use the jumps below.