In this first look episode, we put our eyes (and ears) on the $45,99 USD FiiO UTWS1, a True Wireless Bluetooth adapter for your IEMs. 
Disclaimer: FiiO kindly sent us this model with the FH3 we previously reviewed. So let's take a quick look.
Since 2007, FiiO has been pushing further and away to become one of the top players. And you know what? After more than 10 years of hard work, I think they achieved their goal as the once unknown brand is now on every mouth and ears.
DAP, DAC, AMP, IEM, they've done it all. And today, we are going even further with the FiiO UTWS1. Let's check it out.
FiiO UTWS1 – The design
FiiO's designers are usually pretty good. Whether if it's a player or an IEM, the brand achieved some great-looking devices recently, and this is still true with the UTWS1. 
Made for IEMs, the receiver feels light but sturdy. The shell doesn't exhibit any screws yet remained perfectly tight, even after a few hours tucked down at the bottom of my bag. Obviously, it doesn't get the same level of refinement you find with their cables, but that's still a step above an unknown brand adapter. It's a quirky device made for those of us who don't want to be bothered by a cable. 
MMCX is standard and, for the moment, FiiO doesn't intend to produce a 2-Pin version. That said, MMCX plug remains much simpler to use on a daily basis, so I can understand the brand's choice here. 
The small cable linking the UTWS1 body and your IEM works as an ear hook. Inside, FiiO fitted a high-strength titanium rode, allowing you to precisely adjust your ear. This and over-the-ear fit gave me some nice results, even with my CIEM.
It's a sleek design and FiiO even added some silicon covers, to protect the micro-USB ports. That makes the UTWS1 water-resistant, but not waterproof. Last but not least, you get a multi-use button on each headset. Very useful on the go.
FiiO UTWS1 – A quick view
At the heart of the UTWS1, you get a Qualcomm QCC3020 Bluetooth chip.
Actually, each side gets its own chip, so you can connect either only one, or the two of them, depending on your mood. Also, if the brand advertises a "Binaural listening modes" when the two sides are connected, it's just a very classic stereo mode.
The Qualcomm chip supports 5.0 Bluetooth. If you own a 5.0 compatible device, you should enjoy a reliable connection, in most situations. Unfortunately, the chip doesn't support HD protocols and stops at aptX/AAC/SBC, so don't expect wireless Hi-Resolution playback.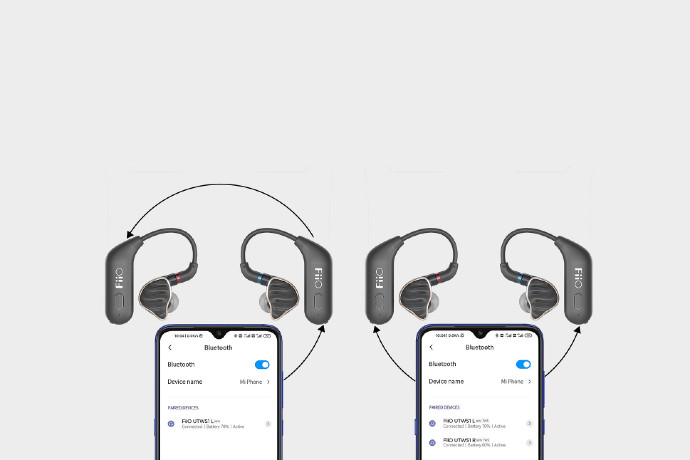 For information, with some smartphones, the UTWS1 can switch in TWS+ mode. In this mode, each side gets her own connection, for less latency. I couldn't try it on my iPhone, but on a Xiaomi, both ears appeared in the Bluetooth menu as an "aptX TWS" device.
Like every TWS, the UTWS1 can also be used to answer phone calls. To do so, the device enjoys two microphones, one on each ear, and a powerful DSP for noise-canceling. Unfortunately, this can only be used for phone calls, not music playback.
Finally, a quick word regarding the battery. With 8 hours of continuous playback and 180h in standby, the UTWS1 is quite good on this aspect. If each ear has to be charged separately, FiiO provides a dual-headed micro-USB cable. Nice!
FiiO UTWS1 – First impressions
For $45,99, the FiiO UTWS1 is much cheaper than most TWS. Moreover, they give you the chance to connect your own IEM, allegedly better than a classic TWS.
Paired them with my Onkyo IE-C3 and the Shanling ME700, it sounded quite good. To be fair, the output power isn't amazing, but since you'll be exclusively using IEMs, this isn't an issue in real use.
Comfort-wise, I was surprised by how light those two receivers felt once I wore them. Compared to my AirPods Pro, the UTWS1 definitely gave me more confidence, and I never feared to lose them, even while I ran.
With the over-sensitive Onkyo, I could hear some ground noise, but with the Shanling nothing occurred. Sure, it's not on par with a true DAP, even the entry-level M3 Pro, but if you want to up-cycle your IEMs, this is a great solution.
The full review will be soon on Headfonia!