Today we review the all-new Vision Ears VE7 high-end universal IEM which costs €1650 Euro.
Disclaimer: The Vision Ears VE7 is shipped directly from Vision Ears and the unit is the universal version. This review reflects my honest opinion as always.
About Vision Ears
If you're a reader of Headfonia, then you would know a thing or two about Vision Ears. We covered many IEMs manufactured by them already, and as the new model was released, there was no way that we could pass on it. This is the first time I receive a unit from them myself, but I've already tried their whole lineup and I know for a fact that this is a special IEM manufacturer.
We have a bit of history with Vision Ears. Everything started with the VE6X Control review in 2014. Then followed the VE5 in 2015, the flagship VE8 in 2017, the mid-ranger VE3.2, and last but not least, the great Elysium:
After that, Lieven also reviewed the 2020 model EVE20. If you need more in-depth information about them, check out our Q&A post with Marcel Schönen and Amin Karimpour. These guys know what they're doing. They're the co-founders of the brand. I personally know Amin and he's a great guy.
The headquarters of Vision Ears is located in the Luxemburgerstrasse in Cologne's central south. They consist of a team that is as passionate about In-Ears as the founders are. This makes VE a solid and reliable partner for all musicians and audiophiles around the world.
About Vision Ears VE7
Vision Ears had been producing only custom IEMs for a few years until they released the Erlkönig. However, their classic VE line still consisted of only custom models, until recently when they had decided to offer a full universal VE lineup. This was I think a very good decision on their part because many audiophiles I know are curious about VE monitors, but they simply didn't want to go over all the processes to get a custom IEM.
The Vision Ears VE7 is the latest addition to this classic portfolio of VE and based on VE's track record, the expectations are once again very high. We all know the mighty VE8 and how precise and coherent it is. But how does the VE7 perform? Well, we'll find out on the next page but for now, let's focus on the other details.
The Vision Ears VE7 obviously has 7 BA drivers per side in a 5-way configuration. The driver distribution is 2x Bass, 2x Low-Mids, 1 x Mid, 1x Mid-High, 1x Superhigh. It's a very sensitive monitor with 12 Ω of impedance and 112 dB sensitivity.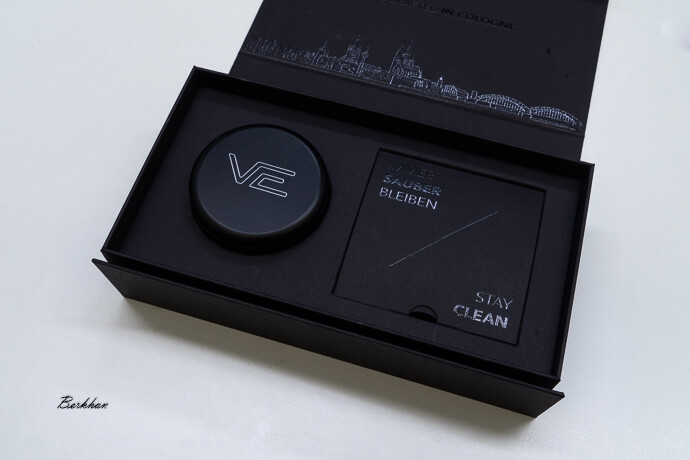 Unboxing
Unboxing the VE7 is a very pleasing experience. The package arrives inside of a purple-colored paper, and once you remove it you face a serious-looking black box with a huge "VE" logo. After you flip open the box you see a welcoming message by the team thanking you for your trust. Amin wrote a personal note there for me so I appreciate that.
Under that note, you see the carrying case on the left and all of the accessories on the right, stored in a cardboard box. The accessories are really nice. You get SpinFit tips which are one of the best tips available, an In-Ear cleaning spray, a cleaning cloth and tool, and a cable tie. You also get a 6.3mm adapter and user manual. The package content is nothing short of excellent to me. It shows that VE is very careful about the presentation of its products.
The cable is a standard stock cable. It has good tensile strength and flexibility. The 3.5mm jack has a very low profile and 2-pin connectors sit very tightly.
Build Quality & Design
As no surprise from Vision Ears, the VE7 is built perfectly with a seamless faceplate closing, with smooth and clean shells. The 2-pin sockets are also built to last with good grip to the 2-pin connectors of the cable. The nozzles have the same philosophy as VE's custom monitors. They're divided into 3 sections and actual sound bores are beneath these sections. This design choice provides more protection against ear wax building.
The VE7 has a very flashy design language with its signature version. You can actually customize your universal IEM with different faceplates and shell colors. My sample is the signature design, however, which is absolutely fabulous with the new "Fire Blaze" faceplate and a transparent blue shell. The faceplate changes its color depending on the light conditions too. The looks of the VE7 are surely outstanding and exciting. That faceplate is really something. You can design your own VE7 though, with a bit more price.
Page 3: More About Sound Quality, Comparisons & Conclusion