In this article, we review the $299 SGD ≈ $225 USD Kotori Audio Epsilon upgrade cable. 
Disclaimer: Kotori Audio sent us the Epsilon upgrade cable for the purpose of this review, free of charge. I only covered the customs tax. All thoughts and experiences with the product are naturally my own.
Intro
At some point, as audiophiles, we've all thought about how we can improve the performance of that one earphone we liked very much. Since the human species is greedy and insatiable beings, it is not unusual for us to constantly think about the next level. So here I am with a bunch of upgrade cables in my hand, writing this review while A/B'ing them back and forth. There are those who like cable upgrades, there are those who do not. I personally like upgrade cables and I really like finding new companies for potential gems. Let's see if the Kotori Audio is one of them or not.
Kotori Audio
Kotori Audio was founded on 24 May 2019 in Singapore. Ray is the man behind the curtains and he has a small team of skilled members. They are all hobbyists like us, they offer products that are built from the ground up, with performance in mind, while offering variations for differing tastes and requirements. They do R&D based on the users' needs and wants and they aim to offer great products in terms of price-performance. Customers also have the option to order bespoke cables with customized plugs and wires.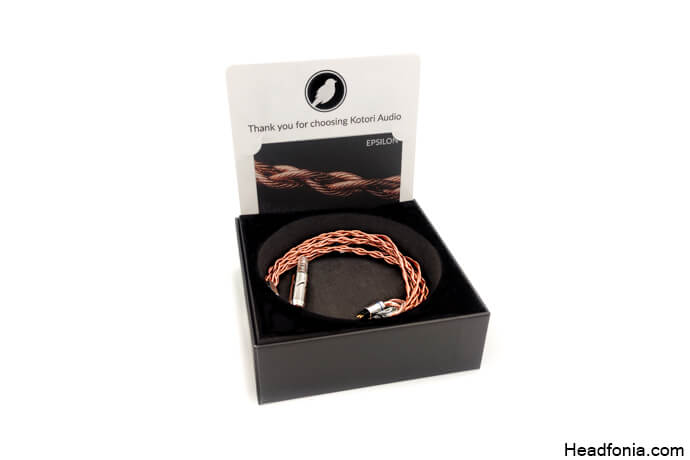 The Epsilon
The "εpsilon" is the flagship of the Kotori Audio's current cable line-up. It is made of individually enameled strands of copper manufactured with the Ohno Continuous Casting (OCC) method. It also features Kotori-Lite insulation which, according to Kotori, prevents microphonics and offers superior flexibility. There quite a few premium connector options to choose from. They work with renowned brands such as Furutech, AEC, and Oyaide. My cable came with the Furutech 3.5mm and AEC 2-Pin connectors and it looks quite handsome.
Specifications
Cable Material: OCC Copper Litz
Wire Gauge: 24 AWG
Conductor Count: 4-Wire
Wire Insulation: Kotori-lite
Y-Splitter: Kotori Premium Y-Splitter
Cable length: 1.2m
Packaging
The Epsilon comes within a small, square black colored cardboard box with the Kotori Audio logo printed on it. It looks simple and elegant, just as it should be in my book. Upon removing the top, you'll see a thank you card along with the information of your cable's serial number, termination type, and wire specifications. Upon removing this card, you'll see the beautiful Epsilon, lying in a circular foam cut-out.
Build Quality & Ergonomics
The build quality of the Epsilon is amazing, the braiding is tight and perfectly symmetric. No loose braiding can be spotted by my keen eyes. As a guy who builds his own cables once in a while, I must say that whoever built this cable is a meticulous craftsman. To be completely honest with you, the braiding part is the part that I hate the most. It is quite easy to mess it up and when I see this type of perfect braiding, I praise it. As for the Y-splitter, the Epsilon uses Kotori Audio's custom hexagonal metal Y-splitter with their logo on it. It looks very neat and complements the silver-colored connectors and the silver-colored plug.
There are a lot of connector options available on the website of Kotori Audio. You can mix & match them according to your taste. My cable came with the Furutech Rhodium 3.5mm plug. In my opinion, Furutech is a candidate for the top 3 companies that really excel in the cable accessories industry. It looks VERY durable, to say the least. I also unscrewed the connector to see the solder job and I was very happy with what I saw. Kudos to the Kotori Audio team for their brilliant craftsmanship. As for the 2-pin connectors, they went with the company, AEC Connectors. They seem durable and neat with colored L/R rings around them.
Let's move on to the ergonomics, shall we? First of all, it really doesn't matter how good a cable is when all you hear is the microphonics. That is exactly why the jacket, the insulation is of utmost importance. I have had many cables over the years of my audiophile journey and I have seen many brilliant cables with bad insulation. You really can't take those cables and go for a walk along with your favorite IEMs & a DAP. I believe we are on the same page with the Kotori Audio team on this issue because the Epsilon has an amazing insulation jacket.
It is very flexible, does not tangle easily, and most importantly, it has really low microphonics. The material they used for the ear hooks are quite soft and feels great on my skin. I can wear the cable for extended periods of time without any discomfort.
The review continues on Page Two, after the click HERE or by using the jump below.
Page 2: Sound, Hiby Crystal 6, Earsonics Velvet V2, Mangird Tea, Last Words