In this review, we take a look at the SeeAudio Yume, a 1DD+2BA IEM selling for $169.
Disclaimer: the SeeAudio Yume was sent to us free of charge by the brand in exchange for an honest opinion. You can get one directly from your local retailer.
About SeeAudio
Prior to this review, SeeAudio was completely unknown to me. Information regarding the brand was scarce, and apart from a Facebook Page, I couldn't find anything. But, a quick search on the internet showed quite a few reviews, customer surveys, and more importantly gave me a broader view of the brand.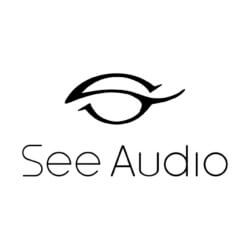 Base in China, SeeAudio is a (geeky) new manufacturer, advertising themselves as specialists in high-end custom and universal fit In-Ear Monitors. And so, the first models they unveiled perfectly fitted this description: a 10BA (Neo) and a 4BA+4EST (Kaguya), both priced over a thousand dollars.
But today, we are reviewing their entry-level model, the SeeAudio Yume. A 1DD+2BA "tuned following the Harman Curve, by professional acoustic engineers with years of experience in the audio industry". So let's check it out.
Design & Build Quality
Casing
Out of the box, the SeeAudio Yume gives a solid impression, thanks to its thick, glossy, resin shells. 
Like AudioSense did with its DT200, the shells are fairly small and if you'd compare them to FiiO's IEM like the FA7 or the new FA9, you'd be surprised to see how big the latter feel in the hand, or ear. Obviously, the fact that the Yume only gets 2BA + 1DD drivers allowed the brand to make smaller enclosures for its IEM.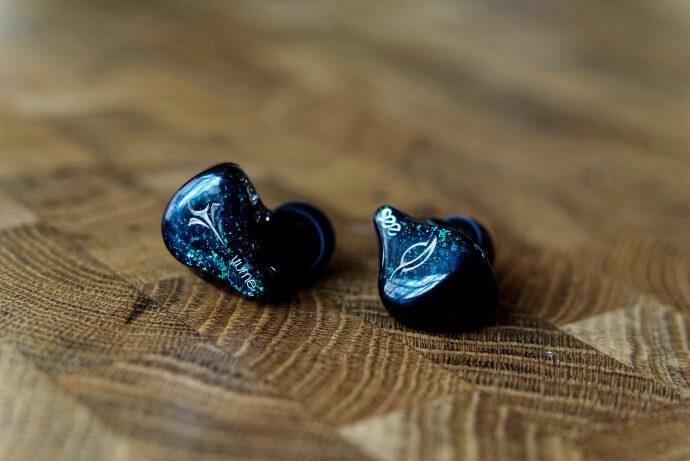 Size-wise, they fit right between the AudioSense and the Kinera BD005 I recently reviewed, so thanks to that, they should fit almost every ear. It feels sturdy, the faceplate is pretty good-looking, without being too ostentatious, and the metallic nozzle is another nice touch. Bonus point for the faceplate, I really like how the flakes shine over through the acrylic.
Again, I have to highlight how good entry-level IEM has become in those past years. When you had to pay hundreds of dollars to get a 3-way IEM, you can now get a semi-custom one, with hybrid drivers, for a fraction of that price.
Build Quality
Unsurprisingly, build quality is top-notch and the SeeAudio Yume doesn't have to be ashamed when compared to its direct competitors. There are no steps, no cracks, no bruises, just one smooth surface all over the shell.
The shell is made of two pieces only, the main translucent body, and the nozzle. That last part isn't a direct extension of the body but a metallic plug, blended with the shell. The 2-pin port fits perfectly, even if I'd have preferred an MMCX one, for durability, and the braided cable feels equally robust.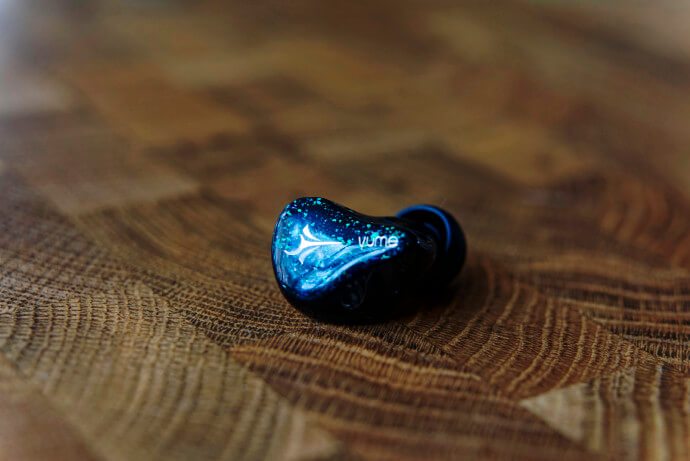 On each side, the brand emblazoned a different picture. While the left side displays SeeAudio's logo (a mystic eye) and the brand name, the right side exhibits a blade-like sigil, underlined by the IEM's name, Yume.
The cable is equally good and if you can find better ones on the market, there are far worse options than this one. It's braided, straight-shaped at the end, and feels pretty robust. At least enough to withstand a daily dose of commuting abuse. 
Bundle and Comfort
Inside the box
Unfortunately, I didn't get the SeeAudio Yume full package, so maybe there are some accessories that will be included in your version, that I don't know about. 
What I got was :
the SeeAudio Yume
a 2-pin Quad-Core OCC copper cable with a 3.5mm termination plug 
three pairs of tips 
a round carry case
A rather sparse bundle, especially compared to similarly priced chi-fi IEMs, lacking the usual foam tips and a clean tool that we get ninety percent of the time. Moreover, I'm used to getting TONS of tips, so I can find the right one for my ears.
 But as I said, there is a chance that you get more accessories than I got, check with your dealers first!
Additional accessories
If you want to go further with your SeeAudio Yume, there are only two upgrades you should do:
go for a balanced cable, if your source offers 4.4 mm or 2.5 mm outputs
get SpinFit tips or Comply if you prefer foam tips
That said, the best gift you could offer to this model remains a DAP or a DAC. It could be something as simple as a NuPrime Hi-mDAC or an EarMen Eagle, but please don't use your computer headphone out (even if the new MacBook one is pretty impressive).
Comfort
As I expected, the SeeAudio Yume completely filled my ears, once fitted with the right tips. They were a bit bigger than I thought, but the semi-custom design easily compensates for that caveat.
To top all of that, the provided cable is light enough not to hinder your movements, while offering enough weight to maintain the ears in the right position. Nice!
Isolation
Like all resin-made IEM, the SeeAudio Yume are very good noise-blockers. 
Whether it was railroad sounds, subway closing-doors siren, or the usual talking "brouhaha" heard in crowded places, the IEM managed to dampen it quite swiftly.
I use a mechanical keyboard at the office, and if I can hear the click with silicon tips at low volume, once I've plugged some foam, every unwanted noise is completely out of the picture.
So, time to check the specs!
The review continues on Page Two, after the click HERE or by using the jump below.
Page 2: Sound performances