Specifications
For the nit-picker and nerdy one here, I'm giving the specs and technical sheets. For all the others, you can just go to the next page to see how the SeeAudio Yume performs.
Hybrid configuration + Harman Curve
Unlike the NEO – their flagship – the SeeAudio Yume uses a mix of balanced armature drivers and a dynamic one. If the two BA are provided by Knowles, the DD is a completely custom model, specially designed for this model.
This 9.2mm wide driver enjoys the benefits of a liquid silicone diaphragm. On paper, this driver offers a better dynamic range and lower distortion than your usual driver, thanks to the fact that gel is impervious to temperatures changes, ensuring consistent results, whatever the conditions.
In addition to that, the Yume uses a technology called Low-Frequency Filter Conversion. The idea behind the name is to add a 33.91 cubic millimeter front cavity between the DD and the sound guide tube, to achieve a better DD to BA transition and lower the overall distortion.
The whole idea behind is to match the Harman Target Curve, a popular frequency response curve, praised by many audiophiles that's supposed to deliver "speakers experience" with an in-ear. A bold statement but Chi-Fi are, most of the time – deeply impressive, once you feed them with the right source. So let's continue.
Sensitivity / Hiss 
Impedance is low, sensitivity is correct (106dB/mW), so you should have no problem driving those IEMs with your usual DAP, or even a phone.
On my FiiO M11 Plus LTD, the IEM behaves exceptionally well. Same with my EarMen Eagle or the ddHiFi TC35b plugged into my computer, all were able to drive the IEM with ease, even in noisy environments.
Last but not least, hiss never was an issue.
Full specs
Type: IEM
Style: Balanced + Dynamic – 1DD / 2BA
Drivers: 1x 9.2 Dynamic with Liquid Silicon (low) + 2x Knowles 29689 (mids+highs)
Socket: 2-Pin
Cable: Quad-core OCC copper – 3.5mm straight
Shell: 3D printed silicon + custom faceplate
Frequency Response: 20Hz – 20 KHz
Impedance: 32 ohms
Sensitivity: 106dB
Sound Isolation (up to): 24 dB
Cable length: 130 cm 
Price: $169
Sound performances
My main sources were the FiiO M11 Plus LTD / EarMen Eagle / FiiO Q3. Trusted sources from trusted brands that I used extensively for the past months.
As usual, files were played from either Amazon Music / Spotify or my own music library. Some tracks will be highlighted, just so you can try them home too!
Overall signature
If I honestly didn't expect much from the SeeAudio Yume, I was pleasantly surprised by how things turned out once I plugged them in my ears. 
Resolution and clarity are on par with higher tier IEM, and if mid-lows are a tad shy, the rest of the spectrum shows an impressive level of definition. Voices especially were given a lot of love and attention, and I was deeply impressed by how natural the mid-range came out, even just plugged on the small TC35B. The mid-resolution is, in my opinion, one of the most impressive feats of any IEM in this price range.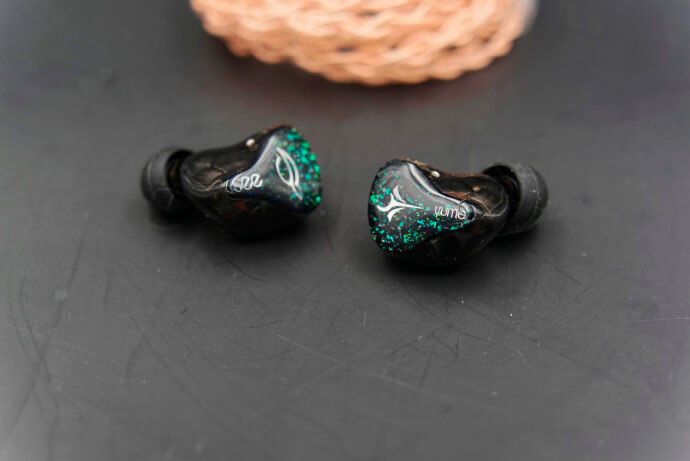 Add a more potent source like the FiiO M11 Plus Ltd and the end result goes way beyond what you'd expect for a sub-$200. The seamless transition between low, mids, and highs is proof that SeeAudio really did some nice engineering and tried to blend those three drivers, in the best possible way. My only complaint would be the lack of lower mid-range, whilst the Yume achieved impressive lengths in the sub-bass section.
I listened to classic tracks like Hysterias from SebastiAn, or vocal one like La Jeune Fille en Feu from Par One and that confirmed my first impression: voices are definitely the best feature of the Yume, with an exquisite rendering of every subtle nuance. A good example is Most of the Time from Lisa Ekhdal, whose particular tone of voice felt delightfully closed even at very low volume.
Also, that audio prowess was available with every gear that I own. As soon as I stepped up and swapped the EarMen Eagle, for the FiiO, the lows tightened, instruments separation improved, and the overall resolution deeply improved. Sadly, the sound stage remains average, but on a keener note, the Yume is the kind of IEM you could wear days and days, and never feel tired from.
Long story short, I really like the sound of the SeeAudio Yume. Even if there are some shortcomings, for the mids alone you should definitively lend them an ear.
Tonality
Highs: clean, unoffensive trebles. High-frequencies extension is good, but this isn't the best-selling point of the Yume. It's good at best but mostly average and if you like razor-sharp highs, there are better options out there.
Good test-track:  The Look Of love – Dusty Springfield
Mediums: le plat du chef. As you must know now, this is where the Yume outshines the competition. Everything seems perfectly on-point and SeeAudio vastly impressed me in this regard. Kudos to the brand!
Good test-track: Plastic Love – Mariya Takeuchi
Bass: weak low-mids and deep rumble. Bass is there, well-defined, impactful, but I'd loved to hear more low-mids as I couldn't get my usual kick on the go. That said, the Yume still managed to deliver deep sub-low, proof that it's more about tuning than performance issues.
Good test-track : Peur des filles – L'impératrice
Conclusion
For $169, I don't think that you could go wrong with the SeeAudio Yume 
Build quality is excellent, comfort is superb, and the sound is quite good, with impressive mids and vocals- and paired with a quality source you can definitely feel how well SeeAudio engineers blended those three drivers together.
The downsides? If mids are praiseworthy, lows and mids aren't as magical. If they ain't bad, they are not amazing either, particularly compared to their mid-counterpart. But, overall, there's still a lot to love, and I have to say that I quite liked my time with those IEM. If SeeAudio were to match the highs/lows to the mids, they'd surely have one of the best models in this price range, or above.
Page 1: About the brand, design and build quality