Design and build
The SR25 comes packaged in a nice, premium box with angular design cues that hint at the shape of the device inside. Included along with the SR25 itself is a USB-A to USB-C cable, protective screen film, microSD card slot cover, Quick start guide, and warranty card.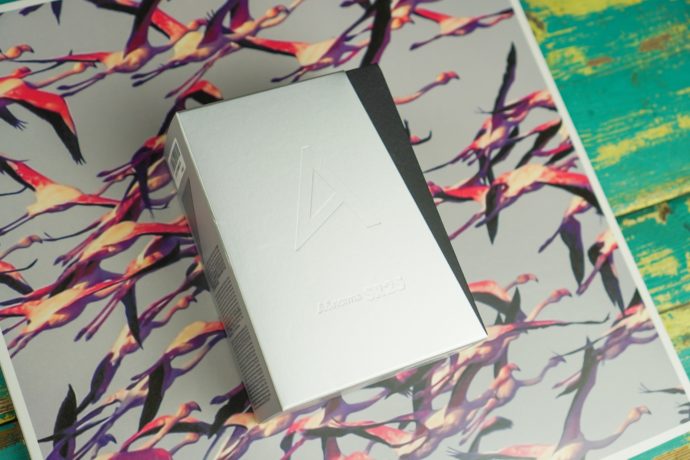 Lifting the SR25 out of the box, the minor increase in size over the SR15 certainly isn't noticeable. It feels reassuringly solid in the hand while feeling light enough to not feel like it'll act like an anchor in your pocket. The SR25 is a perfect 'handful' for me, and it's most definitely a one-hand proposition for this reviewer in terms of being able to reach all the functions and drive it under most normal conditions. 
Let's talk about *that* screen because it's certainly both the biggest visual statement and potential deal-breaker for would-be SR25 buyers. Astell&Kern has presumed that most users will be right-handers, meaning that when held in a natural position in your right hand, the screen will pretty much be upright. While you need to adjust ever so slightly in terms of your up-down scrolling angle, it just works. I found myself not only ok with regards to dealing with the screen-tilt, I grew rather fond of it. It looks cool, and it's actually great to live with. 
Like many other Astell&Kern players, the SR25 has a lot of edges and points. It's not quite as sharp as the newer A&futura players, but you will notice the shape of the SR25 when handling it in your pocket. Astell&Kern sell an aftermarket case for the SR25, and I suspect many buyers will want to tick that box, although this does increase the price of the SR25 by $60 USD. Like other players in their line-up, Astell&Kern has chosen a shiny, reflective glass backing for the SR25 which is another reason why you might want to opt for a protective case for it, so as not to scrape it on surfaces. I did find that I had to 'baby' the SR25 carefully due to its back, but it does seem solid and built to last. 
In terms of the other physical features of the SR25, I'm happy to report it's a well-thought-out and well-designed affair. The three playback buttons on the left-hand side of the device manage play/pause and track advancement and are easy to locate unsighted. A similar-shaped button on the top of the SR25 toggles the display on and off. The solid, milled volume knob is a delight to use, with its tactile 'clicks' and substantial, weighty feel. I will note that I did accidentally change volume in my pocket once or twice by accident, but on the whole, it allows for precise volume-leveling.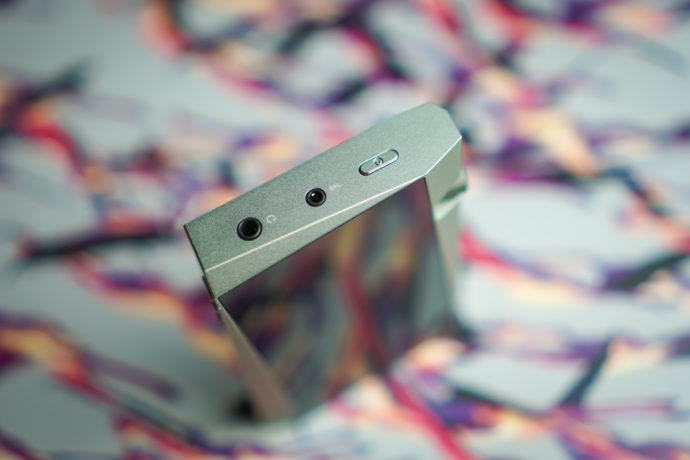 Astell&Kern has opted for the tried-and-tested 2.5mm output for balanced headphone operation in addition to the standard 3.5mm unbalanced out. While some users might bemoan the lack of a 4.4mm Pentaconn option, 2.5mm suits me just fine in terms of the cables that I have on hand and feels 'right' for a player of this diminutive size. 
Lastly on the build-front, a USB-C charging and data port thankfully replaces the SR15's USB Micro-B, and a micro-SD slot allows users to increase the SR25's onboard 64Gb of storage by up to 1 Terabyte. 
User Experience
Like other Astell&Kern players, the SR25 features a 'skinned' version of Android 9.0 which is fairly intuitive to anyone who's handled an Android device in the past. Navigating libraries is a breeze using the drop-down menu, and scrolling through albums and artists is fluid and lag-free. Device management and settings are handled by dragging down from the top of the screen, and a 'home' button brings the user back to the track being played. It's pretty simple stuff. 
In addition to playing native files from the onboard and micro-SD storage, the SR25 allows you to enjoy streaming services Tidal and Deezer right out of the box, but accessing other services like Spotify will require you to install via an APK installation rather than being able to simply access the Google Play store. The 2.4GHz, 802.11 b/g/n wifi worked well in every room of my apartment, and I was able to enjoy streaming Tidal losslessly for the most part, although I did get more than my share of 'network errors' from time to time during playback that was somewhat annoying and unexpected. Your mileage may vary, however, depending on your connection. All the same, wifi connectivity is a welcome feature for users who want to access the vast libraries of streaming services over the more 'pure' experience of straight-forward players only capable of playing local files. 
Being such a small player, naturally, the 'keyboard' of the SR25 is also correspondingly small. When searching for files, or entering username and password credentials for online services, you should be prepared to experience 'fat finger syndrome' – I guarantee it'll happen. While the screen is small, that 3.6inch WVGA LCD display looks awesome. It's bright, colours look great, and the resolution of fonts and album artwork looks incredibly sharp. Out of the box, the SR25 also includes Youtube under the 'V-Link' option in the Services menu. While it's limited to 720p playback, it's a nice inclusion although I don't think too many users will choose it over their smartphone for video use. 
In addition to local and streaming playback, the SR25 will happily function as a USB-DAC from other devices. It was a breeze to set-up the SR25 as a 'DAC' running from ROON on my Macbook, and you simply manage playback as normal from your desktop while managing volume on the SR25 itself using that great wheel. I'm not a big Bluetooth user, so while I can report that it's certainly easy to pair and operate with wireless devices, I didn't delve much further than that. 
Astell&Kern has included a fairly comprehensive parametric EQ system in the SR25, which allows for precise tweaking of sound to your preferred signature, although it does have a bit of a learning curve and minute tweaks are a little difficult due to the limitations of the screen size. I generally prefer to listen without EQ, but it's a thoughtful inclusion for listeners who may want to add a peak or dip here and there. 
All-in-all, the SR25 turned-out to be quite the pleasure to live with as a premium, portable device. Its design, in addition to looking eye-catching, is genuinely ergonomic and it's very much a pocketable proposition. It's UI is powerful, intuitive and thanks to its Android DNA it's also future-proof with the offering of future firmware updates from Astell&Kern. Even though I had some more expensive, and more capable players on-hand in the form of the Astell&Kern SA700 and SE200 during the review time that I spent with the SR25, I found that I would reach for the SR25 over the larger players more often because it's simply an easier player to live with. In my books, the best audio device is the one that makes you able to enjoy music more often, and makes you want to listen to music more often – and the SR25 is a big 'tick' in that book. And speaking of 'often', the SR25's battery-life is genuinely great. I didn't subject myself to a 21-hour torture-test (because, you know, life gets in the way), but using it under normal conditions I certainly feel that the average user could get pretty close to that claimed length of time. 
The review continues over the jump on page 3.