Sound Intro
dCS Audio's units are designed and engineered to provide the highest level of transparency, and the LINA Headphone Amplifier is no exception.
dCS wants their amplifier to be neutral and drive your headphones to the best of their ability, without influencing their sound and bringing out the best of their characteristics. I feel they have achieved exactly that, but building a great amplifier is not just about being transparent. It's about having great technicalities and a musical performance as well, but I can assure you that dCS Audio nailed absolutely everything with this super high-end amplifier.
Let's dive in further!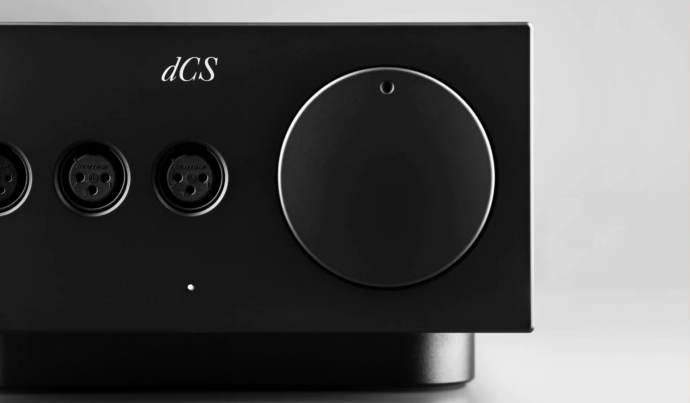 Sound General
Setup here is the full LINA stack with the almighty Susvara, using ROON (Tidal), all in balanced configuration.
Impressive, that's what the LINA amplifier is. dCS is fully correct when they say they have created a neutrally tuned and fully transparent amplifier. The dCS LINA amp doesn't impact your sound in any way, and it shows you what your headphone (and DAC) has in petto.
The LINA amp is always highly dynamic no matter what headphones you connect to it. This dCS will also always offer you the highest possible resolution. Using a top level DAC is advised. The amplifier itself is perfectly silent, there is no noise whatsoever to be heard. Feel free to turn the volume dial all the way up to maximum when the amp is idle, you will not hear the slightest noise. The volume control is also dead silent.
Next to the neutrality, dynamics and transparency, the dCS amplifier also is perfectly linear and balanced. It does not boost any frequencies and behaves the same over all frequencies. If you find that boring, then you in fact are complaining about your headphone most of all.
It's very safe to say the dCS amplifier has one of the very best technical levels possible on the market at this time. But the amp takes it a step further and combines that with an engaging and musical delivery. You really get the best of everything here and it's exactly why I have been so impressed from the start.
The sound stage here is very deep and wide, with top level layering. From top to bottom you get a spacious and airy presentation which shows you all the micro details and lets you hear all the note extension and decay there is. The dCS amp sounds lively and energetic, without ever going overboard. Perfect control is what you get here, and in all possible ways. Its pace and attack are exceptional, as are its separation and staging availability. I think that those who were able to listen to the LINA setup (in silence) during a Canjam or other show, will agree that this truly is an impressive amp on a technical level.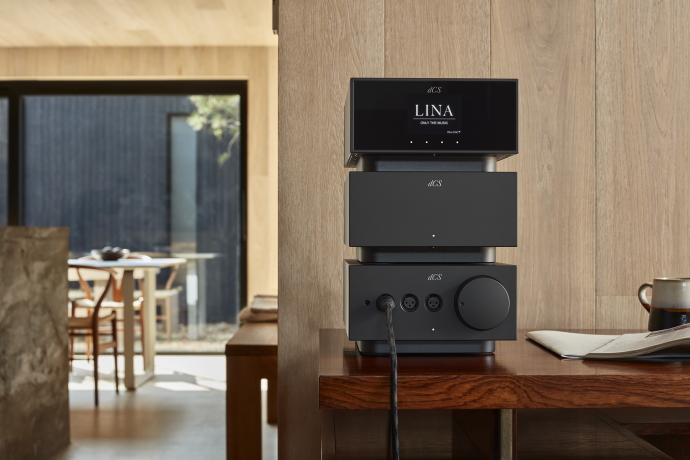 Bass is neutral in presence but there still is good body and impact. Bass is very tight and fast. It reaches down super low and has excellent detail and layering. This of course will also depend on your headphone, but there are no limitations by the amplifier. Bass is fast, exciting and energetic. You would fear that with a balanced, neutral design there won't be enough bass but this isn't the case at all. Bass is there when needed, with great sub rumble.
Perfectly connected to the bass are the mids. They are nicely spacious and airy and the presentation is fluent and unforced. The mids also have excellent dynamics and natural vocals. Mid depth and layering are just as remarkable as in the bass section. The mid timbre feels natural, sparkling and very musical.
The treble section extends really well and has a lively and dynamic, yet realistic presentation. Treble is spacious, natural and airy. It never is sharp, aggressive, or unpleasant to the ear.
All-in-all the dCS LINA amp is all about delivering top quality more than it is about delivering quantity. But the LINA amplifier can't be described as light or thin. Natural and refined are better ways to describe it.
Sound – Headphones
Different kinds of headphones require differing amounts of voltage and current, depending on their efficiency and impedance. The LINA Headphone Amplifier is designed to cope with widely varying loads and to perform with a large range of headphones. This is achieved through a range of features and factors, including a low output impedance design, low noise floor, wide dynamic range, and an adjustable gain switch which.
For this test we are using the full dCS LINA stack, so with the dCS DAC and the Master Clock. The headphones chosen are the Susvara, HEDDPhone, Diana TC, Audeze LCD-5, Sennheiser HD 800 S, Beyerdynamic DT1990PRO and the HE6SE. This way we have a selection of different technologies and impedance. All headphones, except for the Beyerdynamic are used in balanced mode.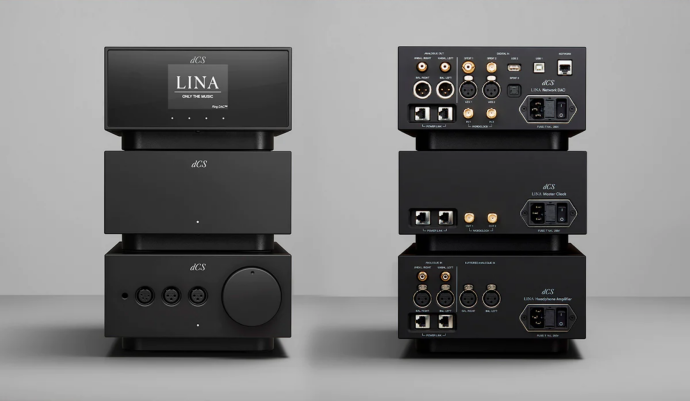 First headphone is the planar magnetic Hifiman Susvara. It's a notorious headphone to get the best out of, but the LINA headphone amplifier in high gain does the job without any issues. It's even better than just doing the job though, there are only a few amps in my collection that can make the Susvara this good, and the LINA amp is one of them. You get a super price and fast Susvara, with the highest level of technicalities it can reach. A wide and deep soundstage, excellent spaciousness and airiness, top level layering and excellent extension is what you get here. The LINA amp doesn't add anything to the sound of the Susvara, it just makes it excel in what it does best. Perfect control, tight bass with great impact, realistic and energetic vocals, and a lovely top end. There's really nothing to flaw here, if you like the Susvara this is as good as it gets.
The HEDD Audio HEDDphone is another difficult to drive headphone, using AMT technology. With the LINA amplifier you get a full sounding HEDDphone, with bigger bass presence and overall, more body. The top end is energetic, the vocals softer and smoother. The LINA amp again is perfectly in control. Bass isn't as fast as in the Susvara but it has more body and sub presence. I really like the combo and the synergy is really nice. I just haven't used this combo as much, simply because of the HEDDphone's comfort level. If you don't have any issues with that and like the HEDDphone's sound, then you will be delighted with this synergy. This also is a recommended combo.
One of the reasons why JPS Labs sent us the Diana TC is because they knew we were getting the dCS LINA stack. The synergy with the dCS Lina stack (with the amp on high gain) is very good. You get a fast, super tight and clean delivery, but with great depth, layering and precision. The technical level in this combo is extremely high. I also adore the vibrant, spacious mids and natural vocal presentation of this combo. For what weight and body are concerned, this combo is on the lighter side, but it's never thin sounding. Bass is present when needed and it reaches down deep, but it's quality over quantity for sure. If you like a high technical level and one of the best vocal presentations, this is a setup for you.
The article continues on the fourth page. Click HERE or use the jumps below.
Page 1: dCS Audio, dCS LINA, dCS LINA Components
Page 2: dCS LINA Amplifier Features, Design & Build quality, Box, Amplifier lay-out, Full specifications
Page 3: Sound Intro, Sound General, Sound Headphones Pt. 1
Page 4: Sound Headphones Pt. 2,  Comparison, Non dCS DAC, End Words