In this article, we review the FiiO KA2, a new entry-level DAC/AMP dongle, available for just €/$59,99 Euro/USD.
Disclaimer: The FiiO KA2 was sent to us, free of charge, by the brand in exchange for our honest opinion. 
About FiiO
Founded in 2007, FiiO is one of the most popular companies in the audiophile world, thanks to an extensive range of (usually) affordable but (mostly) excellent products. IEM, headphone amps, DACs, and obviously DAPs, they cover every genre and every need. So much that when a new player comes out, it usually becomes the benchmark that other brands have to refer to, like the FiiO M17 or the K9 Pro, two high-end devices.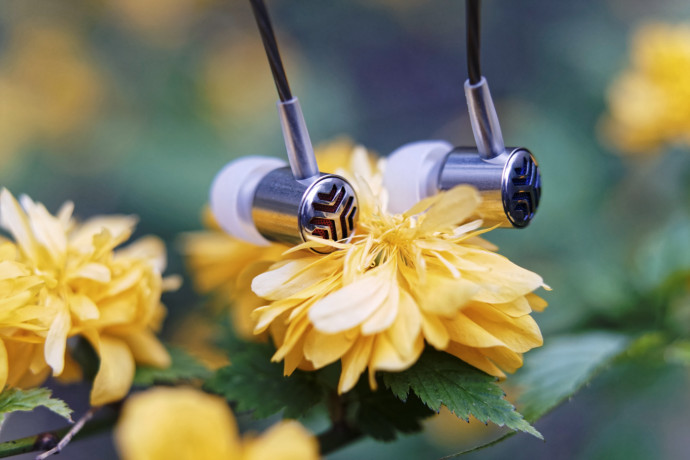 But, in the beginning, the brand was primarily famous for its cheap, USB-Key sized audiophile DAC, like the FiiO E5 and E3. A legacy that led to the actual Jade audio series, with devices such as the JH3, the KA1 or the FiiO KA3, a new line of affordable gear, renewing with the manufacturer roots.
And so, to fill the gap between the KA1 and KA3, here comes the FiiO KA2, a new USB-DAC dongle embedding two Cirrus-Logic chips, and a sole 4.4mm Pentaconn output. The missing link? Time to find out!
A quick word about Jade audio
FiiO sent us some references about Jade audio, here is a copy:
"Jade Audio" is a subsidiary brand of FiiO Electronics Technology Co., LTD. It is a stylish, technological, and youth-oriented brand aiming to provide high-quality yet cost-effective audio products with an excellent listening experience for the younger generation all around the world. The entity's Chinese name is derived from "翡声" (Fei Sheng), meaning "the sound of Jade". The name "Jade Audio" conveys our mission towards providing consumers with a crisp and pleasant listening experience while maintaining audio fidelity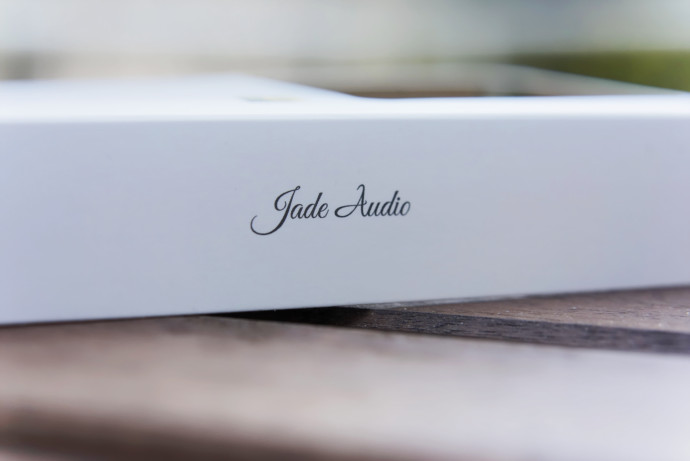 Design & Build Quality
Casing
Visually, the FiiO KA2 is the mirror copy of the KA1: the epitome of a portable DAC. End to end, it is just 40 mm long, 15 mm wide, and 12mm thick – so 4mm more than the KA1, but the exact same thickness as the KA3. To those measurements, you can add the 70mm USB-C / 8-Pin Cable allowing you to connect the DAC to your smartphone, or your usual source such as a computer, tablet or even a DAP. Thanks to that, the DAC can easily be carried in a jean's pocket, a jacket, or simply stick to your phone if you're ok with QI-wireless charging. 
Entirely made of aluminum, the FiiO KA2 looks and feels sturdy and, from afar, you could easily mistake the DAC for a rugged USB-Key, or an SD-Card adapter. Also, like most USB-DAC, it is made of two parts: the body itself, working as a protective case and a thermal radiator, covered on each side by golden-toned plates – the KAx signature.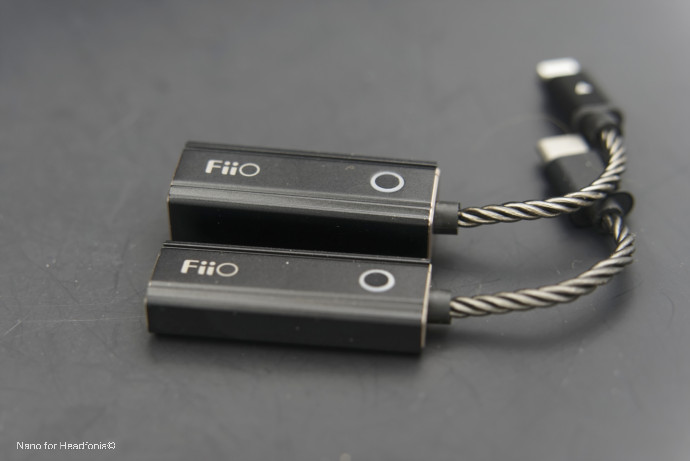 Build Quality
Like the KA1 and the KA3 before, the FiiO KA2 is absolutely flawless in this regard. Black anodized aluminum, golden-plated front and backplate, screw-less design and an exquisite braided cable, ending with a USB-C/Lightning termination. Everything looks and feels nice to grasp, reminding me of the iBasso DC06 and HiBy FC4, another great pocket DAC.
Even after all this time I keep on putting the Maktar's X2 Lightning Dongle as my top choice for whoever wants a flawless device, with its matte-black tubular frame but, to be fair, the KA2 is approximately five times cheaper, and doesn't look five times worse. Plus, it comes with a balanced output, instead of a classic 3.5mm port…
Again, this is one of the sturdiest devices I reviewed recently. Even after living weeks at the bottom of my bag, or in the depth of my jeans pocket, the KA2 remained completely flawless and withstood everything like it was nothing..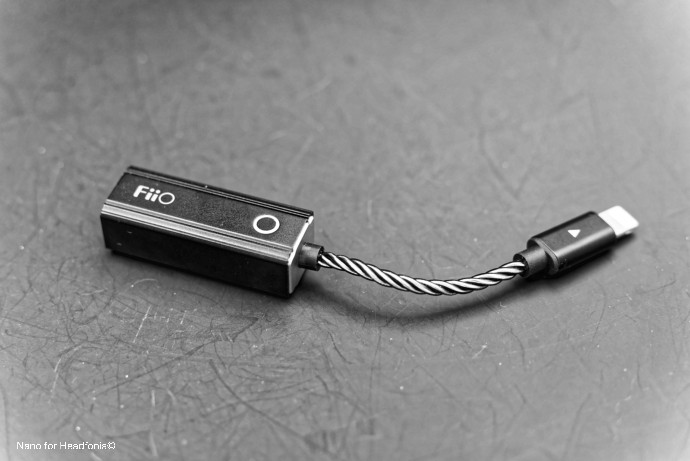 Comfort and Specifications
Daily use
Once again, the FiiO KA2 is extremely simple to use.
Two versions co-exist :
the USB-C one, that allows you to connect the KA2 to your computer, tablet, or smartphone
the Lightning one, for iPhone users or iPad users who still own an 8-pin version
You plug it into your phone, insert your headphone jack, and you're good to go. 
There were nos issues with my iPhone 13 Pro Max + TC28i + KA1, or going directly with the 8-Pin port with the Lightning Edition. Same goes for my MacOS, each time the FiiO KA2 was immediately recognized by the OS and the music came out almost instantly. On Windows, I had to wait a minute, until the OS got the right driver but after that, it worked flawlessly.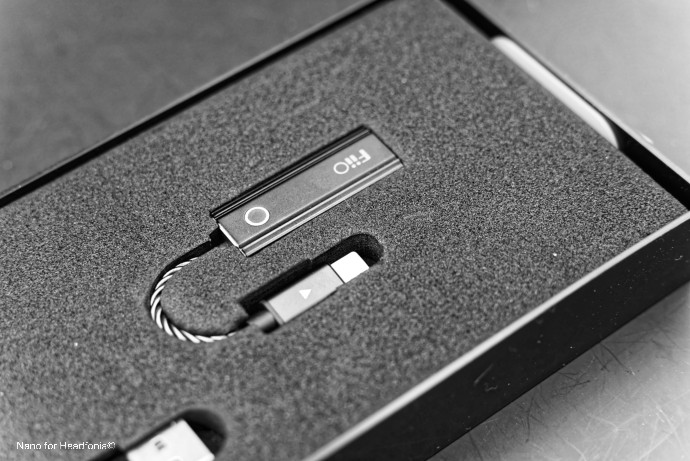 Like the KA3 – but unlike the KA1 – the FiiO KA2 can be managed through the FiiO app, on your Android smartphone (No Apple), which means you can adjust a few setting on the go, like :
the gain level, 
hardware mute switch,
the RGB light
and most of all, the digital filter in use
On the go, it's a pleasant device to use, and the small size is great for commuters like me. It's a bit smaller than the iBasso DC06, bit bigger than the HiBy FC4, but still very portable on a daily basis
Unlike NuPrime's Hi-mDAC and HiBy's FC4 – but like every other USB-DAC – there are no volume controls on the KA2: everything has to be done from your source directly.  Last but not least, you can spot a LED ring on the upper side, indicating the current sampling rates:
blue for files up to 48kHz
yellow for files above 48kHz
green for DSD files
Only three colors where the KA1 offers four, because this model doesn't support… MQA! (not that I care to be completely blunt)
Let's take a quick look at the specs now.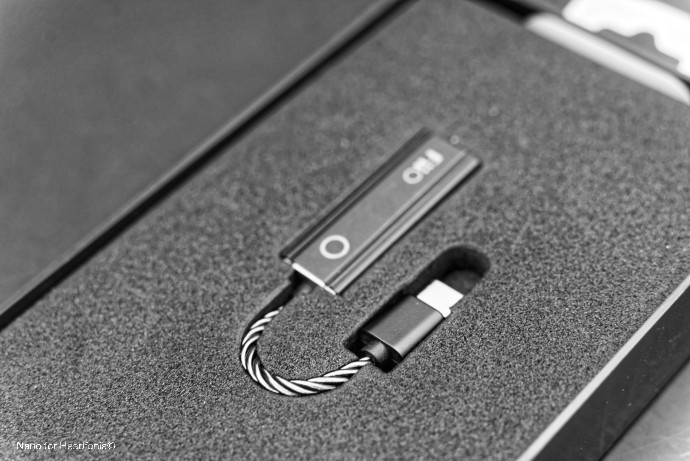 Specifications
Like the Cowon Plenue R2 or ddHiFi TC44C, at the heart of the FiiO KA2, you'll find a set of two Cirrus-Logic CS43131 DAC.
A very popular chip, issued from the MasterHiFi series and advertised as a "low power audio DAC with a high-fidelity headphone amplifier to provide a superior system-level audio performance". And, history has proven that Cirrus really knows cirrus knows a thing or two about it, improving year after year, for the last decade.
As usual, this chip is more of an SOC than a simple DAC, embedding all kinds of features like advanced 32-bit oversampled multi-bit modulator with mismatch shaping technology, or an Integrated GND-centered, Class H headphone driver, helping brands like FiiO to create all-in-one devices, with smaller PCB.
To sum it up, you get:
up to 32bits / 384kHz PCM decoding + DSD256 support
Hardware MQA renderer
-115dB THD + 30mW @ 32ohms
low power consumption, between 6.25-40.2 during playback
Seamless switching between high performance and low power playback
Volume matching of the analog output levels and channel mixing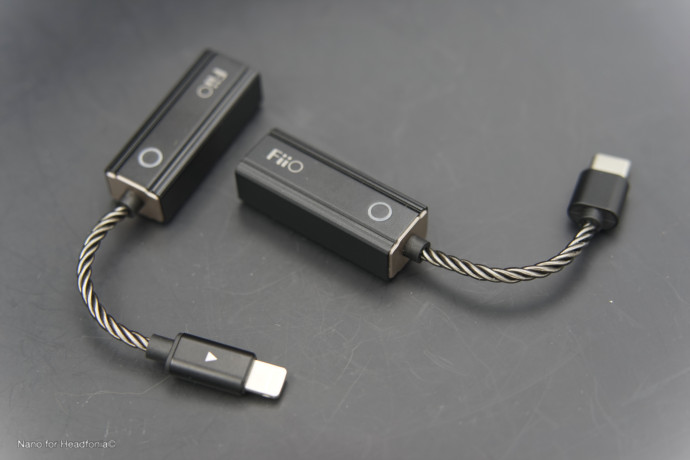 And, last but not least, you get that in dual-mono, since the KA2 comes with two CS43131 chips, to ensure the best performance. If you look closely at numbers, you'll see that the output amplitude doesn't differ from the KA1 (1.2V) but the output power considerably increased: 45mW for the KA1, 153mW for the KA2. A drastic difference, even if DAC like the DC06 or the FC4 goes even beyond.
For the nerds out there, here are the full specs.
Technical specs
Type: USB DAC
Model: FiiO KA2
Chipset: Cirrus-Logic CS43131 x2
Frequency range: 20 – 20 000Hz
Compatibility: PCM up to 32bit/384kHz – DSD up to DSD256
SNR: 125dB
THD: < 0.0005% (32 ohms) / < 0.00024% (600 ohms)
Output power: 153mW @ 32 ohms
Size: 40 mm x 15 mm x 12 mm
Weight: 12.3g
Socket: USB-C or Lightning (8-pins)
Price : $69 (USB-C) / $79 (8-pins)
The article continues on Page Two, after the click here