In this article, we review the HiBy FC4, a new DAC/AMP dongle, available for just $89,99 USD.
Disclaimer: HiBy FC4 was sent to us, free of charge, by the brand in exchange for our honest opinion. 
About HiBy
Founded in 2011, HiBy Music has become one of the most prominent figures in the audio industry. They first began with an audio player app – the HiByMusic Player – which quickly became one of the most popular solutions for audiophiles using android players. So much that brands like Cayin or Hidizs even switched to HiBy for their own player – see the AP80 Pro-X for example. 
On top of that, nowadays HiBy also has a full range of players – like the R8 and RS6 – IEMs – such as the Crystal 6, WH2, and Lasya – and DAC/AMP, all embedding the brand's own FPGA-based audio processing chips.
And today, we have the new HiBy FC4: a dual-chip portable USB-DAC, made to compete with the FiiO KA3 and iBasso's DC06. The great contender? Time to know!
Design & Build Quality
Casing
Small and sexy, the HiBy FC4 takes a very different approach when compared to the KA3 or the DC06. When the two others favor a bulky design with visible thermal fins, the FC4 has a much sleeker approach, while retaining the all-metal body. 
Entirely made of aluminum, the HiBy FC4 looks and feels higher-end than its real price – much like the Hidizs S9 Pro – and from afar, you could easily mistake the DAC for a crypto premium USB-Key. Size-wise, the FC4 is 65.3 mm long, 22.1 mm wide, and 11.9 mm thick, and only weighs 21,7g. To those measurements, you can add the USB-C / 8-Pin cable, allowing you to connect your digital sources, like a smartphone, a computer, or a DAP. 
Thanks to that, the DAC can easily be carried in a jean pocket, a jacket, or simply stick to your phone if you're ok with QI-wireless charging.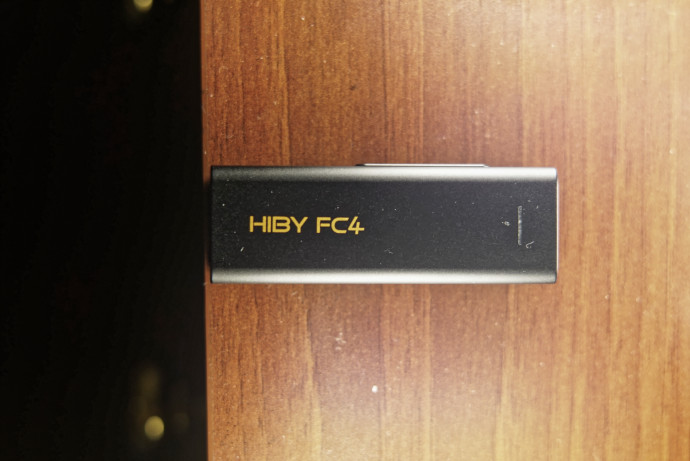 Build Quality
Like every product released by the brand, the HiBy FC4 is absolutely flawless in this regard. Black anodized aluminum, Bauhaus design, single-body built, and an exquisite LED light indicating the stream quality while you play your music. Add to that hardware volume buttons, and this DAC finally outmatch the NuPrime Hi-mDAC in my personal ranking.
It feels premium on and out, and for whoever wants a flawless device, with its matte-black tubular frame, but the FC4 is approximately four times cheaper, and doesn't look four times worse…
All in all, it's a very solid piece of work, and I can't say bad things about the FC4 in this regard.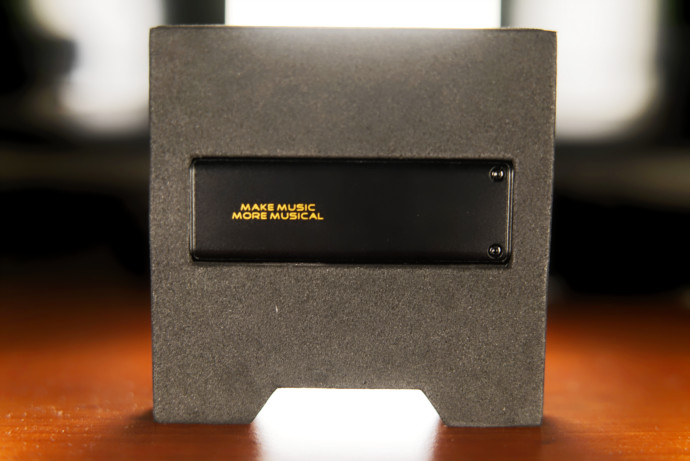 Comfort and Specifications
Daily use
As I expected, the HiBy FC4 is extremely simple to use.
You plug it into your phone, insert your headphone jack, and you're good to go. There were nos issues with my iPhone 13 Pro Max + TC28i + FC4, or with my MacBook: each time, the HiBy FC4 was immediately recognized by the source, and music came out almost instantly.  On Windows, I had to wait a minute, until the OS got the right driver but after that, it worked flawlessly. 
If HiBy provides both USB-C to USB-C and USB-A to USB-C cables, there is no Lightning adapter, which means that you'll have to buy your own adapter, like the ddHiFi TC28i, or a dedicated USB-C to Lightning cable.
On the go, it's a pleasant device to use, and the small size is great for commuters like me. It's kind of a mix between the Hidizs S9 Pro and the EarMen Eagle, both in terms of use, and portability.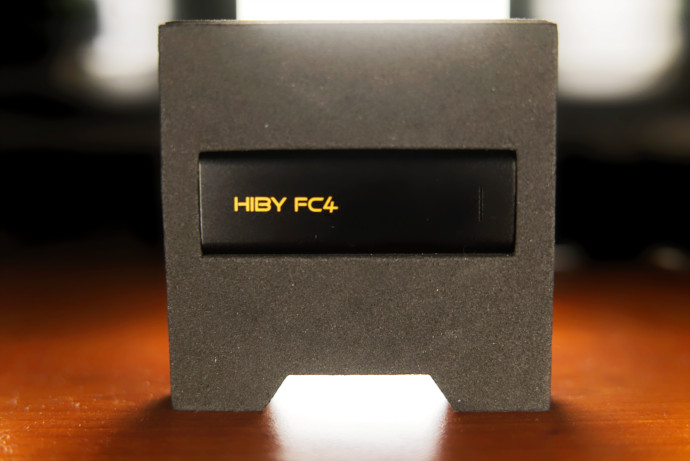 Also, like the NuPrime's Hi-mDAC – but unlike every other USB-DAC – there are hardware volume controls, allowing you to set the volume up and down, directly from the device itself..  Last but not least, you can spot a LED ring on the upper side, indicating the current sampling rates:
yellow for files up to 48kHz
aqua for files between 64 and 192 kHz
orange for files above 352.8 kHz
magenta for MQA rendering
green for MQA
blue for MQA studio
and finally red for the pause
Bonus point, you can use HiByMusic app's USB exclusive mode, with your smartphone, unlocking perfect hardware/software symbiosis, to unleash the full potential of the player – and the app is great.
Let's take a quick look at the specs now.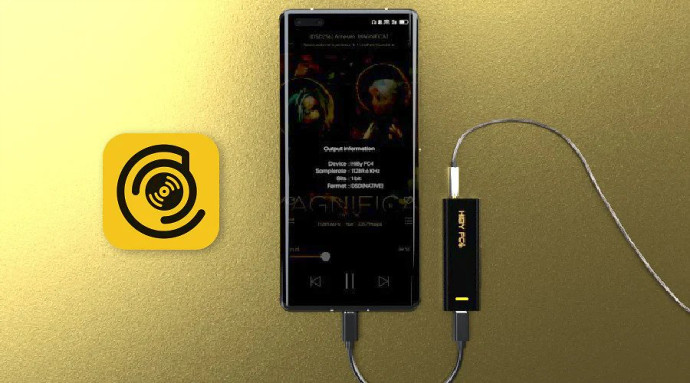 Specifications
Like most of HiBy's latest production, the FC4 is driven by an FPGA-based dual independent crystal oscillator, allowing PCM native decoding up to 758kHz, and DSD up to x256. In theory, those45.158MHz and 49.152MHz audio crystal oscillators should effectively lower jitter, providing the whole audio system with high precision, low jitter clock source. 
Upstream, you have a highly integrated 28nm USB receiver chip, with 416M dedicated audio DSP onboard that offers the best balance between high performance and long runtime. Then, downstream you have the "piece of resistance", a dual set of  ESS Sabre ES9218PC DAC.
A SOC, more than a DAC, advertised as a high-performance 32-bit, 2-channel audio D/A converter, paired with a headphone amplifier and output switch. Add to that ESS patented HyperStream Quad DAC architecture, Time Domain Jitter Eliminator, and, on paper at least, this chip should suit even the most demanding audiophile.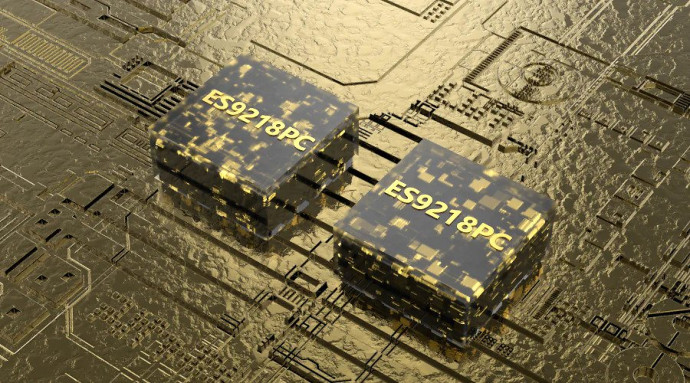 And, fitted in the HiBy FC4 you get: 
up to 32bits / 768kHz PCM decoding + DSD256 support
Hardware MQA renderer + MQA Studio decoding
123dB SNR + 340mW @ 32ohms (balanced mode)
ultra-low power consumption 
HyperStream I DAC architecture
64-bit accumulator and 32-bit processor
Good numbers, especially regarding the output level, the HiBy FC4 reaching 3.3Vrms in balanced mode, while retaining a THD+N as low as 0.0006%, on the whole, frequency range. The MQA 8x unfolding is a plus and for Tidal or HiByMusic users, this ensures bit-perfect compatibility with Meridian format.
For the nerds out there, here are the full specs.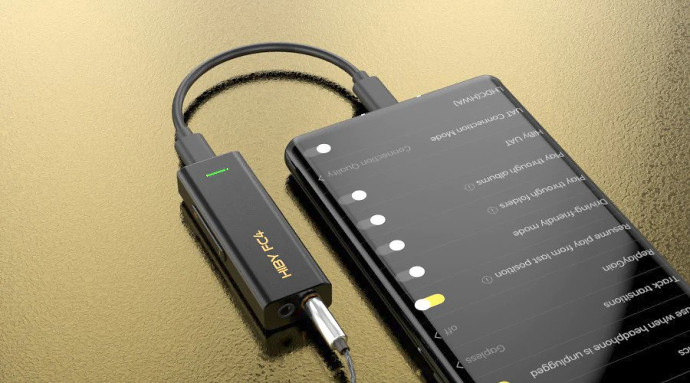 Technical specs
Type: USB DAC
Model: HiBy FC4
Chipset: 2x Sabre ES9218PC 
Frequency range: 20 – 20 000Hz
Compatibility: PCM up to 32bit/768kHz – DSD up to x256
SNR: 120dB (single-Ended) / 123dB (balanced)
THD: < 0.0008% (single-ended) / 123dB (balanced)
Output power: 110mW @ 32 ohms (single-ended) / 340mw @ 32ohms (balanced)
Size: 65.3 mm x 22.1 mm x 11.8 mm
Weight: 21.7g
Outputs: 3.5mm TRS and CTIA-spec TRRS headsets / 4.4mm balanced
Socket: USB-C
The article continues on Page Two, after the click here