Sound performances
For this review, I chose to pair the HiBy FC4 with the FiiO FD3 and Beyerdynamic's DT700 Pro X. Those two have been my top choice in this price range since their launch now, and the FiiO shall be the perfect pocket companion on the go
As for the source, I kept my MacBook and iPhone, combined with the ddHiFi TC28i. For the files, I mainly used Apple Music and Spotify, as I ended up using the FC4 almost exclusively on the go, or on the train.
Overall signature
So, how does HiBy's latest USB-DAC fare, compared to the competition, or similarly priced devices like the FiiO KA3 or Hidizs S9 Pro? Very well actually, the DAC providing the attended "sweet, but powerful voice", despite its small factor.
In fact, from the very first listening, the HiBy FC4 immediately surprised me with its sheer power, even more, when connected through the 4.4mm port. I knew that on paper, the output level should be significant, but I didn't expect this kind of performance. Once connected to my DT700 Pro X, I was amazed by how well it sounded, even with a source as crude as Spotify. This was especially true with dynamic, bass-hitting, tracks like Zulu from A.D.H.S, where some drums seemed to pop up right behind my ears – I like that.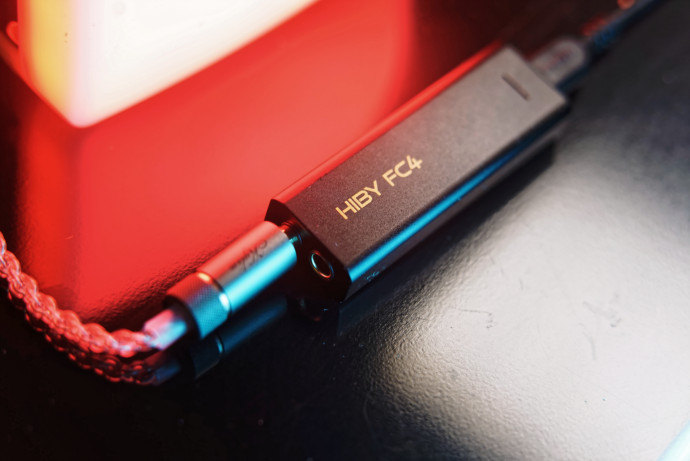 It's precise, dynamic, and never harsh, even with bad recordings – but good recordings are just amazing. I tried a few well-recorded tracks, like Dance Naked Under Palmtrees –  Mo'Horizons, or Baby I'm A Fool from Melody Gardot, and the FC4 sounded even better. 
Compared to the EarMen Eagle, which I still use to this day, there are various improvements, and no real drawbacks: better dynamic range, better bass control, softer high-mids, and a lot more power. Heck, I could even drive the old Audeze LCD-X, my faithful planar, and got kicking lows, from my phone + HiBy FC4. In fact, head to head with the FiiO KA3, it was hard to distinguish one of the two. This was utterly impressive!
As promised in the product sheet, the FC04 is absolutely dead silent, even with super sensitive IEMs like my Onkyo IE-C3. To be sure, I tried various sources to check if EMI shielding was okay too and 99% of the time, I was pleased to hear the same pitch-black background. The only time I heard some parasites, was when my phone had to catch up with the old edge bandwidth, but that only occurred twice.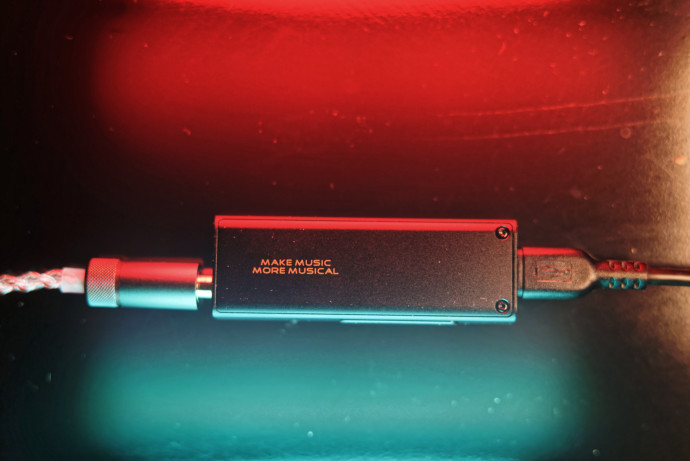 Of course, compared to Apple's own dongle, this is a big improvement. The same can be said when opposed to the small-but-mighty ddHiFi's TC35i: better dynamics overall, better bass control, cleaner high-mids, especially with big cans like my Audeze LCD-X. Compared to the TC44C tough, the difference was also distinctive, as ddHiFi latest DAC pushes a little fewer low-mids, especially when paired with the BeyerDynamic, which preferred the HiBy.
Another comparison I made, was against the Hidizs S9 Pro, a DAC I recently reviewed, and liked. When the S9 Pro shined with pop and jazzy songs, like Sun Rai – San Francisco street, the HiBy's took the lead with classical and electro tracks, like Rezz – Chemical bond. This was especially true with dynamic, bass-hitting, tracks like Universal Consciousness from Charlotte De Witte, where some kicks seemed to pop up right into my face.
Finally, I tried the HiByMusic App, to see if there was a real difference. It's a bit better, but I couldn't really spot a difference during my tests. That said, it may be because I use an iPhone, not an Android one – Apple keeps things like the lightning port tightly locked.  
But, even without that, it's still a brilliant DAC, in and out. Kudos to HiBy.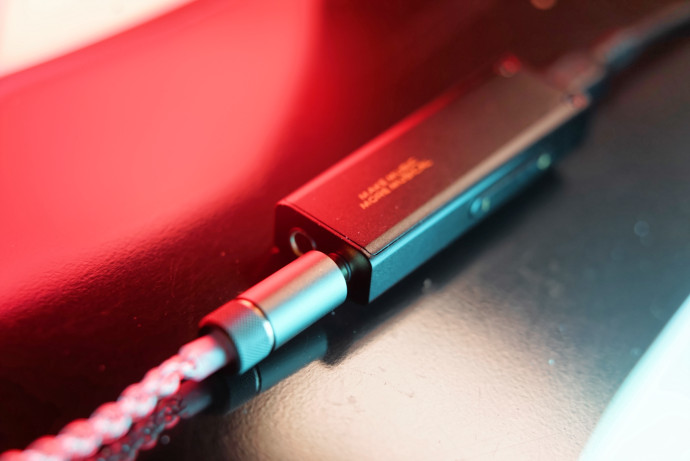 Tonality
Highs: just on the spot. The FC4 avoids the classical upper-mid boost, often found on low-tier DAC. If that gives a sensation of precision, and I never encountered any sibilants even on sensitive headphones like my Onkyo. None of that was found on the DAC, fortunately, and electro tracks such as Naive response from Daniel Avery never scorched my ears.
Good test track : Through and through – Leaving Laurel
Mids: open and linear. Vocals and acoustic tracks were an easy job for the HiBy FC4, even more once paired with a good IEM. The sound stage is wide and voices glided easily into my ears, especially paired with the FiiO FD5. Yet, I preferred the DT700 Pro X with this DAC, as some good pairing occurred, giving me the right amount of details and a wide soundstage.
Good test track: Between a smile and a tear
Bass: tight and powerful. HiBy did a great job here, and the FC4 was really impressive, especially in balanced mode. I love the toe-tapping bass I heard coming from the little box, even more when paired with the Beyer. It reaches the deepest spot, even more, when you think that everything comes from a slim little black box. A nice surprise!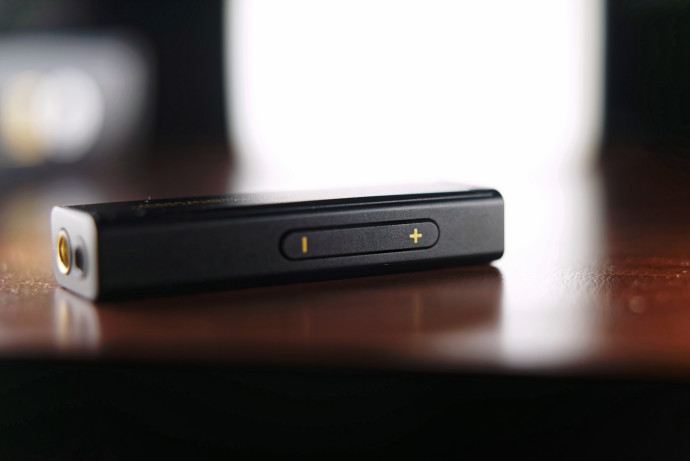 Conclusion
The HiBy FC4 is another great addition to the vast world of portable USB-DAC. Capable of great lengths once paired with a good IEM and hi-res files, the small dongle offers a real audiophile experience, for less than a hundred bucks. 
Sound quality is superb, build quality is praise-worthy, and the conception design makes it the perfect companion for your smartphone, whether you're an Android or iOS user – even more if you're a HiByMusic App user. With the FiiO KA3 and iBasso's DC06, this is now the third DAC you should consider in this price range – it's simply too good.