In this article, we review the Hidizs S9 Pro, an upgraded version of the brand's DAC/AMP dongle, available for just €/$119 Euro/USD.
Disclaimer: the Hidizs S9 Pro was sent to us, free of charge, by the brand in exchange for our honest opinion. 
About Hidizs
Founded in 2009 by Tamson Tan, Hidizs offers a full range of DAPs, DAC/Amps, and IEMs which all share the same DNA: good sound, and affordable prices. And if their first model, the AP100, was one of the quirkiest devices I ever held in my life, it was still a solid alternative against FiiO's or Shanling's players, for a lesser price.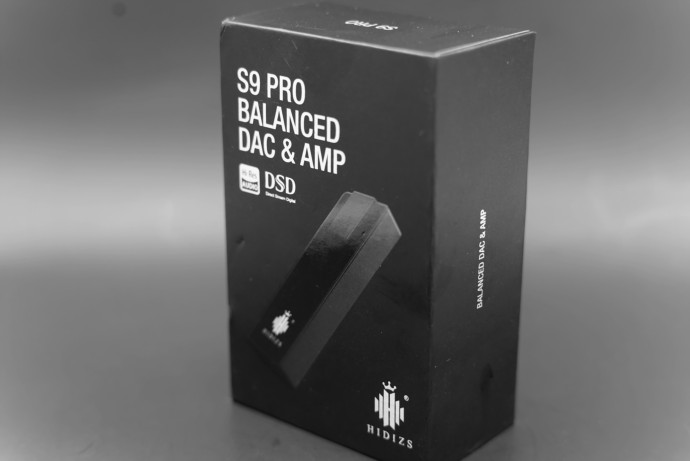 Then, for their second-generation player, the AP200, the brand decided to launch a Kickstarter, which appeared to be quite successful as Hidizs managed to raise no less than $280,000, with 943 backers. A great success that pushed the brand in a whole new direction, where each new product was crowdfunded: AP80, ms5, or the new S3Pro.
But that doesn't apply to the Hidizs S9 Pro, the DAC/Amp we are reviewing today, who came through the regular channel. A USB-key sized DAC, allegedly twice more powerful than the previous model, thanks to the new ESS Chip. Success? We'll find out.
Design & Build Quality
Casing
Like the Fiio KA1 we reviewed a few days ago, the Hidizs S9 Pro is one of the most portable DAC I tried recently. End to end, the S9 Pro is just 59 mm long, 18 mm wide, and 8mm thick. But, the most impressive feature is assuredly the weight of the device: just 11g – that's less than some of my IEM! To those measurements, you can add the USB-C cable (bundled) or Lightning to USB-C one (third party like ddHiFi). Thanks to that, the DAC can easily be carried in a jean's pocket, a jacket, or simply stick to your phone if you're ok with QI-wireless charging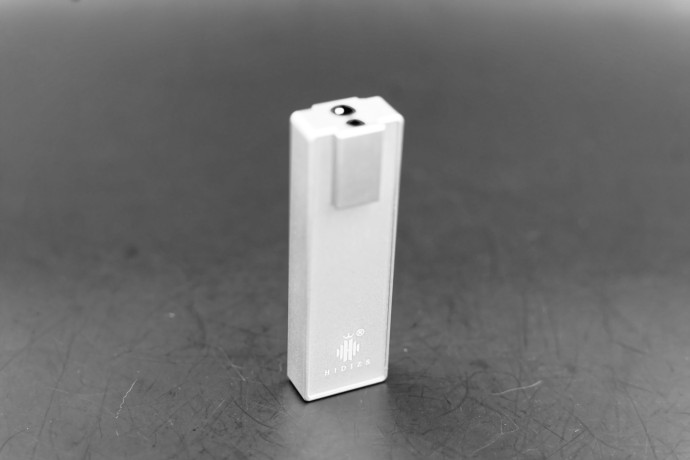 Entirely made of aluminum, the Hidizs S9 Pro is quite good-looking, especially in the silver-tone finish like the one I received, but might appear less sturdy than its competitors, mainly due to its weight. It's a completely different beast compared to the FiiO KA3 and KA1, which display a thermal radiator-like design with large heatsinks, while the S9 Pro adopts a sleek design with a smooth surface across its entire body.
In short terms: a neat DAC with a proper design.
Build Quality
Like every product recently released by the brand, the Hidizs S9 Pro is absolutely flawless in this regard. Made of one solid piece of aluminum, cut through CNC machine, the DAC shows an immaculate, screw-less design, from top to bottom. 
The USB port is quite sturdy, thanks to its recessed design, and the same goes for the headphone port, available on the other side. Speaking of the port, this is where you have the sole visual quirks of this DAC, as Hidizs stacked a 2.5mm port above the 3.5mm one, by adding a small bump, hosting the little plug.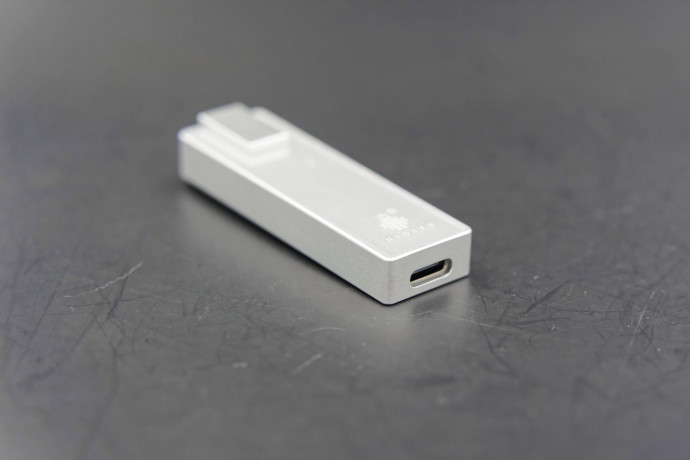 Apart from that, everything looks and feels nice to grasp, and some might find this one more comfortable to hold than the FiiOs. Still, my top choice for premium DAC, remains the  Maktar's X2 Lightning Dongle, with its matte-black tubular frame, and top-of-the-line cable. On the contrary, the provided USB-C cable falls flat on the S9 Pro, the sheath is too rigid and feels a bit too cheap in the hand.
All in all, it's a very solid piece of work, and it really gives a good impression.
Compatibility
Like every modern DAC, the Hidizs S9 pro can be connected to most digital sources with ease. I tried it on my PC (Windows 10), MacBook (OSX), iPhone and iPad with a ddHiFi TC28i and finally the Hidizs AP80Pro-X, all worked flawlessly.
There is no specific drivers, but since the S9 supports ASIO drivers, it should be able to decode high-resolution files directly.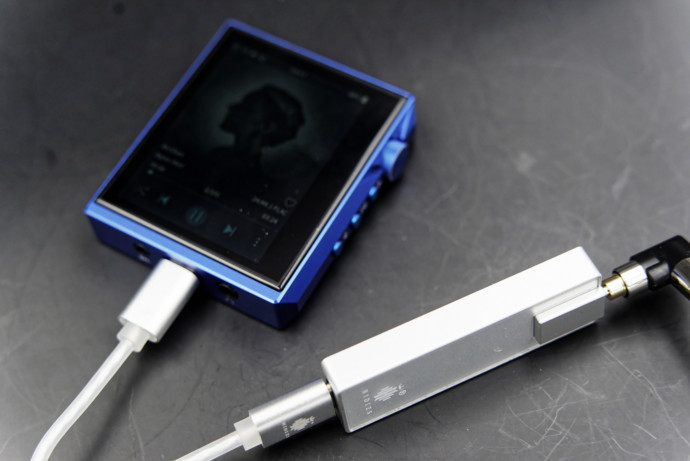 Comfort and Specifications
Daily use
As expected, the Hidizs S9 Pro is extremely simple to use.
You plug it into your phone, insert your headphone jack, and you're good to go. There were no issues with my iPhone 13 Pro Max + TC28i + USB-C + S9 Pro, or with my MacBook: each time, the S9 Pro was immediately recognized by the source, and music came out almost instantly.  On Windows, I had to wait a minute, until the OS got the right driver but after that, it worked flawlessly. Again, Hidizs only provides a USB-C to USB-C cable, plus a USB-C to USB-A adapter, so you'll have to purchase a Lightning adapter separately.
On the go, it's a pleasant device to use, and the small size is great for commuters like me. The lightweight body makes, combined with the elongated design, makes it easy to fit in a pocket. And, if the default cable doesn't ply correctly, once replaced by ddHiFi TC05, the combo Hidizs S9 Pro + iPhone fitted right in my jeans pocket.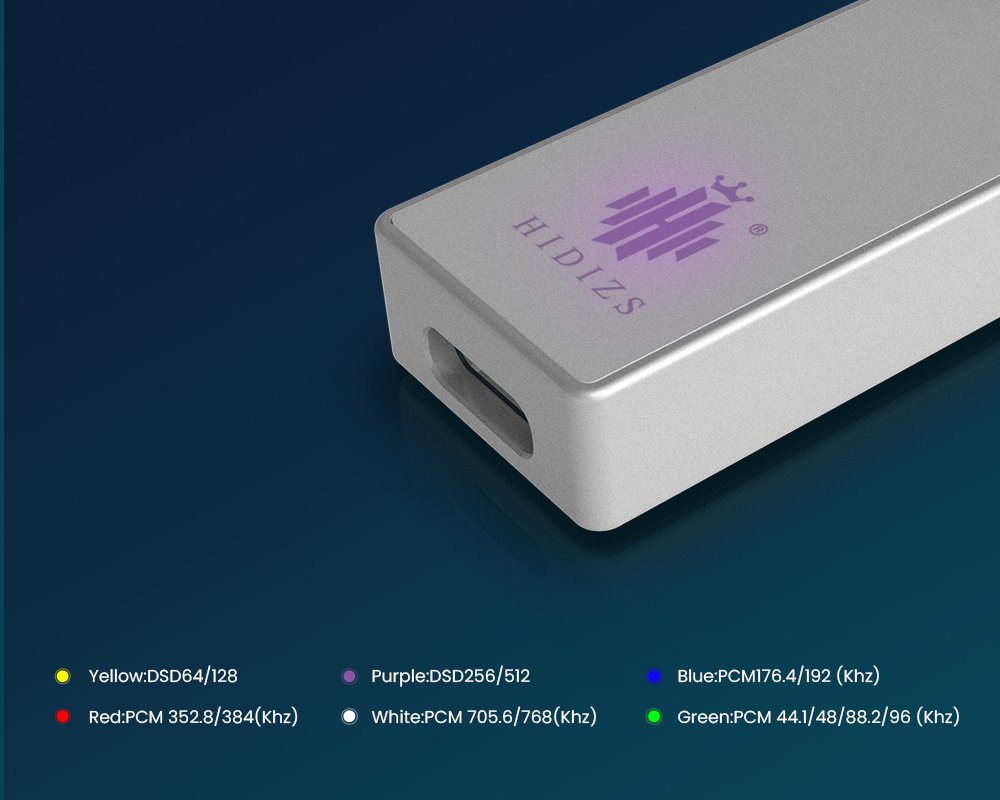 Unlike NuPrime's Hi-mDAC – but like every other USB-DAC – there are no volume controls on the S9 Pro: everything has to be done from your source directly.  Last but not least, underneath the logo, Hidizs have hidden an led indicator, indicating the current sampling rates:
green for PCM files up to 96kHz
blue for PCM files up to 192kHz
red for PCM files up to 384kHz
white for PCM files up to 768kHz
yellow for DSD files up to DSD128
purple for DSD files up to DSD512
Let's take a quick look at the specs now.
Specifications
Like the EarMen Tr-Amp or FiiO's KA3, at the heart of the Hidizs S9 Pro, you'll find the old, but powerful, ESS Sabre ES9038Q2M. Top of the line from ESSTech mobile chip line-up.
An excellent DACC, advertised as a high-performance 32-bit, 2-channel audio D/A converter, capable of great lengths thanks to various integrated DSP functions and technologies like Time Domain Jitter Eliminator, or the now-famous HyperStream II architecture. More than enough to, on paper at least, suit even the most demanding audiophile.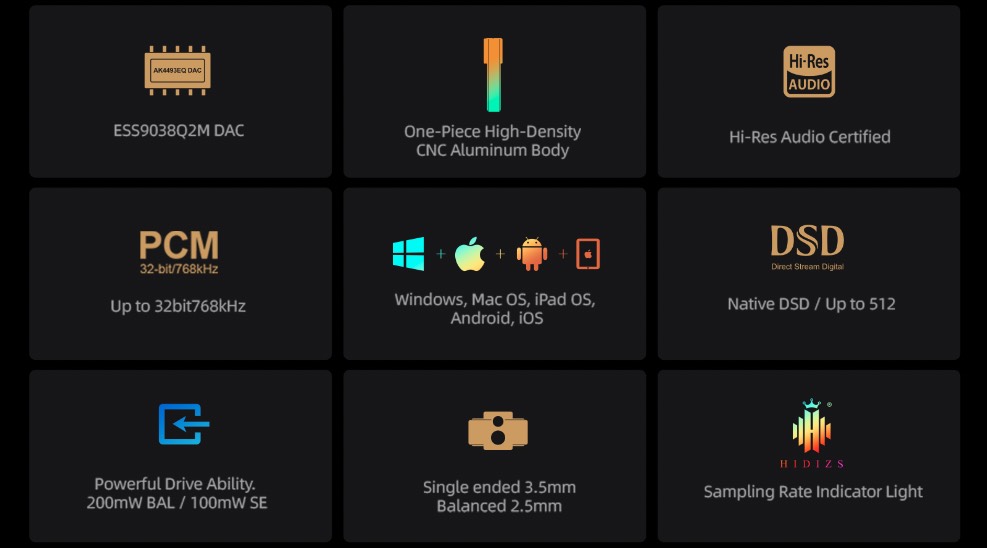 All in all,  you get: 
up to 32bits / 768kHz PCM decoding + DSD512 support
high power output – 200mW in Balanced mode, 100mW in Single-Ended
120dB SNR and 80dB of channel separation in Single-ended mode
119dB SNR and 118dB Channel Separation in Balanced mode
ASIO and Windows driver's full support
A good setup that should be able to drive the most demanding headphones, even if high-end and planar will need higher-end solutions. Still, apart from the missing MQA support, this is a great circuitry, outperforming many competitors available in the same price range, at least on paper.
For the nerds out there, here are the full specs.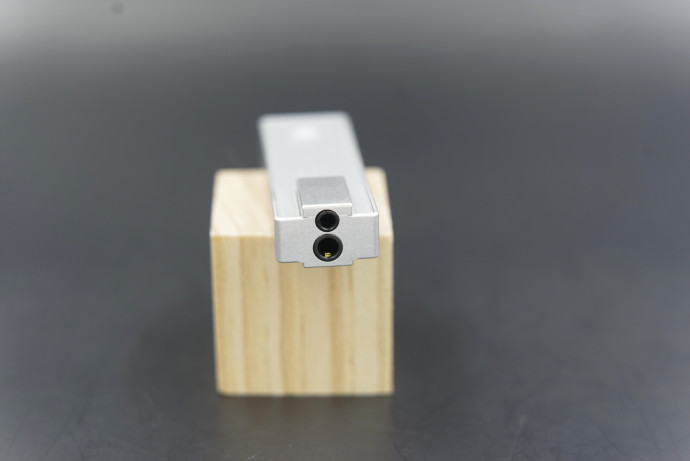 Technical specs
Type: USB DAC
Model: Hidizs S9 Pro
Chipset: Sabre ES9238Q2M
Frequency range: 20 – 50 000Hz
Compatibility: PCM up to 32bit/768kHz – DSD up to DSD512
SNR: 120dB
THD: < 0.0006%
Output power: 100mW @ 32 ohms (SE) – 200mW @ 32ohms (Balanced)
Size: 40 mm x 15 mm x 8 mm
Weight: 10g
Socket: USB-C or Lightning (8-pins)
Let's check the sound now.
The article continues on Page Two, after the click here