Today we're going to be checking out the new FiiO K5Pro ESS DAC & AMP! It's selling for $209 USD.
Disclaimer: FiiO sent us the FiiO K5Pro ESS for this review. I only covered the import taxes and fees. All thoughts and experiences with the product are naturally my own.
FiiO
FiiO is one of the most popular audiophile-focused companies in the world. They design and manufacture a wide variety of audio products for different price brackets. They have been in this industry since 2007 and they are very popular with fans all around the world. Today, we are looking at their new K5Pro desktop-sized DAC & AMP. We have reviewed and awarded a lot of FiiO gear here on Headfonia over the years and you can read those reviews here: Headfonia FiiO Reviews.
FiiO K5Pro ESS Desktop DAC & AMP
FiiO K5Pro ESS is the new and updated version of the old K5Pro. K5Pro was launched in August 2019 so it has been quite some time now. It is not surprising though, the first-gen K5 was available around CES 2016 if my memory serves me right. So, FiiO's update period appears to be around 3 years for this particular product. That's a good thing, especially in this very fast-moving industry. Of course, the AKM factory fire incident and the global chip shortage may have hastened things up a bit for FiiO as well. Just as with the BTA30 Pro, FiiO has decided to upgrade the DAC chip to ES9038Q2M in this new version, aiming for better performance and fidelity. The ESS' ES9038Q2M is a much newer and better chip compared to the AKM's 4493. We see a surge of products featuring this chip and nearly all the big names are implementing this DAC because of its great performance and availability. It's no surprise that FiiO chose this DAC to move forward with the outdated K5Pro. Upon checking out the specs and the official comparison data, we immediately see the increased performance and reduced noise floor on paper. Apart from that change, it appears that the only thing different from the old K5Pro is the MCU unit.
I have listed the highlights of the new K5Pro ESS, below.
DAC: ESS Technology ES9038Q2M
AMP: OPA 1642 + TPA6120
USB Controller: XMOS XUF208
Sampling Rate Support: Native DSD256 – PCM 32bit-384kHz
Power: 1.442W (@32-ohm)
Gain: H: 16.6dB | M: 12dB | L: 6dB
Output Impedance: 1.2-ohm
Ports: RCA IN, RCA OUT, USB B IN, COAX, OPT, 6.3MM PO
Dimensions & Weight: Approx. 120x130x55mm – 480 grams
MSRP: $209 USD
The K5Pro ESS' dedicated web page can be found here. Also, take a look at the downloads page for the Windows drivers.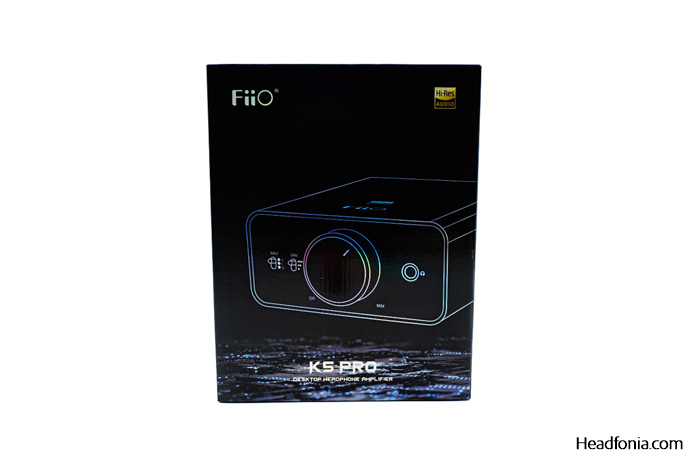 Packaging & Accessories
The K5Pro ESS comes in the new packaging that FiiO has been switching to lately. The outer surface of the package is covered with a coating that gives a kind of rainbow effect and in my opinion, this package looks much more appealing than the previous packaging, which was plain and ordinary.
When I opened the futuristic package, I realized that they did not make any changes to the K5Pro that I saw about two years ago, aesthetically it looks like the same unit. It's still a thick, handsome chunk of aluminum. Personally, I like the design, I think it stands out, but I also have friends who do not. This makes me wonder if it's time for a visual overhaul.
As for the accessories, you get a USB A to B USB data cable, rubber feet to prevent drag, a 15v external power supply, a c5 power cable for the PSU, a 6.3mm to 3.5mm adapter, and a couple of manuals. Accessories are as expected, FiiO provides the essentials and no interconnects.
Design & Build Quality
Half a kilo chunk of aluminum K5Pro ESS measures about 120x130x55mm and it can be labeled as a medium-sized device. It features an almost identical build to the older K5Pro and it is not far off from the original unit that the squad leader Lieven reviewed around six years ago. The K5Pro ESS is an AIO solution, just like its previous gen. Meaning that it has a DAC and an AMP inside. The DAC and AMP can be paired with other equipment as well so you can hook your favorite DAC to the AMP of the K5Pro ESS if you desire. That is exactly why I think the form and factor could easily be overlooked. The device offers practicality and convenience, especially if you use multi-I/Os. More on that later.
Back to the design, I personally like the big, centered volume wheel. It also works as a power on/off button and I always liked that, I think it is really practical. The surrounding LEDs are also a quite nice touch and spice up the industrial look. We see two lever switches on the left of the front panel, right next to the volume pot. These lever switches can be used for switching between the inputs and adjusting the gain. Apart from that, there is a 6.3mm headphone out on the right side of the pot and that's it.
Moving on to the rear side, we see a rich selection of ports here. FiiO designed this device as an AIO solution that you can use in any setup. From left to right, we see the coaxial input, optical input, RCA line-in, and RCA line-out ports, side by side. On the far right side, we have a USB input and a 15V DC power socket.
All the sockets, levers, and components feel solid and durable, as you would expect from FiiO. The unit is built like a tank and it will likely last a very long time. The CNC aluminum chassis and sandblasted metallic finish look very nice under light and feel premium. FiiO has been quite consistent with the build quality of their devices over the years and that's reassuring.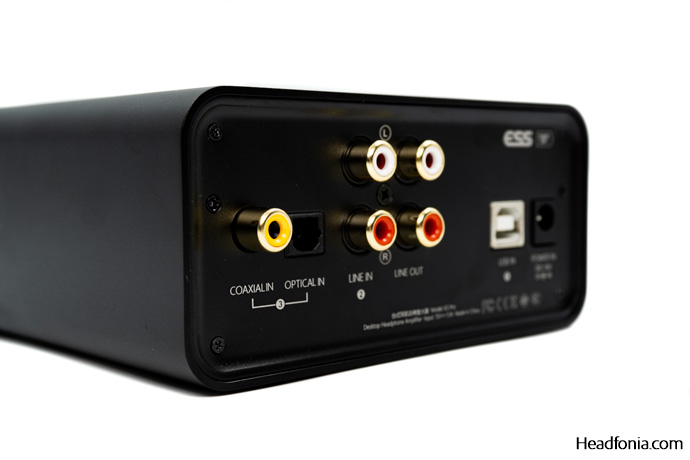 Features, Power & Technology
FiiO's official page provides us with some information and enlightenment about the new K5Pro's internals. However, I can't understand why they didn't redesign and improve the whole PCB while they were at it. The K5Pro ESS is a great device, but that does not mean that it can't be better. I think that the sub 200 market is really hot and big names such as FiiO must do their best to keep up with smaller but ambitious companies. Moving further with the differences, I have noticed that they changed the MCU unit as well. Probably this change did not have any effect in terms of sound quality.
Let's move on to features. The device comes with an integrated USB controller. The XMOS XU208. It is a good and reliable USB controller that we see in many devices. The K5Pro ESS supports PCM up to 32-bit 768kHz and DSD up to 512, natively. The light-ring around the volume wheel lights up blue, green, or yellow according to the sample rate and lets you know about the active rate quickly and aesthetically. Apart from that, XU208 enables the K5Pro to be firmware upgraded through USB.
As for phone support, the K5Pro ESS supports Android's OTG and iOS' CCK wired connection. It may not work with every Android out there, due to power current limitations, or software locks, but as an example, it works with my Xiaomi F2 Pro without problems. It has the Android 11 OS. UAPP also works fine, without stutters.
FiiO states that compared to the last-gen, the distortion has reduced by 50%, the crosstalk for LO has increased by 6dB with greater channel separation, and the dynamic range has increased by 3dB. That is a good improvement however, one must not overlook the $50 USD price increase due to covid's impact on the industry, chip shortage, and increased raw material costs.
The K5Pro ESS is a powerful device, for its form and factor. It is an AIO device that can be used as a separate DAC, a separate AMP, and of course as a DAC+AMP. The RCA line-out is rated at 2vrms and the unit can dish out 1.45W into a 32-ohm load. It can feed the majority of the headphones on the market without problems. As I mentioned earlier, it is a jack-of-all-trades kind of device. You can hook its DAC through LO to your active nearfield monitors, or pair it with your favorite DAC to power your headphones. If it had wireless capability as well, it would've been one of the most versatile products the industry has ever seen. In addition, the 3-stage gain adjustment provides comfortable use for both in-ear monitors and full-size headphones that are difficult to drive. The low gain is 0dB and it is suitable for in-ear monitors. The unit has a low impedance of 1.2-ohms so you won't experience any oddity. The medium gain offers a 12dB of boost, which means plenty of power for cans like 58X, Hifiman's Deva. The high gain, on the other hand, offers a 16dB boost and it can be used to feed power-hungry cans.
The review continues on Page Two, after the click HERE or by using the jump below.
Page 2: DAC Performance & AMP Performance, DAC-AMP Performance, Comparisons, Conclusion