Specifications
For the nit-pickers and nerdy ones here, I'm giving the specs and technical sheets. For all the others, you can just go to the next page to see how the M11S performs.
Sabre ES9038Q2M + TI OPA926
Like every player from the brand nowadays, the FiiO M11S is packed with ESSTech chips, ES9038Q3M in this case.
A popular chip, seen in many, many devices, from DAP, to DAC and even integrated amplifiers. A step down from the ES9068AS found in the FiiO M11 Plus ESS, but still a very good chip, even more, when paired in a duo like the M11S.
It offers the usual mix of features, namely:
full high-resolution PCM decoding, up to 32bit/384kHz
integrated DSP options (roll-off, soft mute,…)
an excellent high Signal-to-noise Ratio, up to 129dB
low distortion, -120dB
As usual, you can top that with 32-bit HyperStream architecture, Time Domain Jitter Eliminator and a mono mode for those who seek the highest performance, in a multi-channel system, or a dual-mono setup like the one used in FiiO's players.
Downstream, the M11S doesn't get the glorious THX-AA78 amps, found in all and every player since the first M11 Pro, but Texas Instruments OPA926 chips, fed by OPA1642 LPF chips. A downgrade on paper, but at the same time, the brand announced no power loss in the transition, the new player offering a solid 670mW, in balanced mode on a 32ohm load.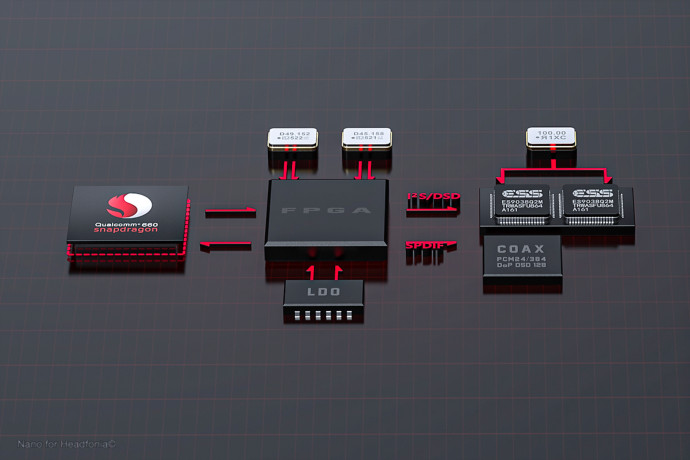 CPU and RAM
Once again, FiiO made the right choice and pushed a Qualcomm 660 CPU in the FiiO M11S, with 4 "big" cores and 4 "small" cores. A chip is much more powerful than the previous Samsung Exynos and a league above Mediatek's entry-level system.
Most of the time, the player will use low-power cores to achieve basic tasks and will rely on the high-power one only when really needed.
Add to that 3Gb of LPDDR5 Ram (1Gb less than the M11 Plus), 32Gb of internal memory, a faster-operating frequency (up to 2.2GHz), and the M11S is almost future-proof for a DAP. I compared it to the FiiO M17 and honestly, they work exactly the same. Switching between various apps is instantaneous, searching for your files is faster, and most of all, boot-up time is 5 times shorter than before.
The only player topping the FiiO M11S in my list, in this regard, will be the iBasso DX320, but that one is almost $1000 more expensive, so that makes sense.
FPGA + NDK crystal oscillator
To ensure the best performances, FiiO developed a fourth-generation FPGA chip with "more advanced algorithms, more accurate clocks, and even further reduced jitter". Unlike Chord which uses an FPGA chip as a DAC, here it's used as a middle-man between the SPDIF circuitry and the dual ESS DAC – working in I2S/DSD
Add a set of two custom Japanese NDK femtosecond crystals, working hard to ensure everything is phase-locked / 100% bit-perfect, and you have your full DSD512 / PCM 32bit/768kHz support.
All of those chips are covered by custom anti-EMI modules that ensure perfect isolation from each other and avoid the annoying buzz while playing files from your streaming app, or just when you use Bluetooth.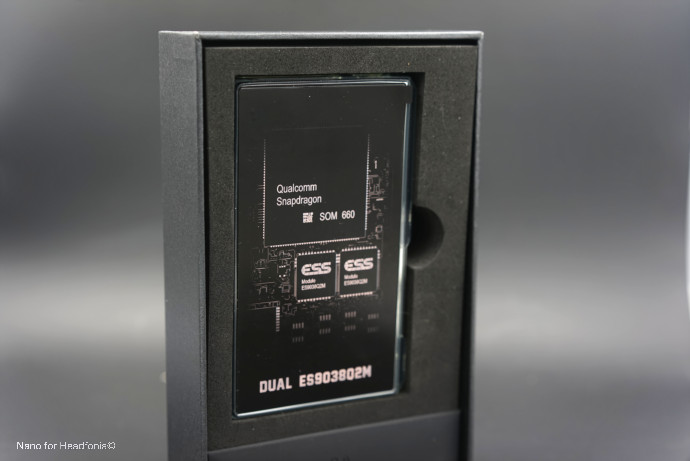 WiFi
The FiiO M11S supports 2.4Ghz and 5Ghz bands for faster and steadier connections. DNLA/UPnP are all there and of course, you can access a wide range of high-definition streaming platforms: Apple Music, Tidal, Spotify, Qobuz, Deezer, Napster, TuneIn, etc..
And, thanks to the new CPU downloading files and music is now faster, with download time taking seconds, instead of minutes.
Bluetooth
The FiiO M11S does it all SBC, aptX, apt-X HD, LDAC, LHCD/HWA, you name it, it's supported.
The Hi-Res Audio Wireless Certified logo is well-endowed at the back of the player, with the Hi-Res Audio logo and THX blazon. Like the Shanling M6 21 or the M11 Plus, the M11S supports duplex Bluetooth allowing you to use the player as a Bluetooth receiver with a smartphone, computer, or any Bluetooth emitter.
The Bluetooth 5.0 chip can transmit in SBC/AAC/aptX/aptX-HD/LDAC but only supports SBC/AAC/LDAC when receiving.
Basically, with a compatible headphone or receiver, you'll always get the best quality available. Of course, if you have a TOTL IEM or a massive can, a wired connection will always be the best one.
Do you still want the full specs? Ok, here they are for you.
Full specs
You can find Fiio's comprehensive specifications over here: https://fiio.com/m11s_parameters
Model: FiiO M11S
Type: Digital Audio Player
OS: FiiO OS
CPU: Qualcomm Snapdragon 660
RAM: 3Gb LPDDR5
Rom: 32 Gb (4Gb for the system)
DAC: 2x ES9038Q2M
Sample rate : PCM : 8Hz – 384Hz (8/16/24/32bits) native – DSD64/128/266
System clock: Full synchronization technology with 4rd Gen FPGA processor and dual Japanese crystal clock
Outputs: 3.5mm TRS // 2.5mm TRRS // 4.4mm Pentaconn // USB-C
Input: USB-C
Screen: 5.0″ 1280x720IPS Screen from LG
Micro SD: SDHC / SDXC (single slot)
WiFi: 2.4 GHz / 5 GHz support
Streaming supported directly – Full Google Play Support
Bluetooth support: SBC, apt-X, apt-X HD, LDAC, HWA, (AAC receive only)
Duplex Bluetooth: the player can emit and receive music
Battery: 3.8V 5300mAh Li-Polymer
Quick Charge: QC2.0, PD2.0
Battery life: 14h with wired headphones (3.5mm), 14h with a Balanced headphone
Charging time: around 3.0h
Size : 125.2 x74 x18.5mm
Weight: 271g
Line Out
Frequency Response : 20Hz – 50kHz (-1dB)
THD: 0.0006%
SNR: >119dB
Crosstalk: 108dB
Line Level: 1.95V
Noise Floor: <2μV
3.5 mm Headphone out
Output power : 300mW @16ohm / 200mW @32ohm
Frequency Response : 20Hz – 20kHz (-0,5dB)
THD : > 0.00066%
SNR : > 123 dB
Crosstalk : > 79 dB
Output impedance : < 1.5 ohms (32ohms)
2.5mm / 4.4mm Headphone out
Output power : 550mW @16ohm / 670mW @32ohm / 90mW @300ohm
Frequency Response : 20Hz – 50kHz (-0.5dB)
THD : > 0.00043%
SNR : > 123dB
Crosstalk : > 112 dB
Output impedance : < 2.6 ohms (32ohms)
Time to plug the player now!
The article continues on Page four, after the click here
Page 1: about FiiO
Page 2: UI, Usage, Bundle
Page 3: Technical specifications
Page 4: Sound performance