In this preview article we're looking at the brand new $1399 Fiio M15 flagship DAP.
[responsivevoice_button]
Disclaimer: This preview article is part of our preview series which you can find here. Fiio is a long time site partner and the review unit doesn't need to be returned.
M15
After having released/renewed several DAPs in their line-up in 2019 such as the Fiio M11, the M5 and the M11PRO, it was time again for Fiio to launch a new Flagship. The new Fiio M15 was only announced late in December, but we have it here with us already.
Of course Fiio has given their new flagship portable player a dedicated web page and you can find out all about the M15 here: https://www.fiio.com/M15
This is a preview article and so we will only go into some of the specific new characteristics, the full review which will be done later by Nano, will cover every single thing, as you're used to.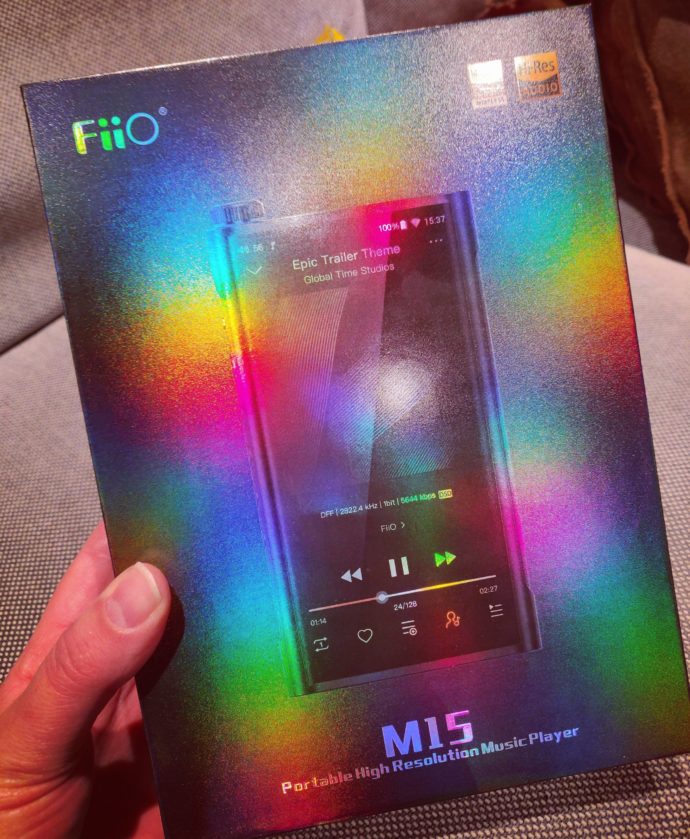 Packaging
A flagship DAP deserves a nice box and Fiio has clearly looked at the competition here as the new M15 comes delivered in a very pretty wooden box. It looks really nice from the outside, but to be honest, the quality on the inside isn't what we're used to with other flagship DAPs, or with higher end DAPS (Lotoo, Sony, AK, …)
On the inside the M15 is nicely presented, but the foam, paper and cardwood materials don't feel premium. If you like me will be looking for a leather (or any) case inside the box, you'll be disappointed, as there is none inside. Flagship level? Missed opportunity I'd say.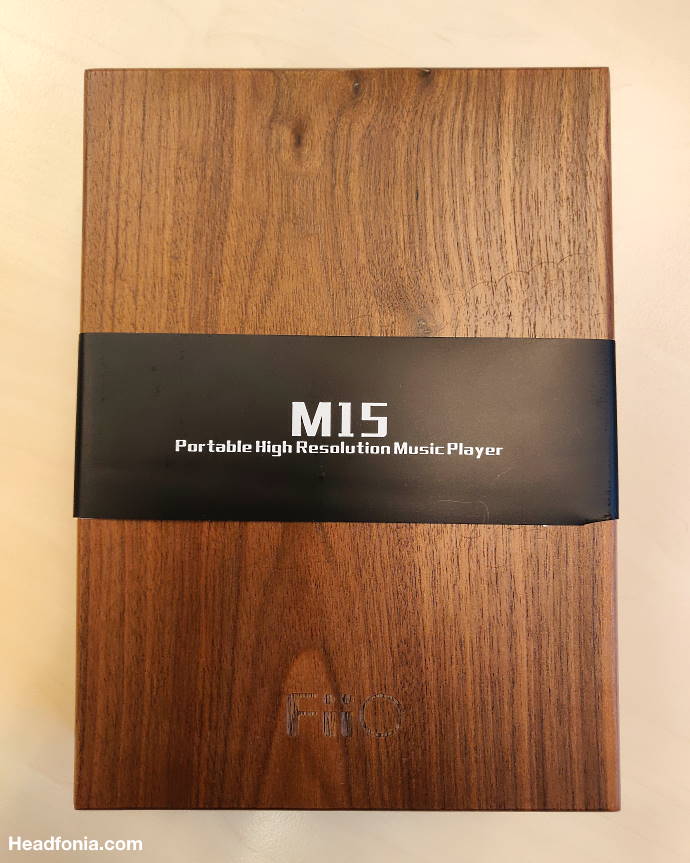 What do you get then? Well, there's a standard USB-C cable and a glass screen protector. Nice? Sure, but it would have been nicer if it had actually fit the screen (it's much smaller in width). Any other accessories you ask? Nope, it ends there.
Internals
Ok, impressive stuff here, so Fiio clearly preferred spending their money on quality components. While I absolutely applaud Fiio for that, I do feel it's not the only important thing a flagship player should shine in. See above.
The M15 comes with the following features:
3gb RAM and 64gb internal storage
1 MicroSD slot (2TB extension)
Samsung Exynos 7872 processor
Double AK4499EQ DAC chips
XMOS XUF208 Control Chip
Qualcomm CSR8675 Bluetooth chip
Double NDK Femtosecond crystal oscillator FGPA
PA2211 *2 + OPA1622 * 4 + OPA1612 * 4 AMPs
A3P030 FPGA
7490mAh 3.8V Li-polymer battery
The full list? Head over here: https://www.fiio.com/m15_parameters
So yes, the M15 sports flagship worthy components, there's absolutely no doubt about that. A lot of people will point out to you that the double AK4499EQ DAC chips are the same ones as the SP2000 is using, also in double config. But we all know using the same chips really doesn't mean anything.
Design & Build Quality
Design-wise the Fiio M15 is nice. It's big but it's nice. And if you're used to bigger flagship DAPs such as the SP1000 and SP2000, then the size is nothing special either. Personally, I don't mind big DAPs, I actually prefer it even. It's like a smartphone really, just thicker.
Why I like it? You get things like a 5.15 inches IPS Hi Res incell screen with a 1440 x 720 resolution. Even in your office, it will look nice!
The DAP is pretty to me, though that of course depends on your personal preference. On top you have the perfectly finished headphone and LO outputs as well as the volume dial. The positioning of the volume wheel is a bit weird depending on what you're used to. Where we very often see the volume dial on the right, Fiio has placed it on the left. It's special, but once you're used to it, no problem.
All the M15's button can be found on the left side. They're rather plastic like but the design is nice and they fit perfectly in the case. On the right side? Nothing! On the bottom you'll find the USB-C connector and the MicroSD slot. Almost forgot, the M15 has one button you can program yourself. Extra points!
The build quality is very good and everything is perfectly finished. The M15 has smooth edges, sturdy connectors and well clickable buttons. The screen is gorgeous and it's one of the best I've seen in regards to color rendering.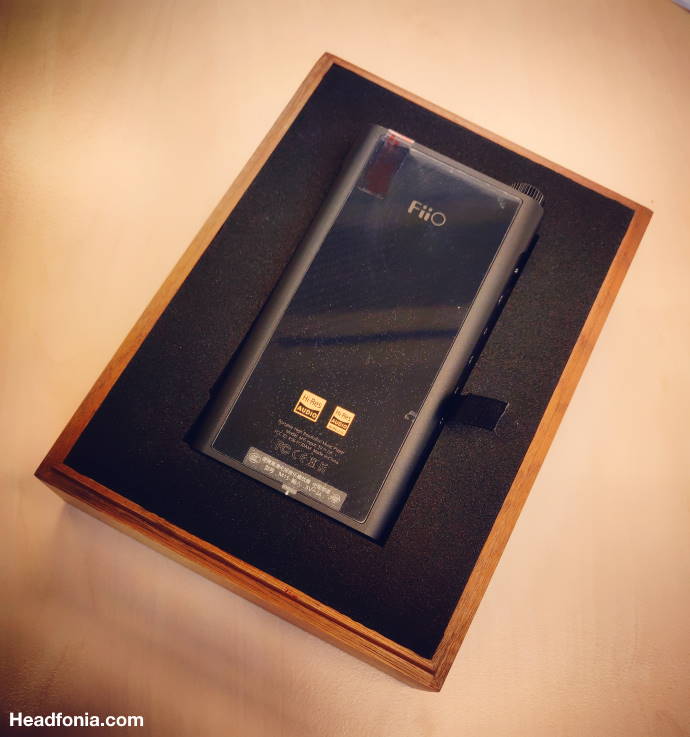 Price
A flagship DAP never comes cheap but Fiio always delivers a lot of value for money. The M15's price is set somewhere around $1399. To be confirmed.
For a flagship DAP, and looking at the competition, that's peanuts. Of course it's still a lot of money but there are many much more expensive DAPs on the market which perform and deliver a whole lot less.
So I do feel Fiio has done really well here looking at the whole package, though a nice leather case should really have been included in the box.
Usability
Fiio always has excellent DAPs when it comes to their usability and this is no different this time.
The M15 is easy to use with one hand, though often two hands are even better. At the same time it's light and once used to the button lay-out, it becomes a very easy player to work with.
I have to admit it took me a while to get used to the left side placed control buttons. I accidentally clicked many buttons in the beginning when picking up the DAP, but once you become used to not putting too much pressure on the side, it's no longer an issue. But yes, it did take some getting used to.
The preview continues on the second page, right here: https://www.headfonia.com/fiio-m15/2