Today, I would like to introduce you to an amplifier that I came across while doing an audio related research on the internet. Archel2.5 Pro from Geshelli Labs, selling for $179,99 USD.
Disclaimer: Geshelli Labs sent us the Archel2.5 Pro for this review, free of charge. I only covered the customs fees. All thoughts and experiences with the product reflect my honest opinion. You can find more about the amp here: https://geshelli.com/archel2-5-pro
It immediately got my attention and I requested it from them. Sherri, the CEO of Geshelli Labs was kind enough to send me one. I spent a month with it and it earned a spot on my desk! My communication with Geshelli was also delightful so I decided to interview Geshelli Labs to get to know them better. Big thanks to Sherri & Geno for allowing me to do so.
Archel2.5 Pro Headphone Amplifier
Packaging & Build Quality
Packaging of the Archel2.5 Pro is quite straightforward. The amplifier comes in a pink bag inside a Geshelli labeled white cardboard box. Just next to it, Geshelli included a compact 12v switching power adapter. You get an instruction manual, a cleaning cloth and a Geshelli sticker too. Everything inside the box sits snugly inside the foam, which protects them from damage during transit.
After unboxing and inspecting the Archel I noticed how hefty it is. I proceeded to weigh it and it is 380 grams. I like the vintage design, especially Geshelli's paint works. My unit is black but they offer so much more than that. You can check their facebook page for their special color options. My favourite is the Black/Blue mist. Brilliant. You already know how the Geshelli's cases are made thanks to the interview with Sherri, the name behind these beautiful colors and cases.
My unit comes with a clear plexiglass on the front & back. I also love see-through gear, I even made a completely see-through PC case when I was 15 years old! So yes, seeing the board itself makes me happy. Geshelli put a couple of LEDs there, you can change their color to red, blue or violet. As for the power adapter, it is absurdly small! No more hefty huge blocks! Thank you! Geshelli also placed 4 anti-slip rubber feet under the unit and they work as intended.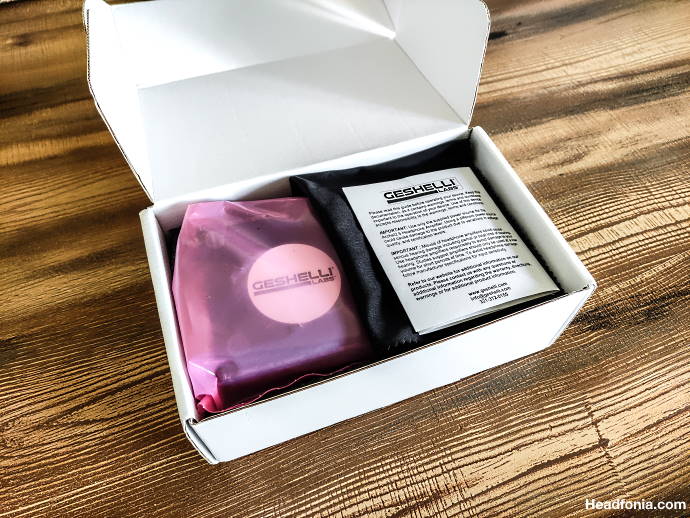 To recap the design, build quality is great, the plugs feel sturdy as well as the volume pot. Everything feels very solid. This amp will last for a long time and if anything happens to it, Geshelli's got your back.
Features & Inner Design
Geshelli stood out during my research because of its excellent measurements. It has exceptionally low distortion. I mean, it is ridiculously low. I don't have a blind faith towards measurements so I wanted to hear it for myself and assess its performance with my favourite cans.
The design is based on Texas Instrument's 1656 OPAMP. Thanks to the marvelous mind of Geno's, Archel includes a dual independent power supply design which outputs a full 1 watt per channel. The Archel2.5 Pro 's XLR input provides balanced connection whereas the RCA provides unbalanced input for your needs. The 1/4 headphone out is located on the front panel. There is also a multi purpose button on the front panel that can be used to quickly switch between inputs. If you hold it instead of quickly pressing it, it acts as a gain button and increases power output.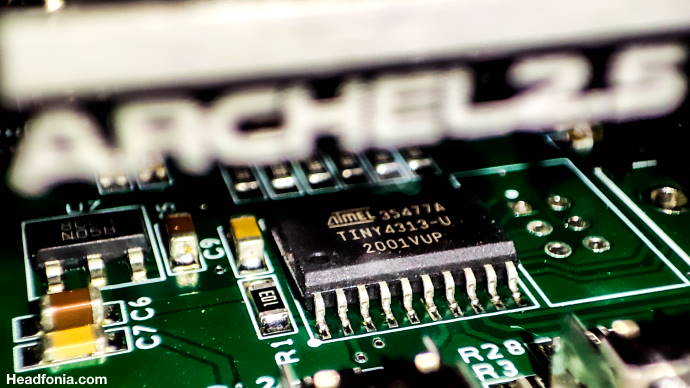 Also, the device is perfectly channel matched from the 0db to max, volume pot is dead precise, there's no channel imbalance at all.
Power
The Archel2.5 Pro offers plenty of power at 1 watt per channel @16ohms, therefore it can handle almost any can you can throw at it. During my testing with the 58X, the Hifiman DEVA and the Pears SH-3U, I forgot the gain switch even existed. I used SMSL's M300mk2 DAC and connected the Archel 2 Pro via XLR – balanced. Excellent.
Specifications & Technical Data (more here.)
TI 1656 Op Amp Based Design
Impedance 16ohms-600ohms
Audio Taper Potentiometer (A100K)
RF Grade Low Noise Regulators
RCA / XLR Inputs (Selectable)
1/4″ Stereo Output
12v FCC Level 6 Power Supply (Included)
LED Control (Red/Blue/Purple/Off)
Gain Switch (Unity Gain or 6x)
< .000095% THD+N @ 2Vrms (RCA)
< .000095% THD+N @ 4Vrms (XLR)
> 120dB SINAD
> 125dB SNR
1 Watt Per Channel @ 16ohm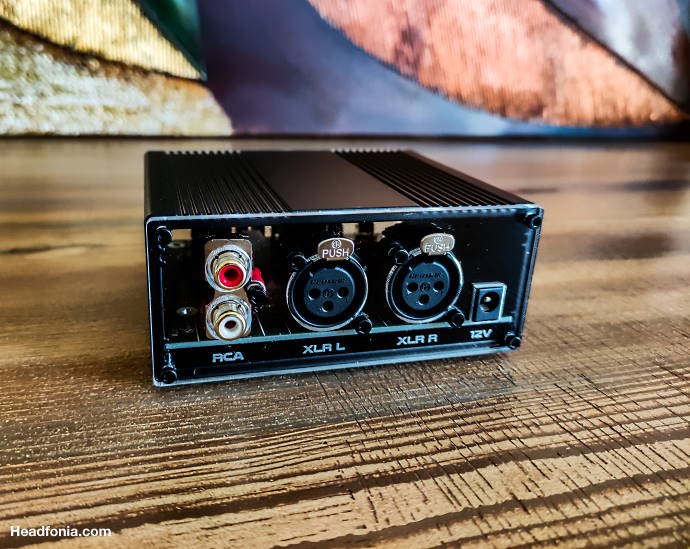 Overall Sound
I am going straight into the subject.
The Archel2.5 Pro sounds wonderful. It has a natural signature, it is powerful, authoritative, vivid and crazy clean. It does not color the signature of your DAC at all.
You get a transparent, detailed presentation. I tested the Archel2.5 Pro with several headphones and active speakers as well as my reference In-Ear monitors, Pears SH-3U. People who use In-Ear monitors with these kind of desktop amps, have no worry as there is no audible hiss with In-Ear monitors at all.
The signature really does feel accurate, it is dead flat with SH-3U. Instrument reproduction and notes feel lifelike and very detailed. The low region is punchy, fast, accurate and well-rounded. Just like it should be. Midrange is sweet, no overly saturated tone or problematic note thickness, it is as natural as it can be. Treble is airy, clear and very detailed. Extension is very impressive. No high gain degradation or signature change, it is perfect.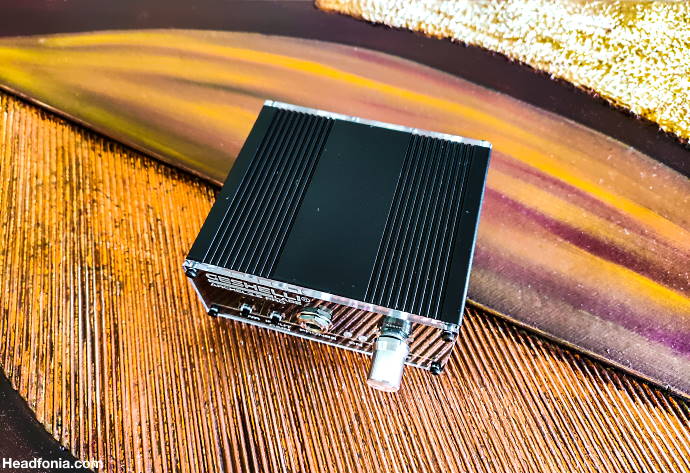 As for PRaT and staging, the amp reflects the source and whatever you plug it into, as it should. It is very agile with my reference monitors with really impressive attack and decay for just $179 USD.
Pairing with Sennheiser 58X
I have a modded Massdrop (now Drop) & Sennheiser special 58X. (Removed the grille foam and circular damper behind the driver to get it close to the Sennheiser HD 660S signature)
Legendary pairing. Both the SMSL and Archel2.5 Pro signatures are natural and it goes great with 58X's (now) airy, powerful, mildly warm signature. The clarity and transparency is very impressive. Headroom is deep and wide as well with a relaxed instrument layout. A must try.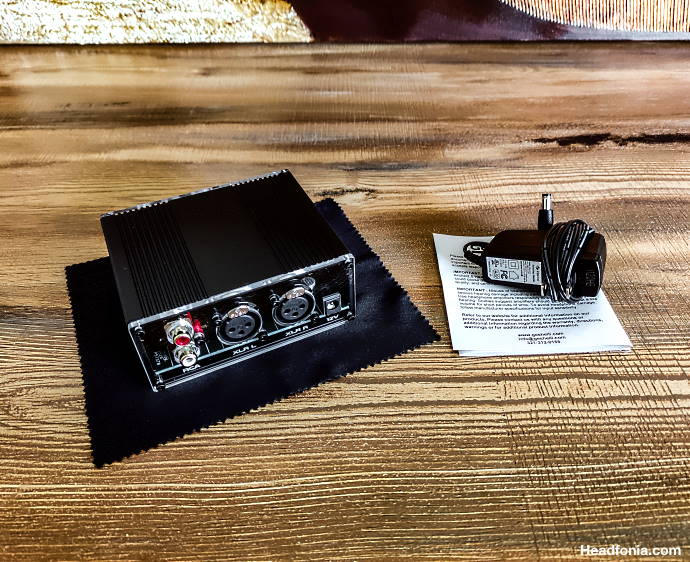 Pairing with Hifiman Deva
The Deva is an interesting headphone, it incorporates planar magnetic design and it has an excellent signature. It is not an easy-to-drive headphone. In my experience, planars like the extra power. The Deva is no different. Combined with Archel2.5 Pro, we have this very detail-oriented, clean and transparent combination. Treble extension is certainly impressive.
Deva's bass response actually gets a little better with this combination, gets a bit more oomph, a bit more whack. That is of course excellent and listening to Daft Punk with this combination may really be addictive. Just don't attempt that with a sleeping wife next to you. She would probably murder you before you reach the DEVA's climax.
Pairing with Pears SH-3U
The Pears' SH3 is an excellent monitor. It's signature is quite flat and tuned with accuracy in mind. It may be the most reference In-Ear monitor I have ever heard. Plugging it into Geshelli immediately puts a smile on my face as I listen to Michael Jackson's Beat It via Foobar DSD. Detail level is crazy, no audible hiss, transparent and uncolored signature with an accurate tonality.. I could do audio mastering with this setup and I wouldn't blink.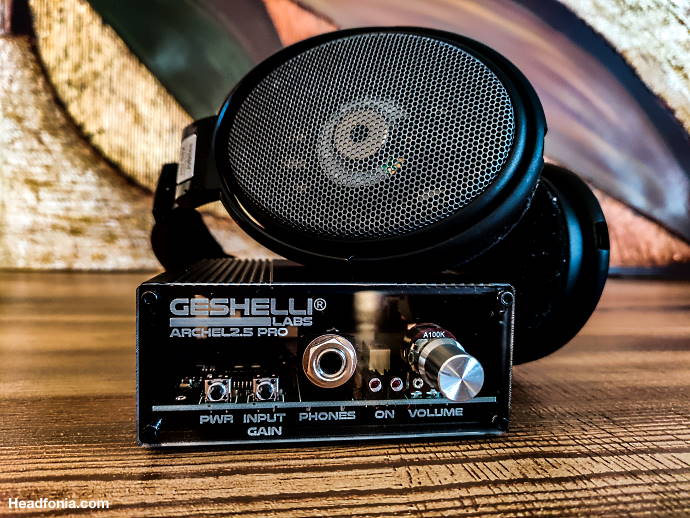 Last Words
Sherri & Geno over Geshelli has an amazing energy, they're both very passionate about the work they do and their approach towards customers are certainly delightful. The Archel2.5 Pro is an impressive amplifier, it does not saturate or color the signature of your DAC, it reflects whatever you plug it into, which is excellent for the price they ask for it. In my opinion, performance-wise it punches way above its price point and it is a must buy if you want a very very good amplifier under 200, therefore, it is going to our HFN Recommendation List!
On the next page you can find our interview with Geshelli. Click HERE or use the jumps below.