In this three page article we review the Hifiman Arya Stealth headphone, selling for $1,599 USD.
Disclaimer: Hifiman sent us the Arya Stealth free of charge in exchange for this review. The unit will remain in our possession as a long-term loaner.
Hifiman
It is simply impossible that you have not heard of Hifiman. They are China-based personal audio company led by Dr. Fang Bian and they have been around for easily 10 to 15 years.
We have reviewed many units from Hifiman here on Headfonia, and my absolute favorite ones are the HE-6(SE), the HE-560, the Susvara, the HE-R10P and the HE-1000-series. Especially V1 and the SE. What I like about Hifiman is that they are an innovative company, and they continue to R&D new goodies for us Audiophiles. More important, they let trickle-down high-end technologies to their lower range units and that results in a very impressive headphone line-up. Another thing I really appreciate is the fact that they have great gear in all segments of the market. No matter what budget you have to spend, Hifiman has you covered with something great.
Over the last year we saw multiple great, award winning products from Hifiman such as the DEVA headphones – which are available in a wireless and cabled version as well as a PRO version, the super high end Susvara and the HE-R10P, which probably is one of the very best closed back headphones on the market.
For those of you who'd like to know more about Hifiman and their founder, there's always this interview we did with him: https://headfonia.com/q-n-a-saturday-hifiman/
In this new Hifiman review, we're looking at the Arya Stealth headphone. My reviews seem to be getting longer week by week, so I will try to keep this review short(er) and to the point.
Let's get started!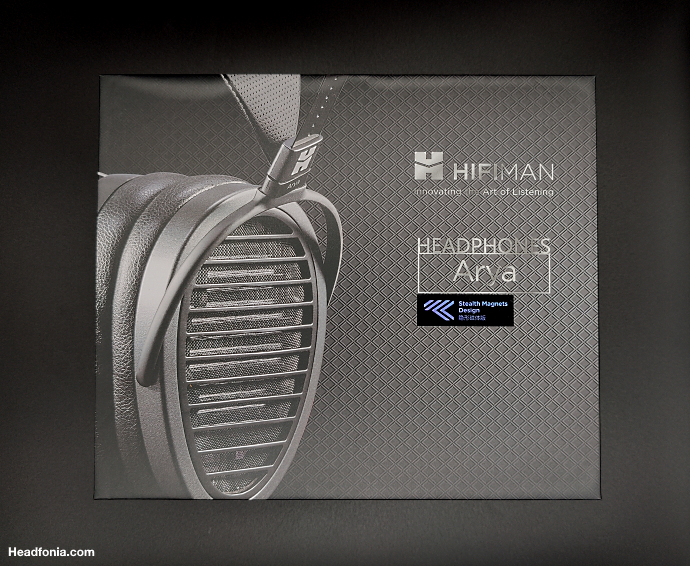 Hifiman Arya Stealth
We're on the later side with this review but that also means I in the meantime got to listen to it for hundreds of hours. And I – spoiler alert – have enjoyed every single minute of it. Hifiman recommends 150 hours of burn-in for this particular headphone.
You can find the Hifiman Arya Stealth's dedicated web page here and you can directly buy it from Hifiman here.
The Hifiman Arya stealth is an open back planar magnetic (orthodynamic) headphone to use at home in a more silent environment. It is a revision (the 3rd if I'm not mistaken) of the original non-stealth Arya, which is no longer available (unless B-stock). The first Arya was released somewhere in 2018 I think, and the V2 revision in 2020. With its $1,599 USD price point it is in the higher part of the Mid-Fi segment. Some would call it the lower part of the high-end segment.
The main feature of the Arya Stealth of course is the stealth magnet technology that Hifiman uses in this headphone. It's not the first time we see this technology from Hifiman, and it has been implemented in some of their other headphones as well. Other features are the Nanometer Thickness Diaphragm and the Acoustically Invisible Stealth Magnet (see later).
The Nanometer technology is a breakthrough core technology developed by Hifiman and it's the first of its kind in a headphone application. According to Hifiman, working with this advanced material is extremely challenging yet the successful incorporation of this film as the Arya's planar driver is the cornerstone of its remarkable sound.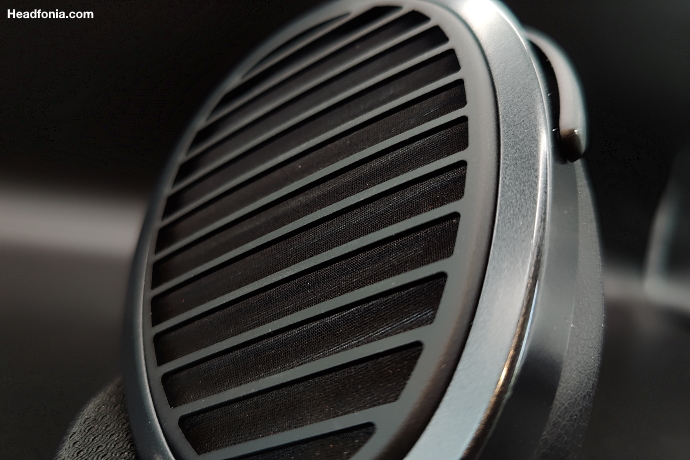 The Arya stealth uses the standard 3.5mm connectors, meaning that you can easily replace the stock cable with a nice aftermarket one, or one of Hifiman's balanced cables. The cable that comes with the Arya Stealth is a single Crystalline Copper cable featuring a 6.35mm plug and a jet black woven exterior finish. The new sleeving matches the look of the Arya stealth perfectly, but at this price point the inclusion of a balanced XLR/Pentaconn cable would have been nice. Even if it's a bit "stiff", the stock cable works very well. For home users the cable could have been a bit longer, especially when you're not sitting right next to your amplifier or source. In my living room, I must use an extension cord to be able to listen to the Arya Stealth in my couch. It's no big deal, but for an open back desktop headphone, the stock cable could have been quite a bit longer (3M or so).
Driver & Stealth Technology
Enough has been said and published about the Acoustically Invisible Stealth technology already, but basically the Stealth Magnets feature a special shape which allows sound waves to pass through without generating interference. Hifiman's advanced magnet design is acoustically transparent, dramatically reducing wave diffraction turbulence that degrades the integrity of the sound waves. The reduced distortion yields pure sonic output that is accurate and full range.
The Arya Stealth drivers also feature Hifiman's famous nanometer thickness diaphragm. A breakthrough core technology developed by Hifiman and first of its kind in headphone application. Working with this advanced material is extremely challenging yet the successful incorporation of this film as the Arya's planar driver is the cornerstone of its remarkable sound.
The Arya Stealth drivers also make use of Hifiman's Advanced Asymmetrical Magnetic Circuit (double sided asymmetrical magnet circuit) to obtain the perfect balance between high driver efficiency and high sound quality.
More about these technologies can be found on Hifiman's website and in the Arya's owner guide. Soon we will also be publishing Berkhan's Edition XS review. That's another of Hifiman's headphones featuring the stealth magnets.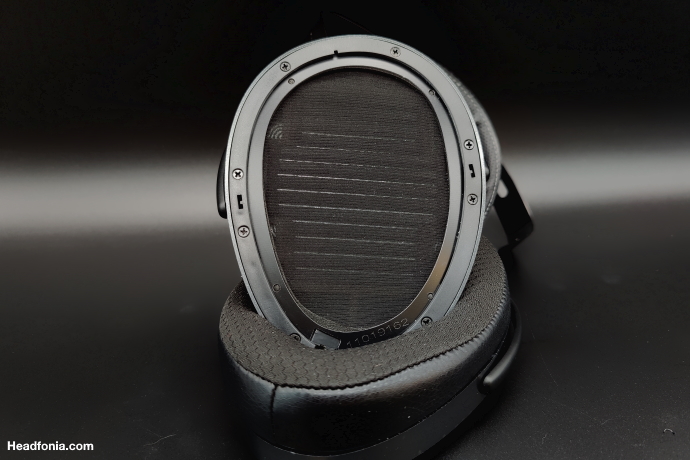 Comfort, Design & Isolation
There's nothing really new with the design of the Arya Stealth, and the metal and high grade plastic built headphone features the typical shape of earcups and headband as we have seen many times before.
The all-black Arya Stealth looks great with those big ear cups and typical grill. With its glossy black headband and eye-catching matte-black cups and grill, the Arya Stealth – according to Hifiman – is a statement of both aesthetic and sonic excellence. I fully agree. It's sexy.
Hifiman designed the Arya's high-quality metal headband with extra strength and a special high-grade plastic for lightweight comfort and rugged durability. I find it to be a very comfy headband, and it allows you to perfectly position the headphone on your head. The side pressure is perfect, the top of your head pressure non-existing. The Arya Stealth weighs just over 400g, but as the pressure is perfectly spread, it together with the soft perfectly sealing earpads (pleather + polyester, not velour) and asymmetrical ear cup shape, makes using this headphone a pure joy. Even for long listening sessions.
Hifiman uses their Window Shade system for the driver protection and to optimize the open-back design. By using the Window Shade tech, you get a wider soundstage, outstanding image and remarkable clarity. Because of its open back character, I would recommend the Arya Stealth mostly for home/desktop use. It is a rather easy to drive headphone though, and that means you can use it about anywhere. A lot of sounds leaks out and flows in though, so do take that into account.
The article continues on the second page. Click here or use the jumps below.
Page 1: Hifiman, Arya Stealth, Driver & Stealth Technology, Comfort & Design & Isolation
Page 2: Build quality & connection, Specifications & price & accessories, Sound, Amplification Pt. 1
Page 3: Amplification Pt. 2 & Comparisons & Conclusion