Specifications
For the nit-picker and nerdy one here, I'm giving the specs and technical sheets. For all the other, you can just go to the next page to see how the amp performs.
Double DAC
The iBasso DX220 enjoys a set of dual Sabre 9028Pro, which equal to 8 DACs per channel, on paper. The Sabre 9028Pro should equal four Sabre 9028Q2M, already carrying 2 DAC per channel.
This DAC was already used in the DX200, but as a solo chip. In a dual-mono configuration, the DX220 is sure to boast impressive figures, let's hope this translates in real-life performances. On paper, the ES9028 Pro chips can reach 128dB of dynamics and 120dB of THD. Still a tad less than the 9038Pro, but paired in duo, the player should be able to compete.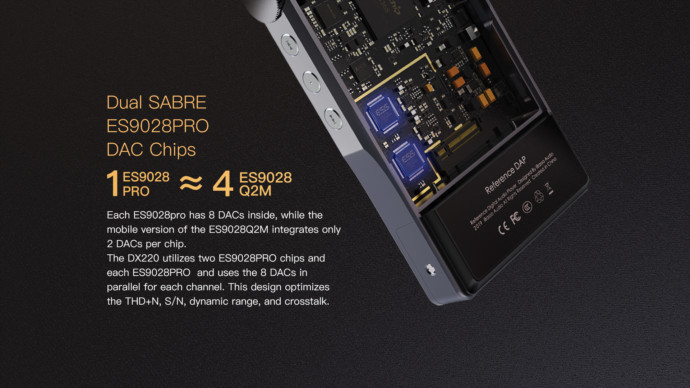 This dual-mono configuration ensures your music remains balanced from the digital file, to the output. Double voltage regulation, double pre-amp, DOP to DSD.. you got them all!
As usual, the sound signature will be very dependent on the amplifier module you choose to pair with your DX220. Your choice, again
CPU and RAM
If Android 8.1 is a good feature, you still have to give the player some tools so it can run flawlessly.
That's why the iBasso DX220 enjoys twice more ram now. 4Gb of LPDDR3, so every app can work as intended and the same octa-core CPU from ARM. A good setup as I never felt the player to be lacking in this aspect, even with the various app open in the background.
New oscillators were added too, a complete set of five femtoseconds models to ensure bit-perfect playback, with any file. Two of them are even labeled as ultra-low phase noise oscillators, from Accusilicon's (a manufacturer I never heard of before, sorry).
It's really fun to run YouTube or Netflix on a DAP, it reminds me of my old Archos PMP, full of vids and music, in lossy compression of course. It was another time, so don't blame me!
Wifi and Bluetooth
To finish with the specs, let's take a look at the wifi/Bluetooth connection. The DX220 supports the 2.4Ghz/5Ghz band, the latter allowing higher bandwidth and higher speed but a lesser range. The connection was sturdy most of the time and if you want to stream hi-res music, you should do it without hassle.
Bluetooth is compatible with 5.0 protocol and two-way connection. So yeah, you can connect your apt-X headphone or use the DX220 as a wireless DAC once connected to your smartphone or tablet. Ain't it cool?
Full specs
– Type : Digital Audio Player
- OS : Android 8.1
– CPU : ARM 64bit 8 Cores A53
– RAM : 4Gb LPDDR3
– Rom : 64Gb eMMC
– DAC : 2x ES90208Pro
– Sample rate : PCM : 8Hz – 384kHz (8/16/24/32bits) native – DSD64/128/256/512
– System clock : Full synchronization technology with 5 femtoseconds oscillators
– Screen : 5.0″ 1920×1280 Super Retina Display
– Micro SD : SDHC / SDXC up to 2TB
– USB DAC : XMOS XU208, Thesycon USB Driver
– Wifi/Bluetooth : 802.11 (b/g/n/ac) (2.4Ghz/5Ghz) Bluetooth 5.0
– Coaxial/optical output
– Battery : 3.8V 4400mAh Li-Polymer
– Quick Charge : PD2.0 / QC3.0 / MTK PE Plus Quick Charge
– Size : 126mm*70.5mm*18.7mm
– Weight : 240g
The article continues on Page Six, after the click here