Today we review the $69 USD Moondrop Dawn ultra-portable USB DAC/AMP dongle.
Disclaimer: ShenzhenAudio sent us the Moondrop Dawn for this review. As always, I am here to share my honest opinion with you.
Moondrop
Moondrop is a company that specializes in the research & development of a wide range of audio equipment. They have been in the industry since 2014 but the Moondrop brand was established in 2015. In the first years, the Moondrop team focused only on earbud design and later added IEMs to their product line-up.
By using new technologies in their products and launching successful products, they managed to become an impressive company that designs & produces products for every price range of the market in a short time.
Although Moondrop is best known among audiophiles for the IEMs they make nowadays, they have also designed products in different categories in the past. One of them is Moonriver 1. The Moonriver 1 is a product that was designed and produced before USB DACs became so popular, but did not go into mass production.
Moonriver 2, on the other hand, is both a tribute to the MR1 and a product that shows how far technology and Moondrop, have come. You can read our Moonriver 2 review through this link.
Today, we have the latest addition to Moondrop's portable DAC & AMP family, the Dawn. The Dawn is available in two versions, the 4.4mm version and the 3.5mm version. The 4.4mm version retails for $69 USD whereas the 3.5mm version costs $64 USD. Let's take a closer look at the Dawn.
Moondrop Dawn 4.4mm – Portable USB DAC/AMP
First of all, I want to say that I am quite excited about this review. I can easily say that I am satisfied with the Variations, Kato, and Moonriver 2 products that I have reviewed from Moondrop company recently, so I am quite curious if this success story would continue or be limited to these products.
The Dawn has very aggressive and competitive pricing and considering that the portable DAC and AMP market is more vibrant and tougher than ever before, it's not hard to understand why Moondrop has gone this route.
The Dawn is an interesting device, Moondrop states that it is fully balanced with full utilization of two pieces of Cirrus Logic's CS43131 DAC chips. It shows really good performance numbers on paper and offers a good amount of power for its form and factor.
The Dawn does not come with a detachable cable like the MoonRiver 2 but it still features the silver-colored SPC cable that we liked very much in our MR2 review. 
Specifications & Highlights
Dual Cirrus Logic CS43131 DAC chips
Dual Crystal Oscillator
132dB DNR
117dB SNR
USB Type-C
32-bit/768kHz / DSD256 Support
4Vrms Max LO Output Power
4.4mm BAL HPO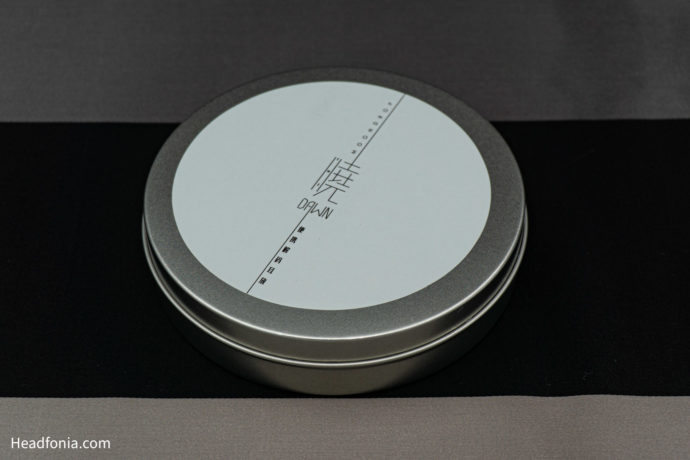 Packaging & Accessories
Moondrop preferred a very simple and elegant presentation for Dawn. The Dawn comes in a round, low-profile metal box. Moondrop's logo and product model name are on the front of the metal box. On the back of the box, we see that Moondrop provides technical details of the Dawn in both English and Chinese.
A round metal box is aesthetically superior to any cardboard box in my opinion. It felt like I was unboxing a much more expensive device.
When you open the round metal box, you will see a compartment made of dense foam. The Dawn and the adapter that comes with it are being held by this foam, safe from damage. The nano USB-A to USB-C adapter is the only accessory that comes included with the Dawn.
If you want to use the DAC & AMP with an iPhone or any other Apple device that uses a lightning port, you'll need a Lightning to USB-C adapter. Moondrop told us that they are working on this adapter and it will be available soon.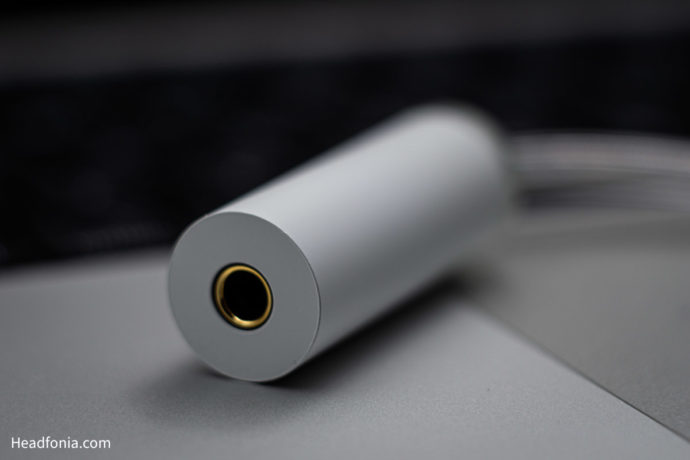 Design & Build Quality
Moondrop is a company that prioritizes design and incorporates unique design elements in all the products they have designed and developed so far. Just like every other Moondrop product out there, the Dawn has elegant and fine design lines. Size-wise, the Dawn is slightly fatter than its big brother, the MoonRiver 2.
Both of the devices are pretty similar in form factor, and they both are quite portable. The Dawn has an undetachable cable by design and does not come with a female USB-C socket compared to the MR2. After spending some time with the Dawn, I honestly believe that Moondrop did their best not to cut any corners about the build quality of the device.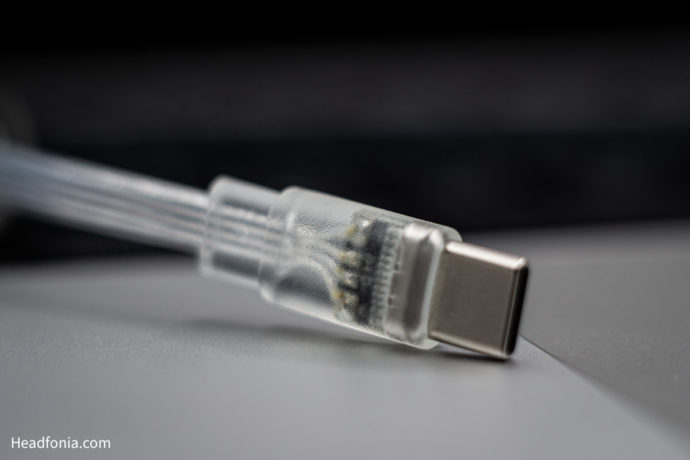 The chassis of the Dawn is made of aluminum alloy. The aluminum chassis features a matte white finish and does a great job of repelling fingerprints. The 4.4mm headphone socket is gold-plated and feels very secure. Apart from that, the Dawn uses the same SPC cable that comes bundled with the MoonRiver 2 but it is not detachable.
I had durability concerns but after inspecting the Dawn up close, my concerns were gone. Moondrop put a strain-relief on the end that is going into the chassis of the Dawn and on the other end, they used the same reliable USB-C plug which I've been using with the MoonRiver 2 since March. 
The device layout is as clean as it is physically possible. The Dawn has no buttons or HW volume control. It only has a single status LED that lights up in different colors according to the active sample rate. 
Overall, I am satisfied with what we get under $70 USD, build-quality and design-wise. Of course, the Dawn lacks the premium details of the MoonRiver 2 like the glueless design, detachable cable, geometric layer-by-layer CNC milling, etc. but the price difference is rather large.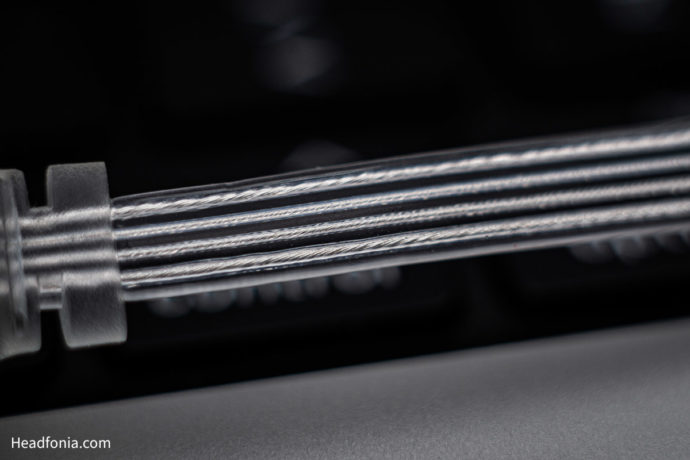 User Experience & Power
I am an Android 12 user, I also have UAPP and Tidal. Both of the applications detect the Dawn right away as "Nano audio 1". Will there be a 2, or a 3 in the future? Perhaps, we are going to wait and see.
My phone initializes the Dawn in seconds and listening to DSDs in UAPP is a seamless and easy process. Tidal works great also, without any bugs. It is just as stable as the MoonRiver 2. 
Moondrop released an app called "Moondrop Link" and now supports USB DACs. The app is available both on iOS and Android. You can play with a few settings of the Dawn through this application. Just plug it in, launch the app and allow the app to access your DAC.
Voila, you are ready to control it. In the app, you can change the active DAC filter between five options. You can also adjust the gain setting between 2vrms and 4vrms. Lastly, you can turn off the status LED.
The Dawn requires no drivers with macOS devices, however, if you want to use it with your Windows PC, you should click here and download its official driver for the best performance. You can also check here for future firmware updates. The firmware can also be updated from within the app.
Let's talk about power and discuss what we can expect from this dongle. Interestingly, the Dawn is almost as powerful as the MoonRiver 2. It can dish out 230mW into a 32-Ω load without any clipping. It is quite powerful and will have no trouble driving any IEM that you can throw at it.
Just like the MoonRiver 2, the Dawn also has no hiss and features the same black background that I got used to. One of my new favorites, Yanyin Canon IEMs (8Ω) are quite picky about this issue due to their sensitivity and the Dawn passed this test without any issues.
One additional note, thanks to the thick, aluminum chassis, the PCB is well shielded. I had no noise/jitter/RFI while using 4.5G/5G on my phone. There was no interference or stutter and it was dead silent during my sessions with it. 
The review continues on Page Two, after the click HERE or by using the jump below.
Page 2: Sound Signature, Low, Mid, High, Technical Capability, Comparisons, Last Words