Today we look at the NICEHCK NX7 MK3 IEM. It is selling for $119 USD.
It's Cyber Weekend! Don't forget to check out our Audio Buying guide and make sure to enter our free Feliks Audio Elise ($1299) amplifier giveaway! If that's not enough, there also is our list with recommended gear HERE.
Disclaimer: HifiGo sent us the NICEHCK NX7 MK3 IEM for the purpose of this review, free of charge. I only covered the import taxes and fees. All thoughts and experiences with the product are naturally my own.
Intro
Chi-Fi is becoming more and more competitive each passing day and I have zero complaints about that. As a consumer first, I think that the competition between markets has benefited us throughout history. Would you believe it if they said you could buy a 4 BA, 2 CNT Dynamic & 1 Piezo-electric IEM for a hundred bucks, a couple years ago? I certainly would not. Yet here we are, looking at a gorgeous looking budget-y IEM that is quite beefy on paper. Let's check out the NICEHCK NX7 MK3 together.
Brand
NICEHCK is a Chinese manufacturer that focuses on audio gear. They are based in Guangdong, China and they are best known for their budget IEMs and of course the NX7 line-up. We will be reviewing the NX7's third iteration. The first version features 4 BA+2 CNT DD +1 Piezo. The second/pro version features the same driver layout but with a different tuning. As for the MK3, during my research I learned that the MK3 comes with upgraded balanced armature drivers. I know that many audiophiles around the world found the NX7 series a bit harsh. This is definitely not the case with the NX7 MK3! I'll talk more about it in the sound section, so stay tuned.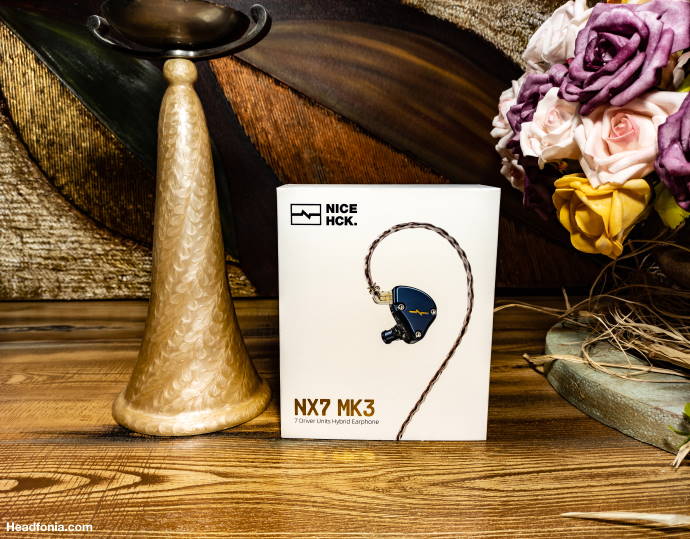 NICEHCK NX7 MK3
Specifications & Technical Data
4 Balanced Armature + 2 Carbon Nanotube DD + 1 Piezo-Electric Ceramic Driver Hybrid
Frequency Response: 20 – 25000 Hz
Impedance: 58Ω
Replaceable Faceplates (Red, Black, Blue)
Replaceable Tuning Filters (Blue, Red, Black)
Sensitivity(Blue Filter): 107dB/mW
Sensitivity(Red Filter): 108dB/mW
Sensitivity(Black Filter): 104dB/mW
16-Core Copper & SPC Hybrid Cable 0.78mm 2-Pin
Looking at these specs we can see that the the NX7 MK3 with 58 Ohm impedance and 108dB sensitivity does not seem so hard to drive. So on paper you don't need a fancy DAP. However, in our listening tests, we have discovered different things. Keep reading.
Packaging & Accessories
The NICEHCK NX7 MK3 comes in a medium size white cardboard box. The box has all the specifications listed on the back side. Upon removing the top, you see the IEMs and the gorgeous carrying case immediately. I love the denim texture of the carrying case and I really like that it is big enough to store tips & other accessories in. If you go ahead and open the carrying case you will see many little plastic bags with included accessories in them. Considering the price this IEM is selling for, the presentation is amazing!
Here is the list of the accessories you get with the NX7 MK3:
78mm 2-pin 16-Core Copper & SPC Hybrid Cable
3 Sets of Faceplates (red, black, blue)
3 Sets of Tuning Filters (red, black, blue)
Torx Screwdriver + 6 Replacement Screws
8 Pairs of Silicone Tips
Carrying Case
I like this very much. I love tinkering with electronic devices and this manufacturer literally wants me to do a teardown. Who am I to say no?! It is really good to have faceplate options too, and you didn't hear this from me but you can pretty much remove the faceplates and paint them as you wish, maybe put artworks and get creative!
The supplied cable is quite flexible and I have not noticed any disturbing microphonic effects. It is a 16 core copper & spc hybrid and it is not a very compact cable. However, because it is quite flexible and supple, you don't feel like you're wearing a hefty cable. You also have the option to buy a 4.4mm or 2.5mm balanced cable with the NX7 but I opted for the 3.5mm plug.
As for the filters, they work and we'll talk more about them in the sound section. You don't need any tool as you can easily remove them with your fingers. None of the accessories feel cheap either! The filters & faceplates are metal, the tips are quite smooth and soft to touch, the cable feels & sounds good, the carrying case is stylish and has an amazing denim texture.
Big kudos from me to NICEHCK for the accessories, well done.
Build Quality & Comfort
The NICEHCK NX7 MK3's build consists mostly of plastic. However, the faceplates and nozzles are metal. The NX7 is strikingly lightweight and I often forget that I am wearing them.
Build quality does not feel cheap and it certainly doesn't look like it is a hundred bucks IEM. It looks really good up close. The air vents of the gigantic CNT dynamic drivers look very impressive. Comfort is also great thanks to the wide selection of available tips. I had no problems during my time with it and I used it as a gaming/chill IEM so I wore it up to 8 hours a day. I had absolutely no comfort issues, hell, I even remember walking away from my desk without unplugging the NX7, yeah.
The weird thing is, the shells are really low profile considering there are 2 big CNT's and 5 various drivers inside. Isolation on the other hand, is highly dependent on the tip selection. My favourite wide-bore tip is the JVC Spiral Dot but with it, the NX7's isolation takes a huge hit. It is much better with the default tips as they block out the majority of sounds of the outside world.
The part on sound starts on the next page. Click HERE or use the quick jump below.