Technical Performance
Szalayi is a large-sounding IEM, with wide and deep staging with good separation. It also positions the elements very well, and you can focus on a certain instrument if you choose to do so. However, it's by no means a detail monster or the ultimate reference IEM. If you're looking out for a micro detail king, this is not the solution.
This is classic Oriolus tuning, which is aimed to make an IEM that can be listened to for long periods with good comfort. It's not a reference IEM, as such, it screams musicality and enjoyment rather than being analytical. The tonality aspect of this IEM is the star of the show, with excellent realism and natural timbre. Yet, resolution and transparency are not extremely good, but those can be forgiven because of the IEM's other qualities.
The new Szalayi can be a bit picky when it comes to sources. As I mentioned above, you need proper amplification, desktop or portable, to get the most out of it, especially in the bass. I preferred Shanling M9 and A&K SP2000 most of the time, two flagship AKM players. I also tried the original Lotoo Paw Gold for the sake of it, and the performance is satisfying since it also has good amplification on high gain.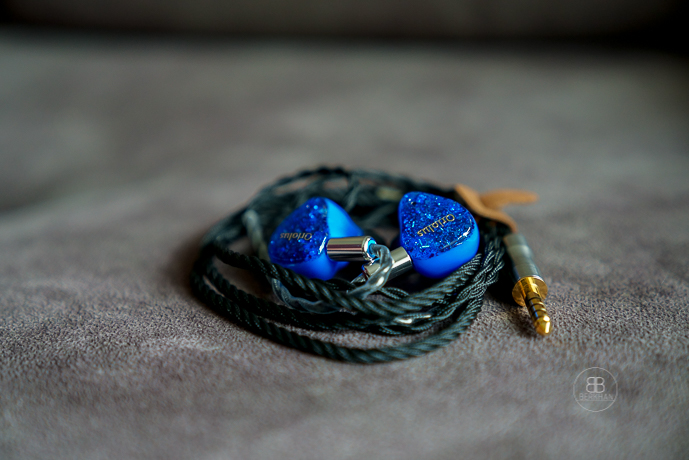 Comparisons
With a similar release price, similar build and shape, the Szalayi naturally is the new MK2 to me. The design of the MK2 is like the Black Pearl, whilst the Szalayi represents the ocean. I would prefer the full black of the MK2, but I'm sure some people love Szalayi's design.
When it comes to sound, the Szalayi has a better treble response with a bit more brightness and definition. It's still smooth and easy, but you get a bit more definition. The mid-range is even more natural, vivid and musical. The mids are more refined with more focus and better positioning. The bass response is similar but the Szalayi hits harder and tighter with better speed.
Softears Twilight
The Chinese Softears offering is in the HFN HQ and I'll publish it very soon. Twilight has an aluminium chassis which feels a bit more premium. Its shape is unique though, much angular and sharper than the smooth and rounded Oriolus. It's harder to operate in terms of fit, but once you find the proper tips you're pretty much okay. Yet, Twilight has much better packaging.
Twilight's bass is subdued when directly compared to Szalayi's heavy-hitting and impactful bass. Twilight stays closer to a neutral presentation there. The midrange is less vivid in Twilight as well, but not without its qualities, such as transparency, definition and detail. And despite being a single dynamic driver monitor, it copes with complex songs surprisingly well. Yet, Oriolus' mids, with the support of its planar unit, are fantastic with great dynamism and liveliness. Szalayi offers a wider soundstage too.
Conclusion
The Oriolus MK2 stayed on our recommendations for a long time, until newer IEMs came out so we had to remove it from the list. The new Oriolus Szalayi, with its even more refined sound, brings back the Oriolus name to our list.
With a fresher design, a new planar magnetic driver, and an all-around sound performance, it reminds us that Oriolus will stick around for quite a while. And they should. I very much enjoyed this IEM and I bet you will too. On its way to our Best Universal IEMs.