In this article we're looking at the UE LIVE stage monitor from Ultimate Ears.
Disclaimer: I was sent the Ultimate Ears LIVE free of charge in exchange for this review, via Fischer Amps in Germany. Ultimate Ears and Fischer Amps are in no other way related to Headfonia and the sample doesn't need to be returned
Ultimate Ears
Founded in 1995 Ultimate Ears Pro created a new market for custom in-ear monitors which are now used by most of the world's top touring musicians. The first in-ear monitor was developed for Alex Van Halen by his monitor engineer to give him a way to protect his hearing while allowing him to perform better on stage. In 2008, UE Pro partnered with Logitech, a company as passionate about premium audio and connecting people through technology as UE are about changing the way you hear music. UE have since created over 100,000 sets of in-ear monitors in the last 20 years for musicians and music lovers.
For 20+ years the UE team is continuously challenging itself to innovate, improve quality, and advance delivery times. As part of our continuous drive to be better, UE Pro has combined artisan-handcrafted techniques with cutting-edge technology. UE have embraced the advantages of digital processes to advance time to customers and deliver an acoustic experience that is second-to-none. Each product is handcrafted, precision-tuned and custom tailored to fit the unique contours of the ear, isolating it from any external noise. This starts with a unique digital scan or physical impression of the ear. UE experts modify the shape to improve comfort and fit for all of the key audio and electronic components where each detail is meticulously developed. The custom ear shell is printed using the latest 3D printing techniques. UE have been 3D printing since 2015 to ensure we are producing a better fitting, more accurate product. UE have a team of lab technicians that work on multiple details to ensure your product matches your specific fit and design. This includes experts on 3D software and custom in-ear manufacturing who have been making products for more than 20 years, and also graphic artists who can reproduce your custom tailored design of choice.
It's not the first time we look at UE gear on Headfonia.com. Previously we have reviewed the U900 and UE9000, but regarding this review, the Pro Reference Remastered and the 18+PRO V2 are the most linked as they are CIEMs. You can find the previous reviews here.
https://www.headfonia.com/thoughts-on-the-ultimate-ears-ue900/
https://www.headfonia.com/ultimate-ears-ultimate-the-ue9000/
https://www.headfonia.com/review-ultimate-ears-pro-reference-remastered-default-capital/
https://www.headfonia.com/review-ultimate-ears-18pro/
UE 2018 Award
Just a few weeks ago we handed out our Best of 2018 awards and Ultimate Ears won the award for being the most innovative company with two new top level CIEMs in on year and the introduction of the IPX, Superbax and use of True Tone drivers. You can find the full award article here: https://www.headfonia.com/blog-2018-awards/
Fischer amps
Based on 20 years of experience in pro audio and hi-fi, the Germany based Fischer Amps are one of the outstanding manufacturers of solutions for sound engineers, artists and audiophiles.
From year one, Fischer Amps have been striving to simplify the work for artists and their sound engineers, to enable them to focus on their show and joy for music during live performances. In collaboration with renowned sound engineers and artists, Fischer Amps are constantly developing new products which satisfy the requirements on stage and which show their reliability on stage.
Jochen Fischer took over the Europe-wide distribution for Ultimate Ears Pro in 1999, at a time when in-ear monitoring was still in its infancy! With passion and expertise, they train their dealers & acoustic partners, provide easy, fast support and help ensure that all UE feel that they are in good hands.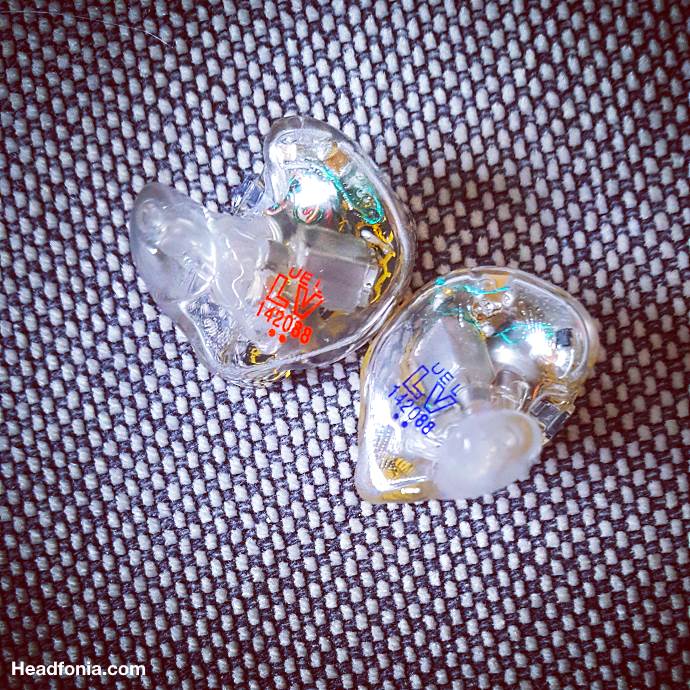 LIVE!
In this article we'll be looking at the UE LIVE, the actual reference model in the Ultimate Ears Pro Line-up.
"The UE LIVE is the culmination of everything good. The hybrid design brings in the warmth of the dynamic driver, the punchiness of the UE11 and UE7, and the clarity of the reference. This monitor goes all out to make sure you hear everything. When you listen to these, you will notice nuances that you have never heard before. It is a perfect balance of detail and musicality. It is our best monitor yet."
According to Ultimate Ears the LIVE is the ultimate stage performance piece and the key words are: power, clarity, crispiness and boldness. It's supposed to be the ideal monitor for festivals, arenas and stadiums.
The LIVE version's internal construction is quite unique. Inside it features 8 drivers using three different technologies. We have 6 normal balanced armatures, 1 True Tone Plus driver & one 6mm neodymium dynamic speaker. Check out this picture which shows you how complicated this design really is.
As it is the reference model, it will set you back around $2,199.00 without special personalization options. If you're already familiar with True Tone, IPX and Superbax, you can skip to the Breakdown part.
True Tone
The True Tone technology is an Ultimate Ears technology. True Tone drivers are proprietary balanced armatures that focus on the overtones and harmonics, so that you can hear and feel the emotional qualities of the music.
With the UE True Tone Drivers – which extend the frequency range and deliver a flat response to 18KHz – you can now hear the harmonic structures and overtones that are usually missing from most headphones. As a result, the notes from hi-res audio recordings can be heard just the way it was captured in the studio.
IPX
The LIVE and 18+PRO with the TT-drivers aren't the only new things UE recently put on the market. All of UE's custom monitors now come with a new cable and cable system. This new system, co-created with Estron – which we of course already know – provides a lightweight, IP67 certified sweat-proof, durable connection between cable and connector, allowing for easy swapping between different cable types. The Ultimate Ears SuperBax is a road-worthy cable, strong enough to hold a 12-pound barbell, yet so lightweight and transparent that it becomes virtually invisible. With significant reliability improvement, this new system can handle thousands of cycles of connect-disconnects. The new IPX Linum SuperBax cable is available from UE for $199.00.
Linum/Estron and the SuperBax cable aren't new to the portable audio scene and we've reviewed and approved their cables on several occasions already:
https://www.headfonia.com/review-linum-cables/
In fact, we've already reviewed the SuperBax cable as well but in that review it "just" didn't have the new IPX connector.
https://www.headfonia.com/review-linum-superbax/
You can find the UE SuperBax cable's dedicated product page right here:
http://pro.ultimateears.com/superbax
So, what's new then?
The design is built upon Estron's already good T2 system, but added new features to make it more reliable and reduce intermittence. The design update also made it IPX 67 compliant. The industry needed a sweat-proof and tour-proof cable system for in-ear monitors, so UE co-developed a solution from the ground. The Ultimate Ears IPX Connection System was designed to handle everything a musician deals with nightly — sweat, makeup, hairspray, humidity, set up, break down and travel. There have been some issues with the old T2 system regarding sweat and connection issues, so this should be solved with this new cable.
Does that mean I may use my "old" T2 cable with the new UE monitors? Yes, you may, but you will not get the water and sweat proof benefit by using older Linux Bax and SuperBax cables
The Ultimate Ears SuperBax is unparalleled in its quality and construction. It is a low impedance hi-fi audio cable.
  Silver plated copper litz wires
  Quad twisted – 168 strands
  Weight: 8-9g / 0.28-0.32oz
  Impedance: 0.75 Ω
  Pull strength of cable: 12lbs
  Microphonics: Low
LIVE Technical Specifications
INPUT SENSITIVITY:  105 dB @ 1 kHz, 1mW
FREQUENCY RESPONSE:  5 Hz – 22 kHz
NOISE ISOLATION:  -26 decibels of ambient stage noise
IMPEDANCE:  10 Ohms @ 1kHz
INTERNAL SPEAKER CONFIGURATION:  6 balanced armatures, 1 True Tone Plus driver & 1 6mm neodymium dynamic speaker.
INPUT CONNECTOR:  1/8" headphone jack; compatible with all systems
WARRANTY:  1-year
The article continues on page two, click HERE or just the jump below