Design & Build Quality
Shell design
Once again, the brand did an exquisite job with the new Shanling ME800. 
Like the ME700, this new model trades metal for resin, leaning more towards the AE3 than the MEX00 ones. When the ME500 displayed a rounded shell, the ME800 is much more conservative, displaying a semi-custom design, that gives the IEM a classic, but premium look.
Carefully 3D-printed, the IEM was given a green, dark, look, outlined by the golden blazon of the brand, displayed on the faceplate. If the ME700 exhibited a "cultured marble faceplate", the ME800 shows a very different finish, mimicking Saturn/Neptune atmosphere, thanks to the handmade finish. Both IEMs look equally nice, but give a completely different vibe, once out of the box.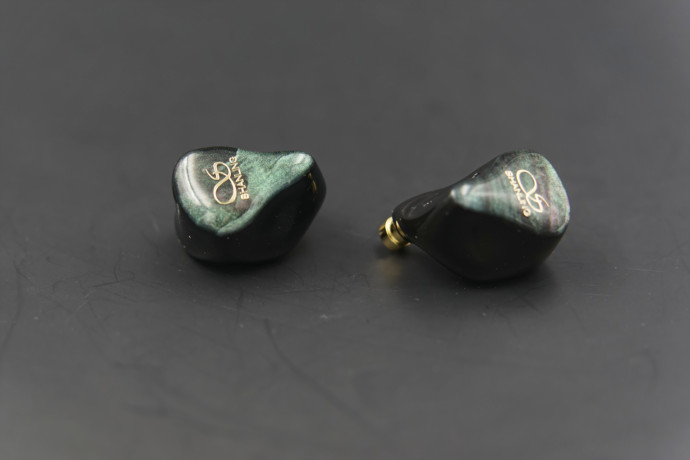 Personally, I think Shanling simply nailed it, even if the whole body is fairly big – hey, you have to fit those six drivers. But, given how light those ears are, once fitted into your ears, this shouldn't be a hindrance once you'll wear them. Bonus point for the golden-toned nozzle, instead of an acrylic one, that feels and looks astoundingly sturdy.
A very cool IEM, so let's keep going with our review.
Build quality
The Shanling ME800 build quality is top-notch, like all Shanling's recent models.
The MMCX port fits perfectly, there is no gap wherever your hand can touch, no shards or misplaced elements, and the smoothness of the shell gives a very good level of comfort. It doesn't outmatch the ME700, but it doesn't fall short either and both shall look equally nice in a few years, seeing how thick the resin is. 
Also, I don't know if the new resin is more scratch-proof than before, but after a few days inside my jacket's pouch, hitting with my keys, the ME800 is still good as new. The same goes for the humungous silvery Y-splitter, which never lost its brilliance, where some of my "premium" cables appeared worn-out after just a single trip. 
Talking about cable, the ME800 enjoys a very nice one by default: an octa-core, mono-crystalline copper one, with dual-layered conductors in a coaxial construction. And as you might have figured out from the picture, the wire is made by Furukawa, a Japanese maker, producing top-quality ones. You can spot them on high-end models like the Meze Elite, which can be equipped with the same kind of 
Last but not least, the Shanling ME800 enjoys the same kind of interchangeable connectors you'd find on FiiO's FD7/FD5/FD3, or BGVP's DM8. In fact, you can now switch between 3.5mm / 4.4mm / 2.5mm and keep the same exact cable. It's a 30 seconds process, involving no tools and just a light twist, thanks to some clever engineering.
Sensitivity / Hiss 
Impedance is low, sensitivity is relatively high so yes, you can drive those IEM's with almost anything, but it will shine only when hooked to a good DAC or DAP.
It's not an IEM sensitive to hiss, but as most modern DAC are not basically hiss-free, this isn't a real issue anymore.
The review continues on Page Three, after the click HERE or by using the jump below.
Page 1: About Shanling
Page 2: Design & Build Quality
Page 3: Comfort & Usage
Page 4: Specifications
Page 5: Tonality and conclusion